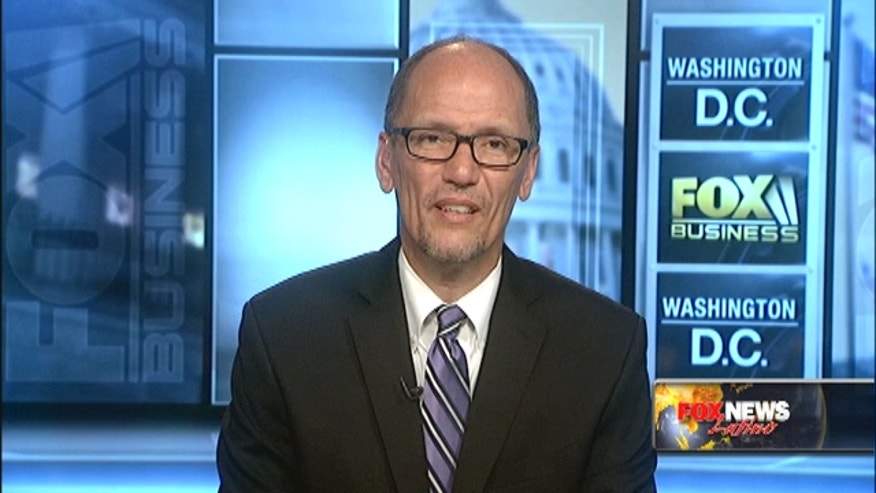 U.S. Labor Secretary Tom Perez recently recalled a woman he met while traveling across the country who delivered a baby by caesarian section and had to return to work after just a couple of weeks.
In an interview with Fox News Latino, Perez also recalled other women who told him of returning to work shortly after giving birth.
It gnaws at Perez, who has made better conditions – with expanded paid sick and family leave – one of the pillars of his tenure as labor secretary.
The United States is the only industrialized country in the world that does not guarantee paid family and medical leave. Perez, who is rumored to be on Democratic presidential candidate Hillary Clinton's short list for running mate, said that as a nation of family values, that must change.
"I've been around the world talking about this issue and learning about this issue," Perez said. "The United Kingdom, Germany, Australia…everybody understands that paid leave makes sense."
Perez and senior White House advisor Valerie Jarrett took part in the "Lead on Leave" campaign, crisscrossing the country talking to families about their employers' leave policies.
"If you have to choose between the family that you love and the job that you need, that's a really really unfair choice," he said. But "that's what's happening all across America."
Perez said that women are returning to work far sooner than what is healthy for them and their babies.
"I meet so many women who talk about how they end up going back to work prematurely and they basically sit in the office, close the door and cry because they want to be home with their baby," Perez said. "And they should be home with their baby."
That is one of the still-pending goals that tempers Perez's contentment over improved aspects of the economy, such as the positive job growth report for June that was released last week.
"We've had 69 months in a row on job growth…one of the longest streaks on record," Perez told Fox News Latino. "We've now had 70 weeks in a row [with unemployment claims] under 300,000. Back in the depths of the recession, we had over 600,000 claims per week for first-time unemployment benefits."
It all points to that "it's a resilient economy," Perez said. "There are so many important indicators that point in the right direction."
But, Perez said, conditions and benefits for American workers are still lagging. He is still on a mission to see the minimum wage raised from $7.25 to $15 per hour.
"We still have work to do," Perez said. "We still meet too many people working 40 to 50 hours per week and getting their food at the food pantry."
The latest job report showed that employers added 287,000 new jobs in June. That was more than analysts expected, and after weak reports from April and May, it suggests the economy and job market haven't run out of steam.
The government said the unemployment rate rose slightly as more people looked for jobs. There was also evidence wages were rising faster.
The U.S. economy has been growing for more than six years.
Many employers argue that raising the minimum wage may force them to lay off workers or raise prices.
Perez balked.
"I've heard those claims, that it's going to be the end of the world as we know it," Perez said. "Every time they make those claims and we increase the minimum wage you see no appreciable effect."
"The naysayers are proven wrong," he said.
Perez was a force behind the Obama administration's new overtime rule, which is expected to increase incomes for millions of U.S. workers.
Perez noted that four Republican-leaning states – Arkansas, South Dakota, Alaska and Nebraska – are among the many states and cities that have raised the minimum wage.
"It's the right to do…the smart thing to do."
As for family and sick leave, Perez added, many employers are providing fair work-family balance to their workers. He said the Obama administration will continue to push for more fair sick and family leave.
"You shouldn't have to win the boss lottery to get access to basic paid leave."
Elizabeth Llorente is Senior Reporter for FoxNews.com, and can be reached at Elizabeth.Llorente@Foxnews.com. Follow her on Twitter @Liz_Llorente.