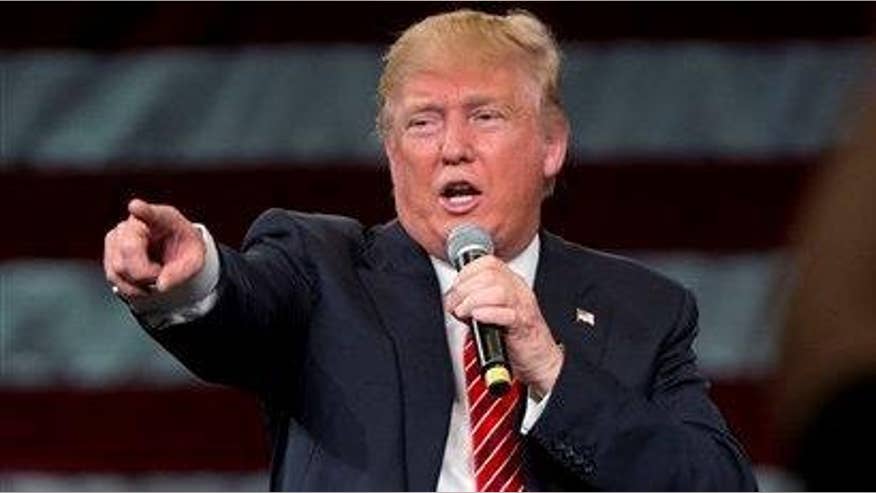 The Bernie Sanders supporters were hatching an online plan to wage a protest inside a rally for Donald Trump when one cautioned that, even in the heat of a polarizing presidential campaign rife with overheated rhetoric, the government was watching.
"The Secret Service will be monitoring Facebook and other social media," the poster cautioned others as they planned a disruption inside a Southern California rally for the presumptive GOP nominee. "Be smart when posting. Any perceived threats will come with a knock at the door."
If the Secret Service was monitoring that conversation, it isn't saying. But combing through social media for potential threats amid one of the most divisive presidential campaigns in memory ultimately falls to the agency, as does providing in-person protection to Trump, Sanders and likely Democratic nominee Hillary Clinton. It may be too much, even for an agency with a $2 billion budget and 3,200 special agents, say some experts.
"The Secret Service has a very difficult task," said James Reese, founder and chairman of leading security firm TigerSwan. "You can only secure so much, and the men and women in the agency work their butts off."
A failed attempt earlier this month by a British national to assassinate Trump reminded the public of the ever-present danger lurking at every rally, campaign stop and fund-raising dinner. Michael Sandford, 20, was arrested after trying to grab a cop's gun, which he allegedly told the Secret Service he had hoped to use to kill the developer.
It was not the first time angry opposition to Trump prompted violence: At a March campaign event, agents swarmed around Trump in Dayton, Ohio, after a man tried to storm the stage. It came a day after Trump canceled a Chicago rally on the advice of the Secret Service over safety concerns.
Even without an ongoing presidential campaign, the Secret Service is charged with protecting the president, vice president and their immediate families; former presidents and their spouses, visiting heads of state and high-ranking dignitaries and official representatives of the United States performing special missions abroad.
When wide-open fields compete for presidential nominations, a process overseen by the Secretary of Homeland Security determines which candidates get full protection. After the conventions, both major presidential and vice presidential candidates, as well as their spouses, are protected.
The rancorous campaigns and the explosion of social media, where any angry comments could potentially ripen into a full-blown threat, mean the heat, hate and potential for harm stalking Trump and Clinton has the Secret Service more taxed than ever.
"The Secret Service is now subject to things I have never seen before – threats, protesters storming the stage," Dan Bongino, a 12-year veteran of the U.S. Secret Service who is currently running for a congressional seat in Florida, told FoxNews.com. "The left is now infatuated with the idea of suppressing free speech, and hell-bent on causing disruption. The agents are constantly operating in the red zone at a very heightened stress level."
In March, Secret Service Director Joseph Clancy voiced his desperate need for more agents at the peak of the campaign season and told the House Appropriations Committee panel that his agency's ability to perform at the desired level was being hindered by increased attrition.
Recent scandals, such as the 2012 incident in which some agents on a presidential trip to Colombia were revealed to be involved with prostitutes, as well as the incident two years ago when a man was able to jump the White House fence and cross the yard into the presidential mansion before being captured, appear to be taking a toll on morale.
The Secret Service requires highly trained agents and equipment to provide airspace security, counter-surveillance, emergency response, counter assault, critical systems protection, explosive detection canine teams and counter-snipers.
The Secret Service has about 6,500 employees, which includes 3,200 Special Agents, 1,300 Uniformed Division Officers and 2,000 technical and administrative employees. The agency is seeking to add 1,100 more employees by 2019, but its biggest test may be just weeks away – when the two parties hold their conventions.
Professionals warn that the real concern comes not from the protesters themselves, but the distraction they cause – which could then leave a gaping hole for other opportunists to wreak havoc.
"Terrorists and others wait very patiently for moments like these to strike," Bongino explained. "This is every agent's worst nightmare."
A government official who requested anonymity due to the sensitive nature of the security apparatus told FoxNews.com the Secret Service has sought manpower help from other federal law enforcement agencies, but aid has been limited.
"They have had to request adjustments to meet the requirements, and can also receive help from other federal agencies," said the source. "But all the agencies have manpower problems, so they help each other where they can. The reality is that agencies worry about their own missions first, so mutual support is limited."
The Transportation Security Administration (TSA) has been known to help out with such things as pre-screening and bag checks at events for both presumptive nominees. Another federal intelligence source pointed out that the Secret Service commonly utilizes agents from other agencies, including ATF, FBI and local law enforcement while they take full control of "close protection."
The Secret Service has an intelligence division tasked with analyzing and investigating threats made against those under its protection – from deranged letters to disturbing phone calls to casual comments made on a Facebook feed. Although the agency does not provide details, it is known to use specialized social media tracking technology to discern between real and bogus threats.
It also maintains a vast database to report, analyze and store information that could indicate a potential threat to anyone under agency protection.
Monitoring social media for potential threats is just one aspect of the online challenge. The Secret Service also must protect candidates from hackers.
"Both candidates are highly valuable targets for cyber attackers. Further, this year's elections are taking place within a cybersecurity landscape never before seen in history," said Gordon MacKay, chief technology officer for Digital Defense.
Security woes have been heightened further following reports this week that the Clinton Foundation was among the organizations infiltrated by suspected Russian hackers ahead of the election, potentially obtaining guarded information regarding the probable nominee. The Secret Service, FBI and NSA are all believed to be working the investigation.
However, Bongino insisted that the agency's Protective Intel Division has become particularly apt in determining what is credible and what is not in a fairly timely manner.
While one government insider acknowledged that "Trump has caused consternation among the Secret Service profilers due to his polarizing effect," it isn't that far removed from the concerns raised during Obama's 2008 run.
"That was just as frightening due to the various domestic terrorist organizations that have platforms heavily built upon racism," he said.
From the start of his campaign, Trump has hired his own various private security and intelligence detail, led by former law enforcement officials. But multiple sources say that the mogul's own detail is "irrelevant" to the work they do, as the Secret Service simply does not accept support from the private security sector.
And it's not just people on the payroll who are protecting the GOP candidate – armed citizen groups supporting Trump have also taken on "security" roles of their own.
"My bet is we ain't seen nothing yet," said a member of "Lions for Trump." "The Secret Service can only do so much, and we know we need patriots ready to put their bodies on the line to protect this movement."
As for the fast approaching conventions, a spokesperson for the RNC stated that security is under the direction of the Secret Service and city of Cleveland and that the Host Committee isn't involved in the planning. The DNC referred the matter to the Philadelphia Mayor's Office, which did not respond to the comment request.
Secret Service spokeswoman Nicole Mainor told FoxNews.com that in preparing for the conventions, the agency employs a unified command model involving various agencies in various areas of expertise through the formation of subcommittees.
"The goal is to develop and implement a seamless security plan that will create a safe and secure environment," she said. "We train on a continuing basis so that each individual remains prepared to respond to any eventuality."
Like the Bernie Sanders supporter pointed out in an online forum, protest alone will not prompt action from the Secret Service. Should the anger develop into a threat against one of the candidates, the agency will respond.
"We make no distinction on the purpose, message or intent of any particular group," Mainor said. "If individuals or groups decide to act unlawfully, plans have been put in place to efficiently address them."
Hollie McKay has been a FoxNews.com staff reporter since 2007. She has reported extensively from the Middle East on the rise and fall of terrorist groups such as ISIS in Iraq. Follow her on twitter at @holliesmckay