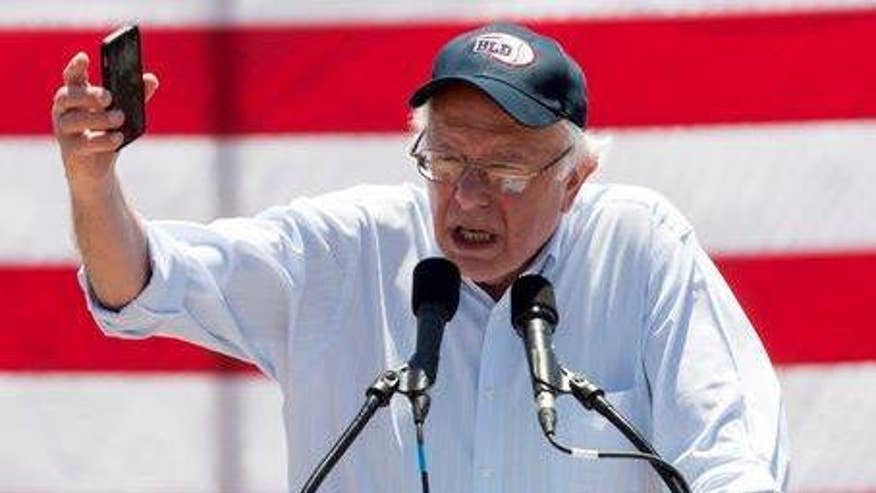 Presumptive Republican presidential nominee Donald Trump said Wednesday he would be happy to take on Democratic candidate Bernie Sanders in a debate before the California primary -- a challenge Sanders swiftly accepted.
Trump said on ABC's "Jimmy Kimmel Live" he would be willing to do it as long as a significant amount of money went to charity.
"How much is he going to pay me?" Trump asked, predicting the pair "would have such high ratings."
Sanders, while trailing far behind Democratic front-runner Hillary Clinton in their primary, seemingly accepted Trump's challenge, saying on Twitter:
Game on. I look forward to debating Donald Trump in California before the June 7 primary.

— Bernie Sanders (@BernieSanders) May 26, 2016
The Sanders campaign tentatively accepted an invitation last week to a Fox News-hosted debate with Clinton as long as the two candidates could reach "a mutual agreement."
Clinton's campaign, though, declined the invitation to the proposed debate before the June 7 primaries on Monday.
"We have declined Fox News' invitation to participate in a debate in California," Clinton Campaign Communications Director Jennifer Palmieri said in a statement. "As we have said previously, we plan to compete hard in the remaining primary states, particularly California, while turning our attention to the threat a Donald Trump presidency poses.
Sanders said he wasn't surprised that Clinton declined to debate him.
"I gotta tell you this," Sanders said Monday night, "I think it is a little bit insulting to the people of California, our largest state, that she is not prepared to have a discussion with me about how she will help the Californians address the major crises that we face."
The campaigns earlier this year agreed in principle to hold a May debate.
California is one of six states holding Democratic primaries or caucuses on June 7. The others are Montana, New Jersey, New Mexico, North Dakota and South Dakota.
The Associated Press contributed to this report.