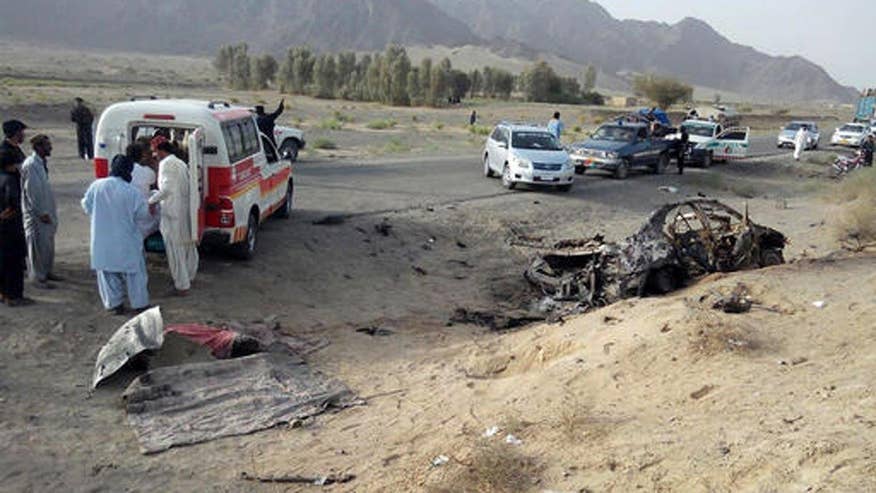 Senior White House adviser Valerie Jarrett is still listing "ending two wars" as one of the major accomplishments of the Obama administration, despite deepening U.S. involvement overseas – including the recent U.S. drone strike that took out Taliban leader Mullah Mohammed Akhtar Mansour.
Jarrett, one of President Obama's closest aides, made the remarks in an interview aired Sunday on CBS' "60 Minutes." Asked whatever happened to the president's call for "hope and change," she cited a slew of changes during Obama's two terms:
"Just look at what's happened in the last seven years. Our unemployment rate going from 10 percent down to 5 percent. Our automobile industry back. Ending two wars. Twenty million people with health care, many for the first time."
While the interview may have been conducted before the official Pentagon announcement, her comments coincided with the news that a drone strike had taken out Taliban leader Mansour in the Pakistan province of Baluchistan – the latest sign of the prolonged fight in the Middle East and South Asia.
Even before those comments, the administration was taking criticism for efforts to downplay U.S. military actions against terror and insurgent groups. On Thursday, former Defense Secretary Robert Gates accused the White House of "semantic backflips" for refusing to use the word "combat" to describe U.S. troops' fight against the Islamic State.
"I think that is incredibly unfortunate not to speak openly about what is going on," Gates said on MSNBC's "Morning Joe."
Earlier this month, Special Warfare Operator 1st Class Charles Keating IV, a Navy SEAL, was killed near Irbil, Iraq by ISIS fire – becoming the third American servicemember to die in combat in Iraq since the start of the campaign against ISIS.
Obama has sent over 4,000 U.S. troops back to Iraq, after pulling them out at the end of 2011 when the war formally ended. And as of May 10, the U.S. military has conducted more than 9,000 airstrikes against ISIS in Iraq and Syria.
In the most recent effort, the United States is now supporting an Iraqi military operation to retake Fallujah, the first city to fall to ISIS, with airstrikes -- and is advising the Iraqis at two operation centers in Baghdad and Taqaddum, according to an American military spokesman based in Baghdad.
Meanwhile, a total of 10,000 U.S. troops remain in Afghanistan, a war that also technically has ended. That number is supposed to be cut in half by the time Obama leaves office in January. Nearly 3,000 of those 10,000 are focused on counterterrorism missions against Al Qaeda and ISIS-affiliated groups.
In a reminder of the dangers U.S. troops still face in Afghanistan, a U.S. military convoy was attacked by a suicide bomber on Saturday morning, according to a Kabul-based U.S. military spokesman. There were no injuries to the U.S. troops in the convoy, according to a statement from the U.S.-led mission to Afghanistan.
Fox News' Lucas Tomlinson contributed to this report.