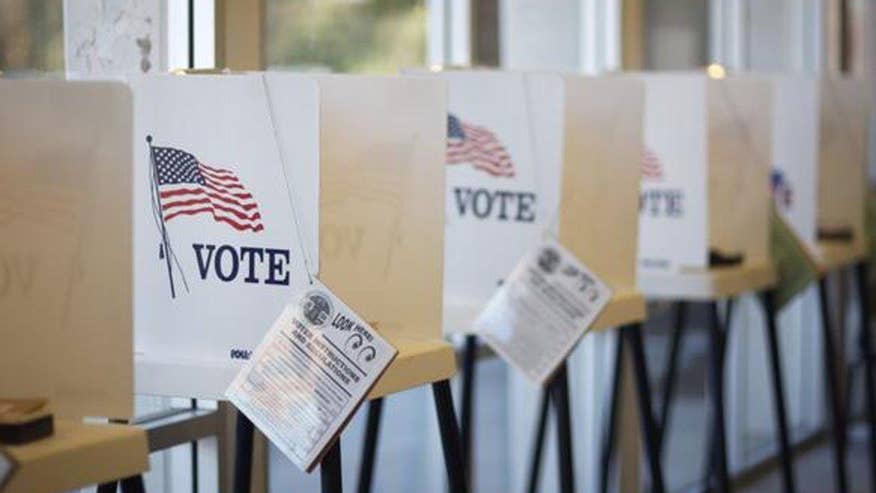 **Want FOX News First in your inbox every day? Sign up here.**
Buzz Cut:
• W.Va. primary reveals deep divides for November
• Hillary won't answer on Bubba's affairs
• Trump team, RNC in takeover talks
• What should we get to celebrate?
W.VA. PRIMARY REVEALS DEEP DIVIDES FOR NOVEMBER
It's primary day in the Mountain State. And while there's no suspense on the GOP side in West Virginia (and never really has been), the race stands to be much closer between Democrat Hillary Clinton and Bernie Sanders.
There's something instructive here about party unity. Few could have expected that on this date Clinton would still be slogging along against the quirkily quixotic campaign of her socialist rival while Trump would have already dispatched his last rival.
But today's vote tells us something about the general election, too. And conservatives silently (or not so silently) hoping and expecting Clinton will humiliate Trump in November ought to pay attention.
The truth that will be revealed today is that Clinton is in dire condition with white voters, particularly white men. Sanders hasn't been leading the polls in West Virginia because of his politics, in fact the opposite. He has been leading because there is a cultural revolt going on among working class white voters, especially men. And you would be hard pressed to find a purer core sample of working-class whites than West Virginia.
We see evidence of the same trend in new Quinnipiac University polls of voters in two of West Virginia's neighboring states, Pennsylvania and Ohio, as well as the swing-state bonanza of Florida.
GOP standard bearer Donald Trump and Clinton are essentially tied in all three states, a big improvement on not just what Trump's foes expected but also where Mitt Romney began four years ago. Romney, for example, trailed President Obama by 8 points in the Pennsylvania Q poll at the start of May 2012. Trump trails Clinton by 1 point.
White people are proving costly in the literal sense for Clinton, too. Initially, Team Clinton said that April would be their last month of burning cash on primary races, but the campaign has now reportedly bought airtime in Kentucky ahead of their primary there next week.
The main reason is that white Democrats just won't give in. That's partly about Clinton, but also a great deal about Trump, whose message is being turned daily more and more toward disaffected white men: trade, taxes, immigration, foreign policy and, now, what he describes as the victimization of men in modern America.
"I mean. All of the men, we're petrified to speak to women anymore. We may raise our voice," Trump told his supporters in Washington state over the weekend. "You know what? The women get it better than we do folks. They get it better than we do. If she didn't play that card, she has nothing."
Not surprisingly, the divides on gender and ethnic lines in the Quinnipiac results are roughly the depth of the Marianas Trench: Clinton leads Trump by 19 points with women in Pennsylvania, but trails by 21 points among men. In Ohio, she leads by 7 points with women but is 15 points behind among men. In Florida it's a perfectly symmetrical 13-point gap on each side.
Among non-white voters, it is even starker. Trump gets 33 percent of non-whites in Florida but just 14 percent in Ohio and Pennsylvania.
The question for Trump is whether there are enough white men and in enough key states to pull out a victory. Probably not, especially given the struggles he will face in prosperous and diverse states in the southern tier like Georgia, Arizona and maybe even Texas. In those places a coalition of women and non-white voters ought to give Trump plenty of trouble.
In that version of this reboot of the Battle of the Sexes, Bobby Riggs loses again.
But these numbers suggest that this might not be the tidy sweep that Trump's foes right and left have hoped for. Team Clinton knows it, as her super PAC gets ready to open the bomb bay doors on Trump even earlier than expected.
There's a point of instruction here for heartsick Republicans who wonder if the country might be better off with the Democrat this time around: there's a chance that you will be forced to make an affirmative choice rather than just watching it all burn.
If your opposition to Trump was rooted in his viability, Trump may, for a time at least, make you eat your words.
[Watch Fox: Megyn Kelly and Bret Baier bring you the latest results from tonight's primary races starting at 6 p.m. ET]
WITH YOUR SECOND CUP OF COFFEE…
Cyberhacking for ransom at medical facilities has been in the news a lot lately, but this issue isn't a new problem so much as an evolution. The Atlantic: "The year was 1989, and the AIDS epidemic was in full swing. The number of reported AIDS cases had hit 100,000 for the first time. An evolutionary biologist named Joseph Popp came up with a computer-based questionnaire he said would help determine patients' risk of contracting AIDS, and he distributed 20,000 copies of it to researchers in 90 countries. But the surveys on Popp's floppy disks were a ruse…their computers became infected with what would come to be known as a digital version of the AIDS virus…The virus scrambled the contents of the victims' computers and offered to unlock them only in return for a 'licensing fee.' …Soon, security researchers produced antidotes that would recover the files locked away by the virus…The biologist was soon arrested and charged with blackmail in the U.K."
Got a TIP from the RIGHT or the LEFT? Email FoxNewsFirst@FOXNEWS.COM
POLL CHECK
Real Clear Politics Averages
General Election: Clinton vs. Trump: Clinton +6.4 points
Generic Congressional Vote: Democrats +2.3
HILLARY WON'T ANSWER ON BUBBA'S AFFAIRS
LAT: "Hillary Clinton refused on Tuesday to address Donald Trump's claims that she helped enable her husband's bad behavior with women. 'I have nothing to say about him and how he's running his campaign,' she said to reporters who asked about Trump during a campaign stop at a Virginia coffeeshop. Trump raised the issue of Bill Clinton's infidelities during a recent campaign rally in Oregon. 'She was a total enabler,' Trump said. 'She would go after these women and destroy their lives.'"
TRUMP TEAM, RNC IN TAKEOVER TALKS
Politico: "Donald Trump's campaign is hashing out details of an agreement with Republican Party leaders that could allow the presumptive GOP presidential nominee to raise six-figure checks for his campaign, multiple sources with direct knowledge of the negotiations have told POLITICO. The fundraising agreement was among the subjects discussed at a Monday meeting of top Republican National Committee officials, including Chairman Reince Priebus, and senior Trump aides, including campaign manager Corey Lewandowski, senior adviser Paul Manafort and political director Rick Wiley, according to the sources. The meeting was held at the RNC's Washington offices. The talks represent the first formal steps toward a merger between the official apparatus of the party and a candidate whom many party leaders scorned until recently, and about whom there remains deep leeriness in some Republican quarters."
RACE NOTES
Marco Rubio slammed the door – hard – on talk in Trumpghanistan that the Florida was seeking a spot as Trump's running mate - Red State
Trump praises London's Muslim mayor, would make exception in travel ban - Reuters
Trump's self-funding comes to an end, turns to GOP for help - NYT
How Trump is running to Hillary's left - WaPo
Trump tries to woo Teamsters from Dems - WashEx
New Jersey Gov. Chris Christie will lead Trump's transition team - WSJ
Ben Carson running point for Trump ahead of Thursday meeting with Speaker Paul Ryan - WaPo
Trump will meet with other GOP leaders Thursday in Washington - WashEx
Jeffrey Frank pauses to consider what Jack Kemp means in Trump's new Republican Party - New Yorker
WITHIN EARSHOT
"People said I want to go and buy debt and default on debt — these people are crazy. This is the United States government. First of all, you never have to default because you print the money, I hate to tell you, OK? So there's never a default." – Donald Trump in an interview with CNN

WHAT SHOULD WE GET TO CELEBRATE?
Oregonian: "A Salem man whose life was likely saved by the thoughtful actions of Domino's pizza employees is the store's No. 1 customer, an assistant manager said. She said Domino's employees were concerned about Kirk Alexander, a regular customer who's been ordering from a Salem store for more than a decade, because they hadn't heard from him in 11 days. They sent a delivery driver to Alexander's home early Sunday morning, she said, and eventually decided to call 911. … Marion County sheriff's deputies were dispatched to the home, heard a man calling for help and found Alexander suffering from medical problems that could have ended his life, said Lt. Chris Baldridge, sheriff's office spokesman. … [The manager] said the loyal customer … doesn't have a standard order: He'll get pasta, pizza, sandwiches and wings. … The employees are happy Alexander's OK, she said…"
AND NOW A WORD FROM CHARLES…
"We heard [Donald Trump] say, 'yes, I'm a conservative,' but the party is not necessarily a conservative party." -- Charles Krauthammer on "Special Report with Bret Baier"

Chris Stirewalt is digital politics editor for Fox News. Sally Persons contributed to this report. Want FOX News First in your inbox every day? Sign up here.
Chris Stirewalt joined Fox News Channel (FNC) in July of 2010 and serves as politics editor based in Washington, D.C. Additionally, he authors the daily Fox News Halftime Report political news note and co-hosts the hit podcast, Perino & Stirewalt: I'll Tell You What. He also is the host of Power Play, a feature video series on FoxNews.com. Stirewalt makes frequent appearances on network programs, including America's Newsroom, Special Report with Bret Baier and Fox News Sunday with Chris Wallace. He also provides expert political analysis for FNC's coverage of state, congressional and presidential elections.