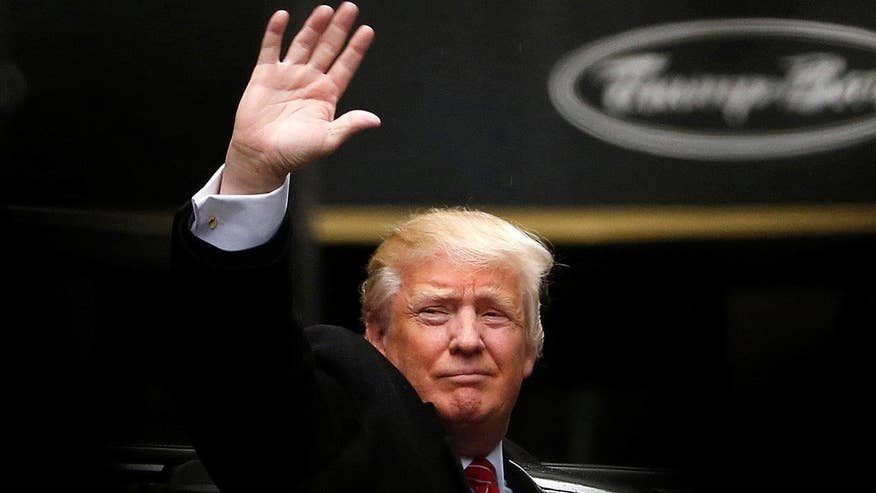 **Want FOX News First in your inbox every day? Sign up here.**
Buzz Cuts:
• Aren't rigged systems supposed to be Trump's thing?
• Major fight brewing at RNC rules meeting this week
• Escape from New York: Bernie Sanders edition
• Voting is hard
• White privilege, indeed
AREN'T RIGGED SYSTEMS SUPPOSED TO BE TRUMP'S THING?
There is more than a little irony in a candidate who brags about exploiting corrupt systems complaining so bitterly about systematic corruption. But 2016 being what it is, maybe we shouldn't be so surprised.
Donald Trump wanted to make clear on Sunday to reporters on Staten Island that he was not encouraging violence at the Republican National Convention when he had warned the day before of a "rough July" for his adopted party if he was denied its presidential nomination.
"I hope it doesn't involve violence. I hope it doesn't. I'm not suggesting that," Trump reportedly said. "I hope it doesn't involve violence, and I don't think it will. But I will say this, it's a rigged system, it's a crooked system. It's 100 percent corrupt."
Trump's focus on the corruption of the process is a good excuse to his supporters for why he is not doing better than he is in the delegate hunt. It is also a powerful message for those who believe that the entirety of the system, not just the nominating process, is rigged against them. And it's tacit acknowledgement that Trump understands that he faces longish odds of capturing the nomination outright.
The campaign's focus on the process also cuts the other way, though. It has given his main rival, Sen. Ted Cruz, the chance to mock Trump for whining. Certainly, a person who once said that Americans would win so much under a President Trump that they would get "bored with winning" doesn't sound good rationalizing losses.
There's something else, too.
Trump's critics have long pointed out the incongruity of Trump's organizational failures with his frequent boasts that his solutions to most of the nation's ills involve, at least in part, "hiring the best people." And that's a fair criticism. If managerial prowess is a candidate's central selling point, a process that is both knowable and relatively weak should be no problem.
Not only should he have been able to hire people who had figured out this delegate business in the 10 months Trump has been running, but this is exactly the kind of system in which Trump has claimed he excels.
Trump explained his decades of donations to unpopular politicians in both parties by saying he was winning in a rigged, corrupt system. It's the same for the relationships he made with unseemly figures in New York's construction business. And it's definitely what he has said about his use of bankruptcy laws. When Trump defends his corporate bankruptcies he has said he "used the laws of this country" to "do a great job."
The candidate promises that because he has been the master of corrupt systems in business, he will now master corruption on behalf of his supporters as the GOP nominee and president.
But if the Wyoming Republican Party is too hard to break and 10 months is not long enough to learn the system, what does that say about Trump's chances to actually deliver on his promise to run the government like his businesses?
A better turn for the GOP frontrunner would be to focus on revving up his base on issues, not process. Yes, the warnings about violence and endless attacks on the system might petrify the lily-liveredest members of the GOP establishment into trying to hand him the nomination. That point, though, has now been well made.
Better for Trump to keep the focus on what brought him this far: hot rhetoric and controversy about immigration and the dangers of Islamists. Throw in some insults for his rivals, some attacks on the press and you've got the right combination to keep his supporters beyond his home state coming out to vote.
Trump offers sweeteners for Nevada delegates - WashEx's David Drucker reports: "Donald Trump's campaign is going all out to win delegates in Nevada, offering to cover transportation and lodging costs for Nevada supporters who travel to Reno in mid-May to participate in delegate elections. Trump's Nevada activities contradict his claim that he has deliberately declined to invest resources in the election of delegates to the Republican nominating convention in Cleveland because the process is 'corrupt.'"
Major fight brewing at RNC rules meeting this week - AP: "In an extraordinary display of internal discord, the chairman of the Republican Party's rules committee accused top GOP officials Saturday of 'a breach of our trust' by improperly trying to impede a proposed change in bylaws that would make it harder for party leaders to nominate a fresh candidate for president. Bruce Ash, RNC committeeman from Arizona, wrote the harshly worded email to the other 55 members of the GOP rules committee that he chairs. The confidential email, obtained by The Associated Press, was written days before party officials gather in Hollywood, Florida, for preliminary discussions about what rules the GOP will use at its presidential nominating convention this July…Ash said he has 'become troubled' during discussions with RNC Chairman Reince Priebus and other party officials that by not making the proposed change, GOP officials 'could use their power to attempt to achieve a political result' at the nominating convention."
Cruz sweeps delegates at Wyoming state convention - Wyoming Tribune Eagle: "Cruz picked up all 14 of the state's delegates who were up for grabs Saturday at the State GOP Convention at the Parkway Plaza in Casper. The Wyoming Republican Party's presidential selection process involves several steps, but after Saturday's vote, Cruz had ultimately garnered at least 24 of the state's 29 delegates."
Borneo on the Powder River - "…the Allies didn't invade every Japanese island. We skipped some to get to the prize." – Alan Cobb, senior adviser to Donald Trump's campaign, explaining to CNN the candidate's defeat in Wyoming.
Meet Trump's base - WSJ travels to a remote county in Virginia that came out in full force for Trump in Virginia's March primary – a county that was once heavily Democratic. Why? Disenfranchisement of coal, unemployment, and a rapidly shrinking population: "Voters here say Mr. Trump understands their frustration and will fight the Washington establishment on their behalf. In an area awash in uncertainty—Will mines remain open? Will the river flood? Must the young leave to find work?—he is a reassuring presence, someone who has visited their living rooms for years via television."
Maybe he meant a laugh riot? - National Review's Jonah Goldberg refutes the idea that conservatives like himself will "come around" to the idea of voting for Trump: "After I criticized the [NY Post's Trump endorsement] on Twitter, a Trump supporter tweeted at me 'No Goldberg, you are wrong. Support the front runner and stop trying to burn the party. Unite it.' This lover of unity and champion of party loyalty goes by the Twitter handle 'TrumpOrRiot.'"
Rethinking Cruz's general election chances - National Journal's Josh Kraushaar lays out why Cruz isn't such a bad general election candidate: "The main reas­on Cruz will be com­pet­it­ive for the pres­id­ency is the fun­da­ment­al real­ity of the 2016 elec­tion. With the back­drop of a dis­af­fected elect­or­ate and a deeply po­lar­iz­ing pres­id­ent leav­ing of­fice after two terms, any Re­pub­lic­an nom­in­ee be­ne­fits from be­ing the can­did­ate of change. Demo­crats are also deal­ing with their own deep­en­ing in­tra-party di­vide—one that, if it wer­en't for the head­line-grabbing rise of Don­ald Trump, would be the de­fin­ing theme of the 2016 elec­tions."
[GOP delegate count: Trump 755; Cruz 559; Kasich 144 (1,237 needed to win)]
WITH YOUR SECOND CUP OF COFFEE…
Sales of vinyl records reached a 28-year high in 2015 and on Record Store Day over the past weekend encouraging hipsters young and old to savor the rich pop and hiss of a needle in a groove, 2016 is expected to be even better. It's one thing to try to recapture the old sound, but what about trying to recapture the old discs themselves? Longreads brings us the story of a journalist who's nostalgia trip led him to try to get back all of his old records – not the same album titles, but the albums themselves. "Most of my records disappeared in a blur. But I remember the last one. It was the Replacements' Let It Be…During a visit to my parents, I found it in my old bedroom closet--the one record I'd always managed to talk my­self out of selling. But at this point, it seemed silly to hold on to it…There was no value in these physical relics, which (I'd told myself) symbolized only lonely nights in my teenage bedroom…[I] believed I hadn't actually lost anything. And that's what I kept telling myself, and kept believing."
Got a TIP from the RIGHT or the LEFT? Email FoxNewsFirst@FOXNEWS.COM
POLL CHECK
Real Clear Politics Averages
National GOP nomination: Trump 40.4 percent; Cruz 30.6 percent; Kasich 21 percent
National Dem nomination: Clinton 47.2 percent; Sanders 46 percent
General Election: Clinton vs. Trump: Clinton +9.9 points
Generic Congressional Vote: Republicans +0.5
ESCAPE FROM NEW YORK: BERNIE SANDERS EDITION
Sen. Bernie Sanders would have been excused for skipping Tuesday's New York primary altogether.
All the polls indicate that his native state will be a blowout for frontrunner Hillary Clinton. And by spending time and resources in the Empire State, Sanders increases the value of her expected win in the campaign narrative.
But Sanders isn't in the narrative-building business right now. He's playing the delegate game in hopes that he can have the strongest possible position when the primaries are all done. And any delegate he can snatch from Clinton in New York is valuable.
Sanders best-case scenario looks like this: He wins enough bound delegates before the voting ends so that Clinton would have to rely on the majority of the party's 712 "superdelegates" to clinch the nomination at their party's convention. Not only would that leave the door open to superdelegate switches and a long-shot Sanders win, but also would increase Sanders' bargaining power.
At some point, Clinton will have to try to more directly appease Sanders. For now, it's been an effort to slide left and sway voters, but eventually it will be about meeting his specific demands. If Clinton has a superdelegate-dependent victory, she would need her rival's support and blessing far more than if she can win it outright.
Sanders as running mate? Maybe Elizabeth Warren? Particular platform proposals? If the count is close enough and Clinton needs Sanders not to cry foul, anything is possible.
Plus, if Sanders somehow were to pull off a come-from-behind victory, it would be a devastating blow to Clinton. And there's little downside to trying. He's supposed to lose anyway, so as long as Sanders nets a decent delegate haul New York won't hurt him.
But a 20-point blowout and a delegate disappointment could be quite damaging.
What Sanders needs to do is get out of Tuesday without suffering a crippling loss. Like Snake Plisskin, having broken in to New York, now he just has to get out alive.
Clinton donor got big loans from Hillary's State Department - Daily Caller: "Hillary Clinton's Department of State awarded at least $13 million in grants, contracts and loans to her longtime friend and Clinton Foundation donor Muhammad Yunus, despite his being ousted in 2011 as managing director of the Bangladesh-based Grameen Bank amid charges of corruption, according to an investigation by The Daily Caller News Foundation."
Bernie escalates attacks on Hillary speeches - The Hill: "Bernie Sanders rallied a huge crowd in his home borough of Brooklyn on Sunday afternoon, with a speech that drew stark and sometimes scathing comparisons with his rival, Democratic front-runner Hillary Clinton…Noting that Clinton has received as much as $225,000 per speech, Sanders said: 'Now, if you give a speech for $225,000, it must be a pretty damn good speech; must be a brilliant and insightful speech analyzing all of the world's problems; must be a speech written in Shakespearean prose. And that is why I believe Secretary Clinton should share that speech with all of us.'"
Voting is hard - LAT: "With nearly half a million registered members, the American Independent Party is bigger than all of California's other minor parties combined. The ultraconservative party's platform opposes abortion rights and same sex marriage, and calls for building a fence along the entire United States border. … But a Times investigation has found that a majority of its members have registered with the party in error. Nearly three in four people did not realize they had joined the party, a survey of registered AIP voters conducted for The Times found. That mistake could prevent people from casting votes in the June 7 presidential primary, California's most competitive in decades. … Residents … including Sugar Ray Leonard, Demi Moore and Emma Stone — were among those who believed they were declaring that they preferred no party affiliation when they checked the box for the American Independent Party."
[Dem delegate count: Clinton 1758; Sanders 1076 (2,383 needed to win)]
WHITE PRIVILEGE, INDEED
Denver Post: "Panic ensued on a college campus last week when social media fueled rumors that a member of the Klu Klux Klan had been spotted. The man, as students later realized, wasn't a Klan member, but rather Father Jude McPeak, an ordained priest from Evergreen, in line for frozen yogurt while wearing his habit. Students from Indiana University took to Twitter to caution fellow students of a man 'dressed in white robes' who was seen on campus 'carrying a whip.' A university dorm resident advisor subsequently sent out a cautionary email to students in his building, and campus-wide chaos ensued…'I've learned early on to kind of ignore things when I'm out, so when I was at Red Mango getting yogurt, I had no idea what was going on around the campus,' McPeak said."
Chris Stirewalt is digital politics editor for Fox News. Sally Persons contributed to this report. Want FOX News First in your inbox every day? Sign up here.
Chris Stirewalt joined Fox News Channel (FNC) in July of 2010 and serves as politics editor based in Washington, D.C. Additionally, he authors the daily Fox News Halftime Report political news note and co-hosts the hit podcast, Perino & Stirewalt: I'll Tell You What. He also is the host of Power Play, a feature video series on FoxNews.com. Stirewalt makes frequent appearances on network programs, including America's Newsroom, Special Report with Bret Baier and Fox News Sunday with Chris Wallace. He also provides expert political analysis for FNC's coverage of state, congressional and presidential elections.