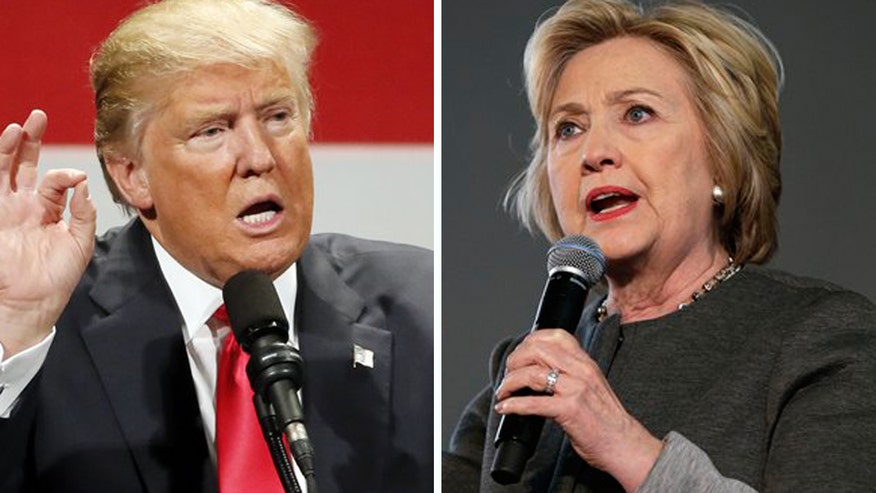 **Want FOX News First in your inbox every day? Sign up here.**
Buzz Cut:
• Trump helps Hillary survive a rocky year
• Bernie takes a hard line on fracking, knocks Hillary
• Dude…
• Cruz, team Rubio hit back at Trump, Kasich
• Um, would you believe 'meow?'
TRUMP HELPS HILLARY SURVIVE A ROCKY YEAR
Today is the one-year anniversary of the official start of presumptive Democratic nominee Hillary Clinton's presidential campaign, which she launched with a brief online video.

It was a revealing choice, as was her subsequent trip to Iowa in a blacked-out "Scooby van," including the seemingly furtive visit to an Ohio fast-food restaurant.

Keeping the candidate in the campaign equivalent of a hamster ball may have been about her team's desire for a cloistered Clinton and an avoidance of the sloppy mistakes of her first presidential run. But there was also a bigger consideration.

Clinton, who had unmistakably been preparing for a second run since the moment of her 2008 defeat, had toyed with the idea of a Jeb-esque protracted phony campaign, delaying the official launch – and official fundraising rules – until as late as July of last year.

But March blew a chill wind into Clinton's plan for conquest when it was revealed that the former secretary of state had engaged in some very dreggy electronic hygiene. Her efforts to put the matter to rest went, um, poorly.

The once and future frontrunner had a problem. She couldn't announce her run in the teeth of a scandalous gale, but neither could she afford to create any doubts in her party that she might be backing out because of her email woes. A viable rival might emerge. So she tried an announcement version of a "modified limited hang out."

It was not a hit, but it did achieve its apparent goals of crossing the legal threshold of candidacy while insulating the candidate from scrutiny and those pesky reporters. Team Clinton would try a do-over in June on New York's Roosevelt Island, but that only reinforced the thickness of the membrane around the candidate and campaign.

One year ago today, Clinton was broadly disliked, with real ethical concerns from her time as secretary of state and the proprietor of a heavy-handed and airless campaign. And she also looked quite inevitable.

And nothing seems to have changed…

Despite more scandals over the course of the year involving the Clinton's money-making machine, Benghazi, and the discovery of classified information on a private server, Clinton still remains the unquestionable Democratic frontrunner. Sen. Bernie Sanders still doesn't have a path to victory that doesn't involve the mass defection of his party's leadership.

But if we look a bit closer, some things have changed for Clinton.

At this time last year, Republicans were eagerly ticking off the days until the general election. With a strong primary field of contenders and another batch of Clinton scandals looming, the GOP figured Clinton would be easier to beat than they had once anticipated.

The debate among Republicans wasn't whether Clinton could be beaten, but rather about with whom they would trounce her. The reformist Midwestern governor? The charismatic Cuban-American senator? The time-tested scion of the old guard?

Nope.

Two months after Clinton's Scooby adventure, her fellow New Yorker and erstwhile friend Donald Trump declared his own candidacy on the GOP side. And what started out as a punch line or the threat of a third-party run would go on to take the dominant position in every national GOP primary poll by the end of the summer.

The words written about how and why Trump managed to eat the GOP nominating process are so numerous that their pixels might overwhelm even the data vaults at the NSA. The tyranny of multiplicity? The dislocation of millions of Americans by technological change? The ripeness of the issue of illegal immigration? And the failure of the existing Republican order to deliver on lavish promises? Yep, yep, yep and yep.

But whatever the reasons for his rise, Trump has been a boon to Clinton. Here we're not talking about surveys on the still-far-off general election that show Trump going down in a Hoover-sized landslide.

The immediate benefits to Clinton of Trumpism are that what should have been a damaging primary-election season has been substantially ignored. Rather than talking about Clinton scandals, restive liberals, Clinton's record or anything else, she has mostly been able to roll along in her Habitrail.

Who wants to talk about that dusty old server when you've got an outrage industry banking the furnaces of umbrage until they are white hot? And that means further opportunity for Clinton, who can jump in the news cycle from time to time by flaying Trump and his party.

Trump even takes the heat off of Clinton on the Democrat's undemocratic nominating process. Clinton's party is far more controlling than Republicans when it comes to the actual seating of delegates, but Sanders' complaints are buried under a pile of Trump accusations of corruption, illegality and misconduct.

Trump's supporters may be right that in the general election, he will break her down like a church table after a picnic. But so far, he has been the best part of her very rough year.

[Pro-GOP group America Rising is taking a victory lap for getting more than 1 million views with its online clip of Clinton's troubles navigating the New York subway system.]

Bernie takes a hard line on fracking, knocks Hillary - NYT: "Bernie Sanders, campaigning across New York State on Monday, called for a nationwide ban on fracking and pointedly criticized Hillary Clinton for her record and stances on environmental issues. The Vermont senator began his day speaking to an estimated 5,000 people in Binghamton and by releasing a new television ad that called for the end of fracking across the country. Mr. Sanders said Mrs. Clinton has advocated for natural gas pipelines that will hurt the environment, and that as secretary of state she had rewarded companies through fracking expansions."

Dude… - The Hill: "Hillary Clinton performed in a racially tinged skit at an annual New York City press dinner … Clinton took the stage for a surprise appearance at Saturday's Inner Circle Dinner and proceeded to needle Mayor Bill de Blasio for his belated endorsement. 'I just have to say thanks for the endorsement, Bill. Took you long enough,' Clinton told her former campaign manager. 'Sorry, Hillary, I was running on C.P. time,' de Blasio replied to gasps from the crowd. As Raw Story explains, 'C. P. time,' or 'colored people time,' refers to 'the stereotype that African Americans generally tell as a reason for being late to an event or a traditionally black event not beginning on time.'"

[Dem delegate count: Clinton 1756; Sanders 1068 (2,383 needed to win)]

WITH YOUR SECOND CUP OF COFFEE…
On this date in 1861, the first shot was fired on Fort Sumter beginning the bloodiest four-years in American history. The Civil War Trust brings us the story of the man who fired that fateful shot: "Although some popular legends have attributed that iconic shell to the militant Virginia secessionist Edmund Ruffin, the distinction actually fell to Capt. George S. James of the South Carolina Artillery…Initially, he served as an aide to Brig. Gen. P.G.T. Beauregard, bringing messages to the Union contingent inside Fort Sumter. As the situation worsened, the Southerners began to make plans for the attack on the fort. The honor of firing the first shot was initially given to Virginia congressman Roger Pryor. But at the 11th hour, Pryor demurred, and military veteran James volunteered for the job…He was killed while leading the battalion at Fox's Gap on September 14, 1862."

Got a TIP from the RIGHT or the LEFT? Email FoxNewsFirst@FOXNEWS.COM

POLL CHECK
Real Clear Politics Averages
National GOP nomination: Trump 39 percent; Cruz 32.3 percent; Kasich 20.5 percent
National Dem nomination: Clinton 46.8 percent; Sanders 45.8 percent
General Election: Clinton vs. Trump: Clinton +10.6 points
Generic Congressional Vote: Republicans +0.5

CRUZ, TEAM RUBIO HIT BACK AT TRUMP, KASICH
After Ohio Gov. John Kasich's campaign teamed up with Donald Trump's organization in Michigan to help Trump shut out Ted Cruz in the final round of Michigan's delegate selection process, Cruz's Arkansas team returned the favor with the help of supporters of the since-suspended campaign of Marco Rubio. David Drucker explains how Rubio's delegates are teaming up with Cruz ahead of an anticipated floor fight: "Since Rubio ended his presidential bid March 15, his network of party insiders has lined up behind Cruz to win delegates who'd vote for the Texas senator once they're no longer bound to Trump in a floor fight."

Trump: Colorado 'a total fix' - Fox News: "Republican front-runner Donald Trump blasted Colorado's GOP leadership late Monday, calling the way the state divvied up its delegates a 'dirty system.' At a campaign rally in Albany, N.Y., the real estate mogul told the crowd 'there's been so much pressure – like in Colorado, which was a total fix. There's so much - the people all wanted to vote. They took away their votes.' Over a series of several days, Colorado Republicans picked delegates on the congressional and statewide level for the national convention in Cleveland. Texas Sen. Ted Cruz swept the state, winning all delegates for the national convention."

Cruz: Stop 'whining' - Fox News: "Texas Sen. Ted Cruz waded into the controversy over the Republican party's nominating process Monday, accusing his rival for the GOP nomination, Donald Trump, of 'whining' over Cruz's sweep of Colorado's delegates for this summer's Republican National Convention in Cleveland. 'Donald has been yelling and screaming. A lot of whining. I'm sure some cursing. And some late-night fevered tweeting,' Cruz told hundreds of supporters in Irvine, Calif…Addressing the real estate mogul directly, Cruz then said, 'Donald, it ain't stealing when the voters vote against you. It is the voters reclaiming this country and reclaiming sanity.'"

[Watch Fox: Heidi Cruz sits down with Megyn Kelly tonight to discuss the recent controversy surrounding Trump's comments about her on "The Kelly File" at 9 p.m. ET]

What Trump's Colorado debacle tells us about his campaign - The Federalist's Mollie Hemingway gives insight into Trump's ground game in Colorado from the perspective of a delegate: "In the lead-up to those assemblies, [Trey, a Republican delegate] received communications about logistics. Since all campaigns had access to delegate emails, he received communications from campaigns seeking his vote. The Cruz campaign was very organized. They set up a CruzColorado.com site, with an easy-to-navigate interface that allowed delegates to quickly see who was on the Cruz slate for each assembly. The Trump campaign wasn't visibly organized. Trey did, however, receive a few emails from Trump delegates and unofficial Cruz supporters. The Trump campaign issued error-filled ballots that caused problems for his supporters."

[WaPo's Chris Cillizza explains why Trump may have realized his delegate issue too late.]

Negative ads piling up against Trump - NYT: "More than half of the record spending on negative advertising during the 2016 presidential primary has been directed at a single candidate, Donald J. Trump, a barrage that threatens to undermine his candidacy even as he continues to march toward the Republican nomination. Of the more than $132 million spent on negative ads by candidates and the groups supporting them, nearly $70 million has gone to commercials assailing Mr. Trump, according to a New York Times analysis of data provided by Kantar Media/CMAG. The sharp focus on a single candidate is especially surprising given the exceptional size of the initial Republican field."

[GOP delegate count: Trump 743; Cruz 545; Kasich 143 (1,237 needed to win)]

UM, WOULD YOU BELIEVE 'MEOW?'
KETV: "Multiple first responders safely rescued a 120-pound Great Dane… after it was stuck in a tree. Owner Wes McGuirk says his pet, 'Kora,' probably ran up the tree in pursuit of a raccoon or squirrel after surmounting a 5-foot-tall fence. McGuirk says he found her on a limb about 20 feet up when he returned home from Omaha. His efforts to get her down failed, so he called for help from firefighters...Several crews from Cass County responded, including the K-9 handler from the sheriff's office…[A] plan was made: attaching Kora to a long leash and harness, and lowering the dog the ground…Which is pretty much what happened -- Kora fell into the tarp, bounced off onto the ground -- and promptly walked away."

Chris Stirewalt is digital politics editor for Fox News. Sally Persons contributed to this report. Want FOX News First in your inbox every day? Sign up here.
Chris Stirewalt joined Fox News Channel (FNC) in July of 2010 and serves as politics editor based in Washington, D.C. Additionally, he authors the daily Fox News Halftime Report political news note and co-hosts the hit podcast, Perino & Stirewalt: I'll Tell You What. He also is the host of Power Play, a feature video series on FoxNews.com. Stirewalt makes frequent appearances on network programs, including America's Newsroom, Special Report with Bret Baier and Fox News Sunday with Chris Wallace. He also provides expert political analysis for FNC's coverage of state, congressional and presidential elections.