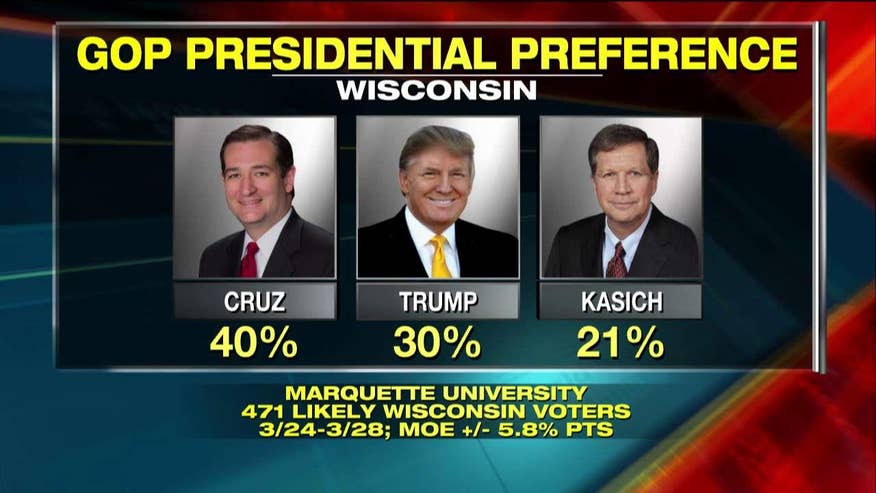 **Want FOX News First in your inbox every day? Sign up here.**
Buzz Cuts:
• Trump is losing in Wisconsin. But why?
• RNC unveils contested contention website
• Sponsors balk at backing Republican convention
• Hillary grabs big lead in home state showdown with Trump
• Clean inside and out
TRUMP IS LOSING IN WISCONSIN. BUT WHY?
Never underestimate the capacity of those in media and politics to overstate their influence. Like roosters who credit themselves with the sunrise, members of the narrow elite witness any phenomenon and immediately look for evidence of their own influence.
For example, Donald Trump's rise is often attributed to the jaw-dropping imbalances of coverage that he has received compared to other candidates. And the chasm has been embarrassingly deep indeed.
But that's a better explanation for why traditional candidates didn't catch on than why Trump first captured the support of his most ardent followers. His pre-existing celebrity combined with a message aimed right at the heart of the Americans whose lives have been most disrupted by the changing world economy did that. Trump and his acolytes did that.
This would sound obvious everywhere but in Washington, but it still merits saying: If Trump, as expected, becomes the Republican nominee, the media will bear considerable responsibility, but not nearly so much as he and his supporters.
Now Trump is stumbling. Predictable, avoidable distractions involving his campaign team and his attacks on a rival are piled on top of a series of three serious policy blunders.
Part of this is attributable to intensifying scrutiny, but part of this is because Trump's ability to clear one controversy by creating another is catching up with him. It was already costing him with voters even before the most recent round of troubles. After months of benefitting from media spasms by doubling down on what seemed like errors, Trump is, at least temporarily, outrunning his supply lines.
And as it would happen, there is a pivotal primary in five days. Wisconsin is the only major primary contest in a one-month span and could substantially reset the frame for the race as it goes into the remaining 16 states.
Wisconsin's Republican voters look an awful lot like those in neighboring Illinois and Michigan, states where Trump handily won primaries earlier this month. Fox News First has little doubt that if Wisconsin's primary had been held three weeks earlier, Trump would have been in a very strong position to win.
But April looks different than March and daily we see polls in Wisconsin that show Trump stuck around 30 percent and Sen. Ted Cruz leaping ahead thanks to voters who previously supported other candidates now out of the race.
Explaining this ought to be simple. The Republican nominating process is a referendum on Trump and Trump has been stumbling. Cruz has been working hard to woo supporters of his fallen rivals and voters in the Badger State are responding. It's a fairly simple dynamic, unless, of course, you are part of the narrow elite in the press or politics.
In that case, the reason Trump is losing is because the establishment is battling back. Just ask 'em.
That's silly. Establishment battling has done nothing but help Trump. Angry denunciations by the very serious people have given prankster Trump perfect straight lines. His voters oftentimes seem to love the destruction of the ruling caste more than they do their own champion.
Consider the current confounding claim that if Trump fails to win enough delegates to become the nominee, it will be because of trickery. Many Trump supporters ardently believe this and find efforts by other candidates to win as evidence of pure corruption.
Certainly the belated but sustained barrage of negative ads against Trump is taking its toll. And in that way, outside forces are at work in Wisconsin and elsewhere.
But as they did in explaining his rise, politicos and pressies continue to overstate their parts and underestimate the role of the candidate and voters in explaining Trump's stumbles.
If Trump breaks down on the back nine, it won't be the fault of the announcers in the booth or the sponsors of the tournament. It will be just him and his scorecard.
Trump backs then immediately opposes women being punished for having abortions - Fox News: "Republican presidential front-runner Donald Trump quickly walked back a statement he made earlier Wednesday that if abortion were illegal in the United States, then women who have the procedure should be punished - saying later that only those who performed the procedure should be punished."
[Staunch pro-lifer Molly Hemmingway makes the case for how Trump's answer on abortion could sabotage the pro-life movement.]
Trump tries to change the subject with tax release refusal - The Hill: "The Donald Trump campaign on Wednesday released what appears to be a letter from the Republican presidential front-runner's tax attorneys saying that his tax filings since 2009 are currently being audited. 'Your personal tax returns have been under continuous examination by the Internal Revenue Service since 2002, consistent with the IRS's practice for large and complex businesses,' reads the letter, signed by tax partners Sheri Dillon and William Nelson of Morgan, Lewis & Bockius. The letter says that the IRS had concluded its audit of Trump's filings from 2002 through 2008 without 'assessment or payment, on a net basis, of any deficiency.'"
[FiveThirtyEight explains how Donald Trump successfully hacked the media from the beginning of this cycle.]
RNC unveils contested contention website - David Drucker has the inside scoop on the Republican National Committee's new website with info about a possible contested convention: "The Republican Party on Thursday is unveiling a website to educate the media and the public on the rules of contested presidential nominating convention…'ConventionFacts.gop is a tool for voters to learn about convention delegates, rules, and how the overall process works in a simple, easy to understand format,' RNC Chairman Reince Priebus said in a statement provided to the Washington Examiner. 'Conventions are democracy in action and our Party's gathering in Cleveland will be an exciting, transparent, and fair process.'"
Sponsors balk at backing Republican convention - NYT: "Some of the country's best-known corporations are nervously grappling with what role they should play at the Republican National Convention, given the likely nomination of Donald J. Trump, whose divisive candidacy has alienated many women, blacks and Hispanics. An array of activist groups is organizing a campaign to pressure the companies to refuse to sponsor the gathering, which many of the corporations have done for the Republican and the Democratic Parties for decades. The pressure is emerging as some businesses and trade groups are privately debating whether to scale back their participation, according to interviews with more than a dozen lobbyists, consultants and fund-raisers directly involved in the conversations. Apple, Google and Walmart are among the companies assessing their plans for the convention, which will be held July 18 to 21 in Cleveland."
[GOP delegate count: Trump 736; Cruz 463; Kasich 143 (1,237 needed to win)]
WITH YOUR SECOND CUP OF COFFEE…
The Paris Review interviewed linguist Sally Thomason on her study of what she describes as a "stubborn" language, the tribal language called Montana Salish, meaning they have not borrowed from any other language influences in the hundreds of years of existence: "My family was already spending summers one mountain range [in the Pacific Northwest] to the east of the easternmost Salish language—most of the Salish languages are on the coast…I like consonants, and they have thirty-eight consonants. I like big, long, complicated words, and they have huge, long, complicated words…They don't borrow from English or French. French was the other European language they were exposed to, but that stubbornness—it's not unique, that's what's interesting. That is an areal feature, it's part of the linguistic area. I don't know if it spreads all the way to the coast but it certainly spreads to the Nez Perce, an unrelated language."
Got a TIP from the RIGHT or the LEFT? Email FoxNewsFirst@FOXNEWS.COM
POLL CHECK
Real Clear Politics Averages
National GOP nomination: Trump 42.3 percent; Cruz 31.7 percent; Kasich 19.2 percent
National Dem nomination: Clinton 51.3 percent; Sanders 42.3 percent
General Election: Clinton vs. Trump: Clinton +11.2 points
Generic Congressional Vote: Democrats +1
HILLARY GRABS BIG LEAD IN HOME STATE SHOWDOWN WITH TRUMP
A new poll from Quinnipiac University shows Democratic frontrunner Hillary Clinton trouncing her Republican counterpart Donald Trump by a whopping 20 points in their home state of New York.
The Empire State has been one of the talked about states that might flip in the general election if the matchup was Clinton and Trump due to the number of blue collar white voters.
But this poll shows that even in overwhelmingly white areas in the suburban New York City, Upstate and Western regions, Trump still loses to Clinton. But neither of the remaining anti-Trumps fares any better. Clinton also beats Sen. Ted Cruz by a large margin, and edges out Gov. John Kasich by five points.
Predictable pitch - Although this year seems like the year of political revolutions in presidential politics, Roll Call columnist Walter Shapiro says Clinton's predictable platform might offer voters some peace of mind when heading to the polls: "…[I]n these tumultuous times, the underlying message of the Clinton campaign is: 'Please be seated. Everything will be okay.'"
Bernie not berned by D.C. - Amid reports that Sanders name was left off the District of Columbia's Democratic primary ballot, WaPo breaks down how the error occurred. Bottom line: D.C. residents will get to vote for Sanders on the June 14 primary.
Even Vox… - The liberal explainers at Vox point out that even those who agree with Sanders' tuition-free college have a hard time understanding how his plan intends to achieve that: "Specifically, he is offering a 2-to-1 federal match for states that do this along with meeting a few other criteria like reducing reliance on adjunct faculty. This is a sufficiently attractive offer that some states would probably go for it. But it's going to cost a lot of money, and tax-averse Republican governors like [Wisconsin Gov. Scott] Walker pretty clearly aren't going to do it. Sanders implies that Wisconsin students will just head to blue states like California instead. But his plan doesn't provide California with any money to cut tuition for out-of-state students. And by increasing in-state enrollment at California universities, Sanders' plan would almost certainly make it harder for Wisconsinites to get into public schools in California."
The Judge's Ruling: - With an interview with FBI investigators approaching, "the investigation of former Secretary of State Hillary Clinton's failure to protect state secrets contained in her emails has entered its penultimate phase," says Senior Judicial Analyst Judge Andrew Napolitano, adding "it is a dangerous one for her and her aides." Read it here.
[Dem delegate count: Clinton 1712; Sanders 1011 (2,383 needed to win)]
CLEAN INSIDE AND OUT
The Week: "Thousands of marathon runners in China needed medical treatment after they mistook bars of grape-scented soap for much-needed energy bars. The soap was handed out at the end of a 26-mile race in Qingyuan, in Guangdong province. Around 20,000 people took part in the event and, according to Chinese newspaper People's Daily, some 12,000 of them ended up requiring assistance. It's not clear how many fell ill after eating the scented bars. 'You may take it for granted that the gift package given by marathon organisers should contain some energy reviving food and so did the 20,000 marathon runners,' reports the People's Daily of China. 'However, the gel-like bars turned out to be soaps.' The packaging was in English, reports the BBC, which may have confused the competitors. Witnesses reported 'many bars of soap, all with one bite missing, dumped at the roadside.'"
Chris Stirewalt is digital politics editor for Fox News. Want FOX News First in your inbox every day? Sign up here.
Chris Stirewalt joined Fox News Channel (FNC) in July of 2010 and serves as politics editor based in Washington, D.C. Additionally, he authors the daily Fox News Halftime Report political news note and co-hosts the hit podcast, Perino & Stirewalt: I'll Tell You What. He also is the host of Power Play, a feature video series on FoxNews.com. Stirewalt makes frequent appearances on network programs, including America's Newsroom, Special Report with Bret Baier and Fox News Sunday with Chris Wallace. He also provides expert political analysis for FNC's coverage of state, congressional and presidential elections.