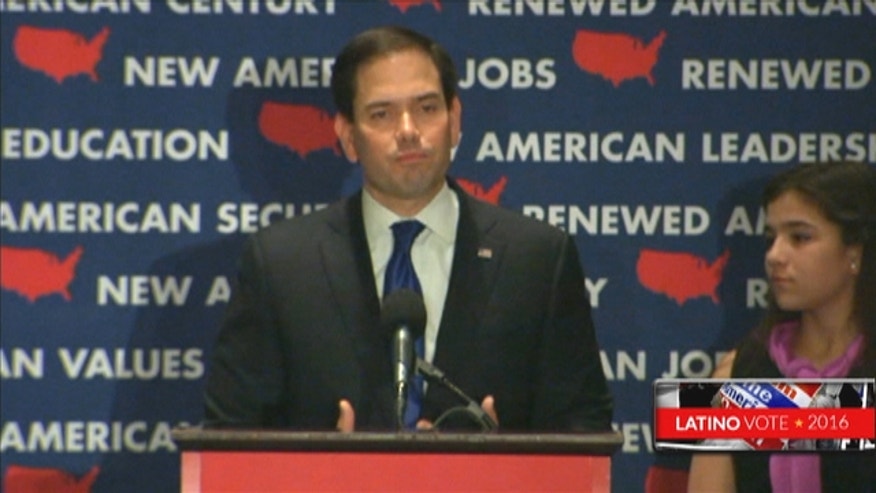 Marco Rubio may have suspended his campaign for president, but it does not mean the delegates claimed by the Florida senator are up for grabs just yet.
According to Rubio representatives who spoke on the condition of anonymity because they weren't authorized to speak publicly about the senator's intentions, Rubio has sent letters to Republican officials in states where he won delegates saying he wants to keep them despite no longer being an active candidate.
The representatives said the former candidate wants to retain his delegates to keep his options open in the coming months – especially as the campaigns of Donald Trump and Sen. Ted Cruz prepare for the possibility of a contested national convention in July.
The Republican National Convention, to be held in Cleveland, Ohio, could feature an intense fight for every available delegate.
Rubio, an aggressive Trump critic, could play a significant role at the national convention should he retain influence over a significant number of delegates. The Florida senator suspended his campaign in mid-March, but not before accumulating 171 delegates, a trove that could help the Republican front-runner secure the nomination — or help stop him.
Officials from the Oklahoma and Alaska GOP say they have received letters from Rubio's campaign. His campaign staff is no longer being paid, but many remain loyal and willing to help Rubio in the coming months.
Alaska had already divvied up Rubio's five delegates to Trump and Ted Cruz. However, since the actual people have not been selected yet, the state party said the delegates will go back to Rubio.
In Oklahoma, state party Chairwoman Pam Pollard said she received a letter from Rubio saying he has not released his 12 delegates from that state.
Selecting the people who will be delegates at the national convention is a tedious process governed by rules that vary from state to state. The system favors political insiders who understand the arcane rules.
In Minnesota, for example, Rubio won the state but his 17 delegates will go to the convention as free agents, free to support the candidate of their choice, said Chris Fields, deputy chair of the Minnesota GOP.
Fields said he expects Rubio's rivals to have supporters at the party's state convention in May to influence who gets chosen as a Rubio delegate.
"They should if they want to win, right?" Fields said.
The three remaining Republican candidates are ramping up efforts to win over Rubio's delegates, in addition to claiming dozens more unbound delegates, in the contentious battle for the 1,237 delegate majority required to win the GOP presidential nomination.
Trump, with 736 delegates, is the only candidate with a realistic path to clinching the nomination by the end of the primaries on June 7. But it's a narrow path. And his Republican rivals are fighting to deny him the majority and force a contested convention.
Acknowledging a late start in the nuts-and-bolts business of political wrangling, Trump's campaign will open a Washington, D.C. office in the coming days to run its delegate operation and congressional relations team, said campaign senior adviser Barry Bennett.
In addition to the new space, Trump has hired a veteran political operative to serve as the campaign's convention manager. Paul Manafort, a seasoned Washington hand, will oversee the campaign's "entire convention presence" including a potential contested convention, said Bennett.
"We started ramping up a couple of weeks ago, but we're rolling now," Bennett said of Trump's delegate outreach efforts.
Tuesday's moves mark a major escalation in Trump's willingness to play by party rules and build alliances in a political system he has so far shunned.
A dispute in Louisiana highlights the potential impact of even a handful of Rubio delegates — and Trump's need to court them.
Texas Sen. Ted Cruz was campaigning in Wisconsin ahead of the April 5 primary, where a loss for Trump could narrow his path to the nomination. However, Cruz campaign officials acknowledged they have been charting out a convention strategy for weeks, but declined to share details.
"We are prepared to take it to a convention if it comes to that," Cruz's national press secretary Catherine Frazier said. "There is a system in place to secure delegates and we have an aggressive well organized effort to do so."
Rubio won five delegates in Louisiana's March 5 primary, who became free agents after he suspended his campaign.
At Louisiana's subsequent GOP convention, Cruz's campaign secured all of Rubio's delegates, as well as five others who were uncommitted. As a result, Cruz could end up with more delegates from Louisiana, even though Trump narrowly won the state's popular vote.
Trump adviser Ed Brookover promised Trump would have "an active presence" at every one of the upcoming lower-profile conventions and caucuses where delegates are selected. That includes this weekend's state convention in North Dakota, where 25 delegates will be selected. All of them — in addition to the state's three national committee members — will be free to support the candidate of their choosing at the GOP's national convention.
Ben Carson will appear in North Dakota on Trump's behalf, Brookover said, as part of outreach efforts that include hospitality suites for delegates, campaign surrogates, parliamentarians and support staff for all upcoming contests.
Representatives from Rubio's political operation declined to comment publicly on his delegate outreach.
Based on reporting by the Associated Press.
Like us on Facebook
Follow us on Twitter & Instagram