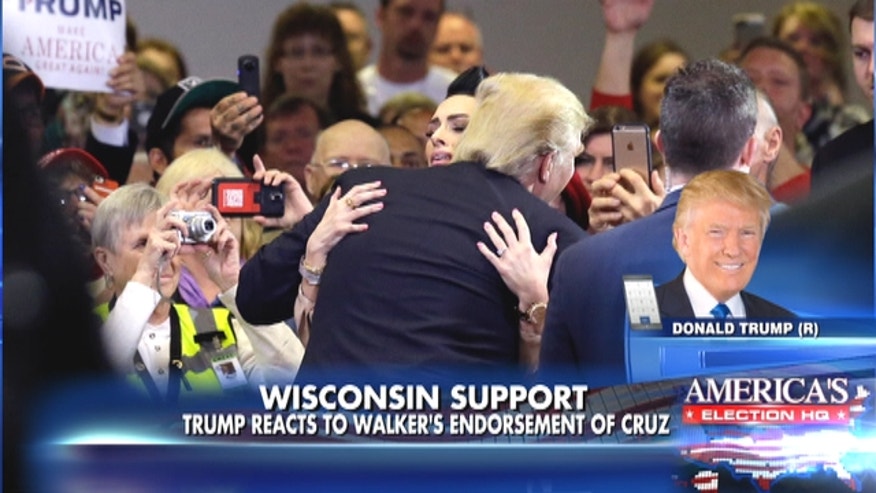 Melissa Young wants the world to know that there's a compassionate side to Donald Trump and that he has brought a ray of sunshine to few remaining years.
Young, who was crowned Miss Wisconsin USA in 2005 and whose 7-year-old son Jack is part Mexican, attended a Trump rally in Wisconsin on Tuesday at which she shared a story about the Republican presidential hopeful.
When she was in the hospital because of an incurable nervous system disease and pregnant with Jack, he sent her a letter to boost her spirits.
"I'm here right now to thank you in person, because that is my biggest dream," she said from the crowd to Trump who listened from the stage. Until last year, Trump owned the Miss USA pageant, and Young reminding the reality TV star of their having met previously.
"Because through you and your organizations, my son, who is Mexican-American, 7 years old ... and just being able to stand on that stage with you in 2005, and the outpouring of love that came from that ultimately provided my son when he graduates high school with a full ride to college."
A fundraising page run by the Miss USA organization helped attract enough money, Young said, to pay for a college education for Jack.
Young suffers from a rare condition that affects the autonomous nervous system, which controls automatic body functions like pulse, blood pressure and kidney functions. There is no known cure.
Trump said he remembered the letter he wrote to her.
"I remember that. Such a beautiful woman," the GOP candidate said.
Trump vowed to continue looking after Jack in the future, but said he believes Young will beat the odds and be around long enough to see her son grow up.
After he left the stage, Trump walked into the crowd and hugged her.
Young mentioned several times at the rally that her son is Mexican-American.
Trump's ties to the Miss USA and Miss Universe pageants were severed after he made remarks, when launching his presidential campaign last June, about Mexican immigrants that were widely denounced as bigoted. He has also vowed to build a wall along the border with Mexico and to get that country to pay for it.
Like us on Facebook
Follow us on Twitter & Instagram