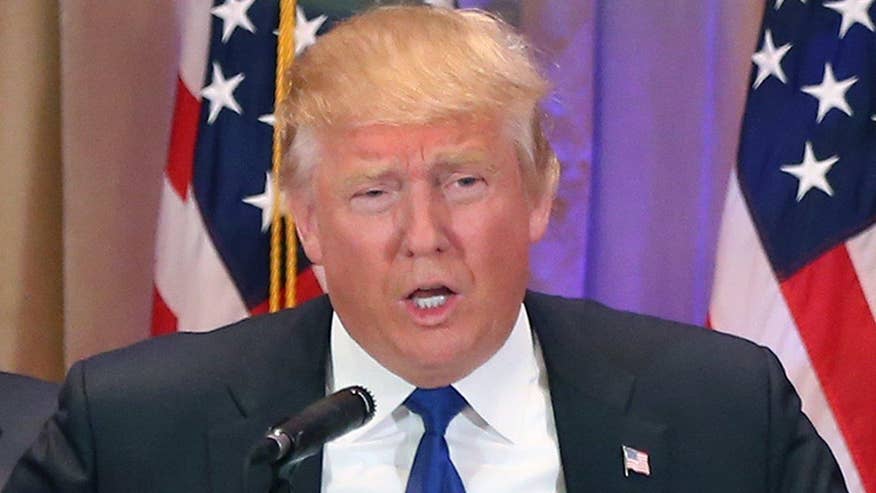 **Want FOX News First in your inbox every day? Sign up here.**
Buzz Cut:
• What's next for Republicans?
• Kingmakers? It's komplicated
• Speaker says 'No'
• Hillary struggles with indies
• Probably trying to get to the other side
WHAT'S NEXT FOR REPUBLICANS?
March has been a month of rude awakening for the GOP. Although most eyes were initially focused on the early states in February to do the major winnowing of an excessively large Republican field, the delegate-heavy contests of late winter haven't yielded hoped for decisive results. Now spring is about to bloom, and the buzzing of brokered conventions and delegate math grows louder, so where do the three remaining candidates go from here?
At this point in 2012, eventual nominee Mitt Romney had pretty much locked it up after Super Tuesday, despite a strong performance by former Sen. Rick Santorum, who knocked down former Speaker Newt Gingrich's chances after winning more of the Southern states Gingrich had been relying on. Both Gingrich and Santorum remained in the race through April, but the choice was clear: Romney would be the nominee.
But this cycle, despite a series of Super Tuesdays and a compressed calendar designed to bring forth a clear cut nominee more quickly, party fracturing has reached unheard of levels and a muddy road looms.
Looking at the math, Donald Trump obviously has the lead but there are still about 40 percent of delegates left on the table in the upcoming contests. In order to clinch the prize Trump needs to win about 60 percent of the remaining delegates to avoid any question of his right to the nomination.
While Trump and Sen. Ted Cruz have notched wins in most of the contests thus far, the remaining states on the map aren't a slam dunk for either one of them. Next Tuesday's contests in Arizona and Utah are among the last of the remaining reddest of red states, leaving mostly general election blue states with moderate Republican voters.
Enter John Kasich.
Kasich's chance of winning the majority of delegates is non-existent. He would need more than 100 percent of the remaining delegates to have the nomination outright. His whole strategy is a brokered convention.
To strengthen his cause, Kasich will need to count on splitting voter groups based on the patterns we've seen so far. While Trump will likely continue to dominate downscale, blue-collar, white voters in states like Pennsylvania and New York, Kasich will look to take the moderate, establishment Republicans that Sen. Marco Rubio failed to capture.
The biggest prize dates left to watch will be April 26 where 172 delegates will be awarded, all from East Coast states, and June 7 (the last day of the Republican primaries) where 303 delegates will be awarded with 172 from California alone.
Four years ago, the role of the late season primaries was mainly to fill in the fractures left by early contests and smooth the ride for the presumed nominee. In 2016 however, the road to Cleveland looks cratered indeed, and may get worse. Hold on to your hat.
[GOP delegate count: Trump 673; Cruz 411; Kasich 143 (1,237 needed to win)]
Kasich's plan - WashEx's David Drucker says look to the summer: "Kasich's strategy rests on the GOP delegates in Cleveland choosing to bypass the likely first and second place vote getters — Trump and Sen. Ted Cruz of Texas — and throwing him the nomination"
Kingmakers? It's komplicated - Fox News: "With Marco Rubio dropping out of the Republican presidential race Tuesday, the Florida senator leaves a large cache of delegates behind. So what happens to them, and the delegates of other former candidates, at the convention in Cleveland? The short answer is: It varies from state to state, but the Republican Party leaves enough wiggle room that the delegates of former candidates could end up being a factor in July… [I]n most states, delegates become 'unbound' and are free to support other contenders as soon as their candidate withdraws…while some of the delegates can already peel off to other candidates, many would have to wait until after a first ballot in order to be able to vote for another candidate still in the race."
Speaker says 'No' - The Hill: [Speaker Paul Ryan] slammed the door shut on speculation that he could be the GOP presidential nominee if front-runner Donald Trump can't secure enough delegates before the party's convention in Cleveland this summer. Asked if there was any scenario in which he could imagine being the Republican nominee, an exasperated Ryan told The Hill: 'No, there isn't. 'No' is the answer. Definitively.'"
WITH YOUR SECOND CUP OF COFFEE…
Today's celebration of St. Patrick's Day likely means you'll see some sort of leprechaun decorations cross your path, but the red-haired men dressed in green top hats is not how legend describes these mythical creatures. Mirror: "The early bearded fairies wore red jackets, laced with gold, according to ancient tales. They are also believed to have sported red, pointed hats (instead of green top hats adorned with shamrocks) and white or brown beards (not ginger ones). In 1831, Irish novelist Samuel Lover wrote that the Leprechaun was '… quite a beau in his dress, notwithstanding, for he wears a red square-cut coat, richly laced with gold, and inexpressible of the same, cocked hat, shoes and buckles.'"
Got a TIP from the RIGHT or the LEFT? Email FoxNewsFirst@FOXNEWS.COM
POLL CHECK
Real Clear Politics Averages
National GOP nomination: Trump 36 percent; Cruz 21.8 percent; Kasich 12 percent
National Dem nomination: Clinton 51 percent; Sanders 39.6 percent
General Election: Clinton vs. Trump: Clinton +6.3 points
Generic Congressional Vote: Democrats +1
HILLARY STRUGGLES WITH INDIES
WSJ: "When the general election rolls around, Mrs. Clinton will also need to attract independents—something she has struggled to do thus far. In Michigan, for example, Mr. Sanders scored the biggest upset of the race by winning 71% of independent voters, compared with 28% for Mrs. Clinton. The pattern was similar in Missouri, one of the five states that voted on Tuesday and the toughest fight of the night for Mrs. Clinton. The Associated Press deemed the race too close to call as of Wednesday. Had she done better among independents in the state, she likely would have notched a clear win. Independents accounted for about a quarter of the vote in Missouri, and Mrs. Clinton won just one-third of them, exit polls showed."
Trumped in key battleground states - HuffPo: "[B]uried within [Clinton's Tuesday] victory was a troubling trend for the party front-runner: She is doing a terrible job turning out voters, particularly in the states that will matter most in a November matchup against Donald Trump. More people voted for Trump than for Clinton in two states Tuesday night -- Missouri and Ohio. In Florida, Clinton edged Trump by a nose -- less than 2 percent. Clinton had only one other candidate splitting the Democratic vote in a contested election, while Trump was embroiled in a four-way contest that factionalized Republican voters."
Did the Trump rally violence help Hillary? - The New Yorker's John Cassidy suggests that the violence at Donald Trump's Chicago event last week scared last minute Democratic voters into supporting Clinton out of fear Sanders wouldn't be a strong enough general election candidate against Trump.
The Judge's Ruling - Was Donald Trump's cancellation of his Chicago rally an example of the heckler's veto? Senior Judicial Analyst Judge Andrew Napolitano says while legal issues regarding speakers and hecklers at political rallies are complex and subtle, the law is clear. "The First Amendment tolerates the maximum possible public discourse, disagreement and confrontations; and it commands the government to protect the values it embodies." More here.
PROBABLY TRYING TO GET TO THE OTHER SIDE
UPI: "Police in Tennessee looked to answer the age-old question of why the chicken crossed the road, when they wrangled a loose fowl on Tuesday evening. Franklin police department tweeted that officers were attempting to capture a chicken that had walked onto a local road in the downtown area around 5:15 p.m. local time. 'Officers are trying to wrangle a *chicken* in the downtown Franklin area,' they wrote. 'It's crossed the road & we're working to determine why. True story.' About 15 minutes later the police department confirmed that the chicken had been safely captured and expressed some disbelief at the situation…Neither the chicken nor any officers or civilians were injured in the capture."
AND NOW, A WORD FROM CHARLES...
"The idea that the president said [Wednesday] this isn't about ideology it's about competence is nonsense. All that was destroyed with the Bork nomination. The most highly competent, qualified nominee probably ever, struck down entirely on ideology and when Obama was in the Senate he filibustered Alito, who he admitted had all the qualifications...It is about ideology, it's about power. The Republicans have the power to say no. They should say no." - Charles Krauthammer on "Special Report with Bret Baier" Watch here.
Chris Stirewalt is digital politics editor for Fox News. Want FOX News First in your inbox every day? Sign up here.