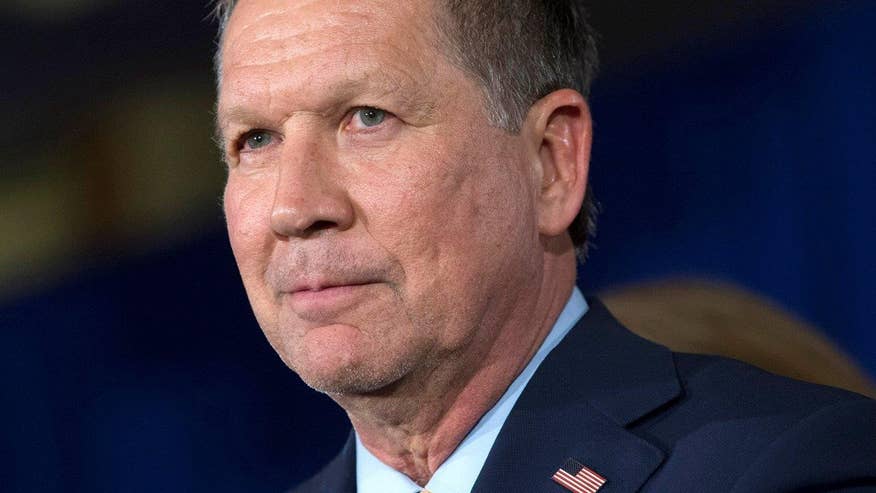 Ohio Governor John Kasich bests Donald Trump among Buckeye Republicans by a 34 to 29 percent margin. Ted Cruz is third with 19 percent. Marco Rubio trails with just 7 percent.
That's according to a new Fox News poll of Ohio likely Republican primary voters. The governor's edge is within the poll's margin of sampling error.
Kasich is bolstered by positive evaluations of his job performance as governor. He has a sky high 79 percent approval rating among the Ohio party faithful.
CLICK HERE TO READ THE POLL RESULTS
Even so, nearly one quarter of Kasich supporters say they could end up voting for another candidate (23 percent). For Trump supporters, 19 percent say they may change their mind.
Who would they pick? Kasich (21 percent) and Rubio (19 percent) top the "second-choice" list, with Cruz close behind (17 percent). Trump is the second choice for only 12 percent.
Nearly half of Ohio GOP voters are evangelical Christians, and they prefer Kasich over Trump and Cruz (32-27-23 percent). Home-state preference seems to be at work: Fox News exit polls of 2016 Republican contests held so far have found either Cruz or Trump always winning the evangelical bloc.
Kasich is up by just one point over Trump among white Catholics (35-34 percent).
About 4 in 10 GOP primary voters describe themselves as "very" conservative, and they pick Cruz over Trump and Kasich (32-28-27 percent).
There's a substantial gender gap. Men go for Kasich over Trump by just one point (33-32 percent), while women pick the governor over the Donald by 10 (35-25 percent).
There are also divisions by education, with Kasich winning among those with a college degree (+15 points), and Trump ahead among those without a degree (+4 points).
Some 26 percent of Ohio Republicans say they would "refuse" to vote for Trump over the Democrat in November, while just six percent say the same of Kasich.
Thirty-nine percent of Kasich supporters say they would refuse to vote for Trump in November. That's about four times as many the number of Trump backers who say they would stay home if Kasich is the GOP nominee (10 percent).
The Fox News Poll is conducted under the joint direction of Anderson Robbins Research (D) and Shaw & Company Research (R). The poll was conducted March 5-8, 2016 by telephone (landline and cellphone) with live interviewers among 806 Ohio likely Republican primary voters and has a margin of sampling error of plus or minus 3.5 percentage points. Respondents were randomly selected from a statewide voter file of Republicans and unaffiliated voters who identified themselves as likely to vote in the GOP primary.