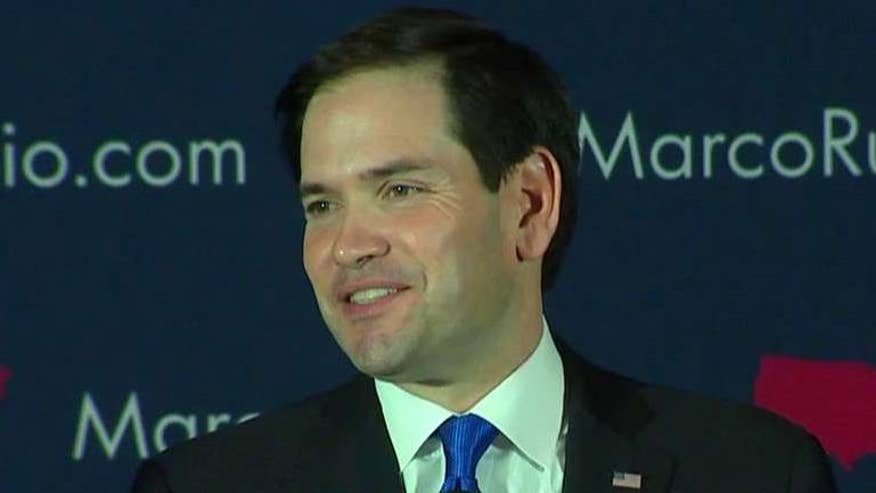 While Donald Trump may have won the New Hampshire primary by a decisive margin on Tuesday night, the results for Ted Cruz and Marco Rubio may prove more telling about the future of their campaigns than for the billionaire businessman.
Cruz, the conservative Texas senator who won the Iowa caucus last week, surprised many analysts and pundits with a strong finish in the Granite State - holding a slight lead for third place over Rubio and former Florida Gov. Jeb Bush with 86 percent of the vote coming in. This gives him even more momentum as he heads to South Carolina for the next primary.
"We have done what the pundits and the media said could not be done," Cruz told supporters Tuesday night in Hollis, New Hampshire. "And what the Washington establishment deeply hoped would not happen."
Despite being unable to repeat his victory in Iowa, his stronger-than-expected finish in New Hampshire was still seen as a victory as the senator spent much less time and money campaigning there than many of his rivals.
"They said a conservative could not do well in the state of New Hampshire," he said. "The men and women of the Granite State proved them wrong."
Speaking to a group of supporters in Manchester, Rubio appeared both humbled and yet motivated following the closing of the polls.
After his third place finish in Iowa, Rubio was seen as the best chance to position himself as the moderate alternative to Trump and Cruz, with a strong chance to drive some rivals out of the race. But that changed during his flustered debate performance last Saturday — principally at the instigation of New Jersey Gov. Chris Christie.
During the debate, Rubio responded with the same well-rehearsed line every time he was challenged by the governor.
"It's not your fault, it's mine," Rubio said in Manchester on Tuesday night about his debate performance.
Rubio, however, tried to put a positive spin on his finish in New Hampshire – telling supporters that he will be coming back for the general election.
"I am confident that not only this campaign will be successful, but America will be successful as well," he said. "We're coming back in November to win the general election."
Two major surprises of the night were the second place finish by Ohio Gov. John Kasich and the close finish of Bush – both of whom invested enormous amounts of money and time to New Hampshire.
But not everybody thought much of rival Kasich's second-place showing.
Bush spokesman Tim Miller said Kasich "ran a one-state campaign" in New Hampshire and doesn't have "a viable path" to the nomination.
The next Republican contest in South Carolina takes place Feb. 20, and Miller said the Bush campaign feels "very confident about our position" in the state. As for Kasich, Miller contended that the former congressman "doesn't have a constituency past New Hampshire."
The large Republican field winnowed after Iowa – it's expected to narrow even more in the coming days – but it remains a crowded group, especially among the more traditional candidates like Rubio, Kasich and Bush.
Kasich, Bush and Christie all hoped to jumpstart their White House bids in a state that traditionally has been friendly to moderate Republicans, even as the candidates battled between themselves over who could consolidate the support of moderate or establishment-minded Republicans best.
Exit polls helped shed some light on the strands of support among voters in the state's GOP primary.
Donald Trump is backed by voters looking for an outsider and by those who made up their minds a while ago, while Kasich did best with voters looking for a candidate with political experience — along with moderates, better educated voters and those who made their decision in recent days.
Cruz had the support of many voters who are very conservative and among evangelical Christians, while Rubio did best among voters for whom experience and electability is important.
The Associated Press contributed to this report.
Like us on Facebook
Follow us on Twitter & Instagram