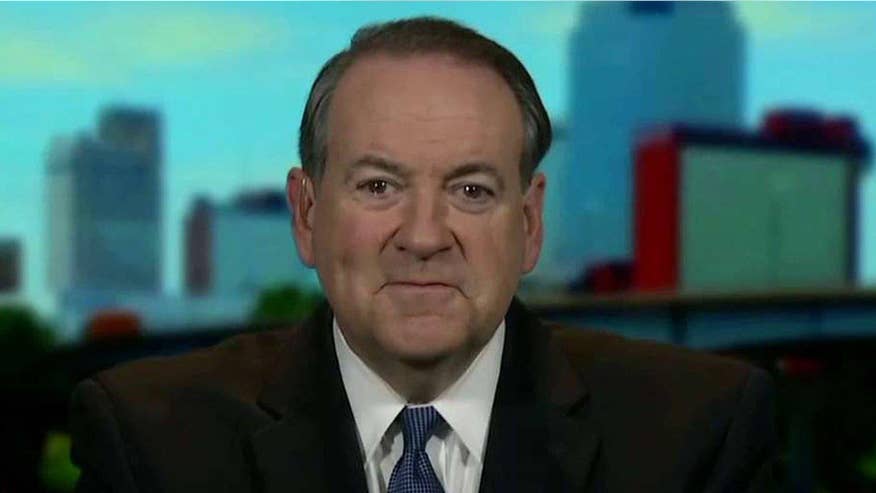 Mike Huckabee and John Kasich on Sunday dismissed suggestions that they would end their struggling Republican presidential campaigns before having to compete in a second-tier debate or suffer a big loss in the upcoming Iowa primary vote.
"Of course I'm not," Huckabee responded on "Fox News Sunday." "Not one person in all of America has even voted. … It's never settled this far out."
Huckabee, a social conservative and former Arkansas governor, won the Iowa caucus in his 2008 presidential bid. But this time he's ranked eighth in the GOP field of 12 and has only 1.8 percent of the primary vote, according to a RealClearPolitics averaging of polls.
Social conservatives historically do well in Iowa, which holds its first-in-the-nation vote Feb. 1. However, Huckabee's path toward a 2016 victory has been narrowed by fellow GOP contender Ted Cruz, the like-minded and firebrand Texas senator. Cruz is now leading overall GOP frontrunner Donald Trump in Iowa, some polls show.

Ohio Gov. Kasich suggested Sunday on ABC's "This Week" that he'll continue his campaign at least through the Feb. 9 primary in New Hampshire, in which voters are less conservative and where he thinks he can do well.
"I have to do well enough there," said Kasich, who is polling at 2 percent according to the RealClearPolitics average. "And I think I will … . I'll catch fire. And if I catch fire, I think the sky is the limit."
Poor showings in both or either of those first two primaries can doom a campaign.
The next debate is being hosted by Fox Business and is on January 14.
Kasich express optimism that he'll be in the main-stage debate and declined to comment on fellow GOP candidate Kentucky Sen. Rand Paul saying he won't compete in the second-tier contest if demoted as a result of FOX Business criteria, which involves rankings in national, Iowa and New Hampshire polls.
"I think we'll make the main stage," Kasich said. "I'm hopeful that we'll be on the stage and be able to participate."
Kasich has been on the main stage for the first eight debates. Huckabee's polls numbers have put him in the second-tier debates in two of the last four.