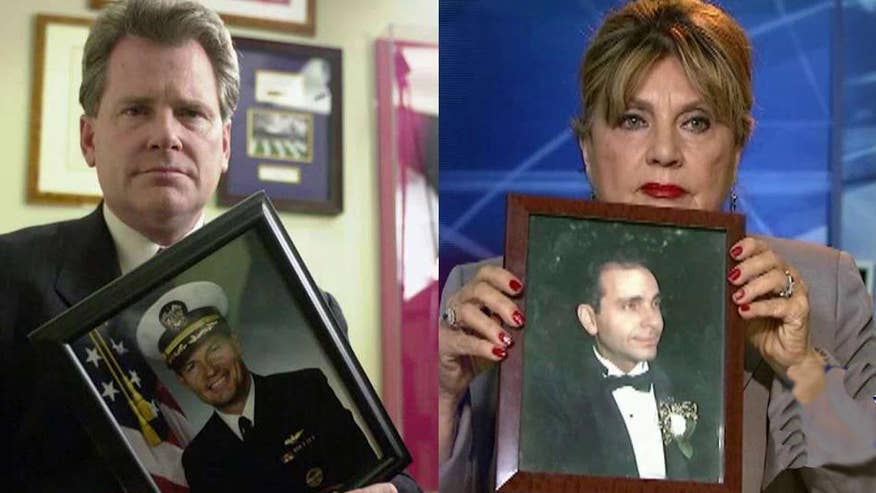 The wait for justice in the 9/11 court case has gone on for so long that the mothers and fathers who lost children in the terror attacks are dying without ever seeing a trial, according to family members contacted by Fox News.
The relatives also questioned when they might ever see resolution, with the proceedings dragging on 14 years after the attacks amid predictions a trial may not start until 2020. There have been 14 rounds of pre-trial hearings, and a military judge has scheduled six more for 2016.
"I am 66 years old. I don't want to die and then my children not see any resolution either," said Lorraine Arias- Beliveau, whose brother Adam Arias died in the attacks.
Adam Arias was 37 years old when he ran down 84 flights of stairs that day in lower Manhattan, and could be seen at the base of the second tower directing other New Yorkers to safety before he was crushed and killed in the collapse.
In March, his mother died; his father is nearly 90. Arias- Beliveau, who lives on the Jersey shore, told Fox News the lack of progress is demoralizing, and the presidential candidates should call to bring the 9/11 trial to a conclusion.
"These five [9/11] co-conspirators must be brought to justice and I would like to see this in the new election. And why isn't it even on the table? Why is it not even a question? How did they forget? You want to lead the country -- everyone swore they wouldn't forget and they forgot!" she said.
Brad Burlingame, from Los Angeles, Calif., also died earlier this month, of pancreatic cancer. His brother Charles "Chic" Burlingame III was the pilot of Flight 77 and his throat was slashed by the hijackers.
Their sister Deborah, a consistent advocate for the 9/11 families, emphasized the military commission framework is not the problem, but said military Judge James Pohl shares some of the blame -- for allowing the five 9/11 defendants, including self-described architect Khalid Sheikh Mohammed, to litigate over the right to "pray right there in the courtroom, to wear battle fatigues, to have a softer pillow on the bus drive ... this is jihad in the courtroom and Judge Pohl is letting them get away with it."
New York City firefighter Robert Reeg said President Obama failed to deliver on his promise of swift and certain justice. Instead, the 9/11 families have been "emotionally waterboarded" by the endless delays. One defense attorney recently told the Associated Press that a trial may not happen until 2020.
"The American public isn't even aware that it's not occuring," Melissa Long told Fox News. Long lost her fiance, a New York City firefighter, in the attack along with close family relatives on one of the flights. "It's a personal struggle to really maintain a balance of moving on with your life (and) at the same time fighting for what's right for what's happened in the past."
At his year-end news conference, Obama once again promised to close the detention camps at Guantanamo Bay, and seemed to see no quick end to the legal process.
"Some of those folks are going through the military commission process. But there's going to be a challenge there," he said.
Obama has not laid out a detailed plan for the 9/11 case, however, if the detention camps are closed.
"I pledge to you that the nation will never forget, will never lose interest," Army Brig. Gen. Mark Martins told the AP and a handful of reporters who were at Guantanamo Bay earlier this month. "And your government will continue to pursue justice under law for however long that takes."
Catherine Herridge is an award-winning Chief Intelligence correspondent for FOX News Channel (FNC) based in Washington, D.C. She covers intelligence, the Justice Department and the Department of Homeland Security. Herridge joined FNC in 1996 as a London-based correspondent.