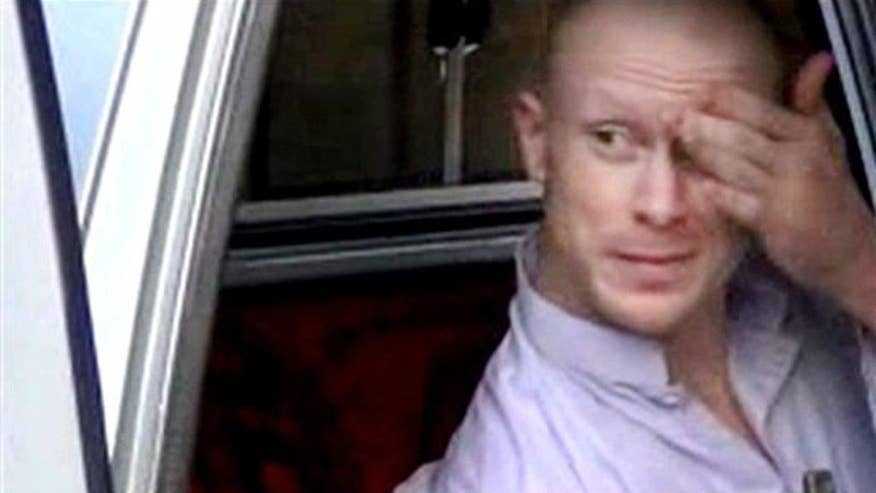 New photos obtained by Fox News appear to challenge Bowe Bergdahl's claim that he abandoned his post in 2009 to draw attention to leadership problems in the Army, according to a former platoon mate who served with the Idaho native in Afghanistan.
"That whole story that he walked away to tell on us doesn't make any sense. He was relaxed and there was nothing about leadership problems," former Army Pvt. Joseph Coe said, adding that Bergdahl gave him the photos five days before he walked away from their outpost on June 30, 2009. "Bergdahl was a good friend to me, but he messed up and needs to be held accountable."
In an interview with Mark Boal, who wrote the screenplays for "Zero Dark Thirty," about the Navy SEAL raid that killed Usama bin Laden, and "The Hurt Locker," about a bomb disposal team during the Iraq war, Bergdahl explained why he walked away.
The audio tapes were shared with the Serial podcast and made public this week.
"All's I was seeing was basically, leadership failure to the point that the lives of the guys standing next to me were literally from what I could see, in danger of something seriously going wrong," Bergdahl said.
But after making his decision to walk away, he soon realized he was in over his head, and changed his plan to one of gathering intel on the Taliban, he said, likening himself fillm action hero Jason Bourne.
Bergdahl's claim he acted to draw attention to leadership issues in his unit appears at odds with the images obtained by Fox. They show Bergdahl appearing stress-free as he works with fellow soldiers and poses with livestock and feral cats at the outpost.
While only Bergdahl can explain his state of mind, and why he selected these pictures to leave behind, he does seem relaxed, and enjoying camaraderie with his fellow platoon mates.
Another series of photos shows the sweeping Afghan landscape, and there is one out of focus "selfie."
In March, Bergdahl, who was promoted to sergeant during his capitivity, was charged with desertion and misbehavior before the enemy.
A decision is expected soon from the Army general overseeing the case.
He is considering whether Bergdahl should face court-martial, and a possible life sentence.
Fox News requested an interview with Bergdahl through his lawyer Eugene Fidell, and also gave Fidell a series of questions, including how the photos are consistent with Bergdahl's suggestion that he was a whistleblower and victim.
While Fidell has engaged this week with multiple news outlets, including NBC, military.com, and New York Times among others, he did not respond to Fox's request.
"We have asked from the beginning that everyone withhold judgment on Sgt. Bergdahl's case until they know the facts," Fidell told the Times Wednesday. "The 'Serial' podcast, like the preliminary hearing conducted in September, is a step in the right direction."
Contacted by Fox News about the podcast, Bergdahl platoon mate and former Army sergeant Matt Vierkant said his teammates are waiting for the Army General's decision. In a previous interviews, Vierkant, and others said Bergdahl's decision to leave seemed premeditated.
"I asked him, 'Why are you sleeping on the frame of your bed?'" Vierkant recalled in an interview last spring. "I was like, 'Well, that's weird.' And then I remember coming back -- I don't know if it was a week later, a couple days, and he had quit doing that and now he was just sleeping on concrete floor, which didn't make sense to me, but now, in hindsight being 20-20, makes me wonder if he was training to live like that."
Bergdahl asked one of his squad mates for contact information, including a phone number and email, a gesture usually reserved for the end of deployments. He also talked at length about becoming a mercenary and wondered out loud if he could walk to India, some 1,000 miles away.
Two of the squad mates said he was a fan of the 2007 movie "Hitman," based on a popular video game starring Timothy Olyphant, but they were divided on what to make of it.
"He liked to watch the movie "Hitman." I know he liked to watch other war movies and stuff like that. For the most part, he didn't really watch any TV and movies...really to a minimum except for by himself on his laptop," Vierkant said.
Catherine Herridge is an award-winning Chief Intelligence correspondent for FOX News Channel (FNC) based in Washington, D.C. She covers intelligence, the Justice Department and the Department of Homeland Security. Herridge joined FNC in 1996 as a London-based correspondent.