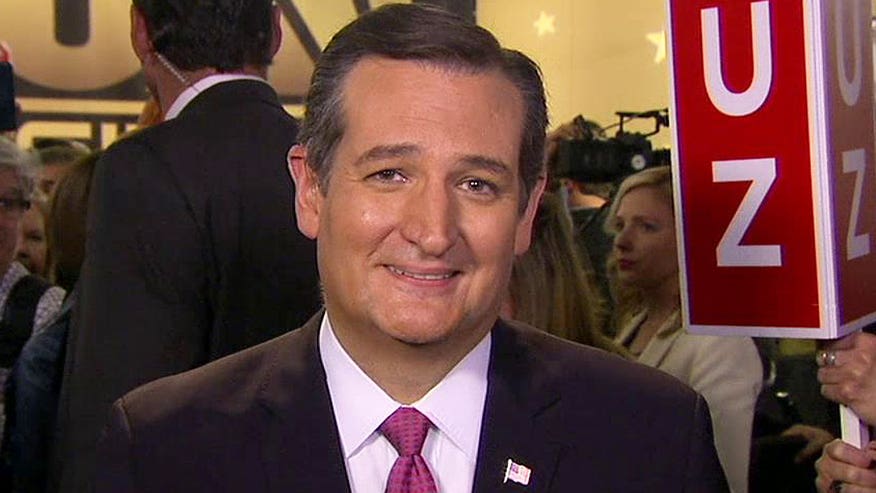 In must be something in the Lone Star state's water.
Almost four years to the day after former Texas Gov. Rick Perry had his infamous "oops" moment during a Republican primary debate, fellow Texan, Sen. Ted Cruz, had one of his own.
During the FOX Business Network & Wall Street Journal debate in Milwaukee Tuesday night, Cruz struggled to list the five agencies he planned to eliminate if elected president, naming the Department of Commerce twice.
"Five major agencies that I would eliminate: the IRS, the Department of Commerce, the Department of Energy, uh, the Department of Commerce and [Housing and Urban Development]," Cruz said.
While many pundits and social media observers made a comparison to Perry's "oops" moment when the former Texas governor wasn't able to name the third government agency he would eliminate after the Departments of Education and Commerce, Cruz didn't allow any pauses after his faux pas and quickly went on to other points.
Cruz also made light of his mistake during an interview with Fox News' Megyn Kelly following the debate.
"Look, I just think the Department of Commerce is such a base of cronyism, we need to eliminate it twice," Cruz said on "The Kelly File."
Cruz added that the fifth agency he would eliminate is the Department of Education.
"I have been campaigning for a long time on repealing Common Core, abolishing the Department of Education, and granting that money back to the states so education can be handled on the state and local level," Cruz said.
Despite his gaffe, Cruz was seen as one of the night's winners – along with Florida Sen. Marco Rubio – especially after taking a hardline against undocumented immigrants in the early part of the debate.
The Texas lawmaker said Republicans will lose the presidential race if they offer "amnesty" to undocumented immigrants.
"For those of us who believe people ought to come to this country legally, we should enforce the law. We're tired of being told it's anti-immigrant – it's offensive," Cruz said. "I am the son of an immigrant who came to this country legally from Cuba to seek the American Dream, and we can embrace legal immigration while believing in the rule of law."
Framing this as an economic issue for many Americans, Cruz asked how the press would feel if "people with journalism degrees were coming over and driving down wages."
His comments earned high praise from a number of conservative groups that favor restricting immigration to the U.S.
"In a debate night devoted to economics, only Ted Cruz treated immigration as an economic issue that can harm the lives of ordinary American wage-earners," Roy Beck, the president of Numbers USA said in a press release. "And Cruz single-handedly stopped a pro-amnesty wave from swamping the debate stage through John Kasich and Jeb Bush."
Like us on Facebook
Follow us on Twitter & Instagram