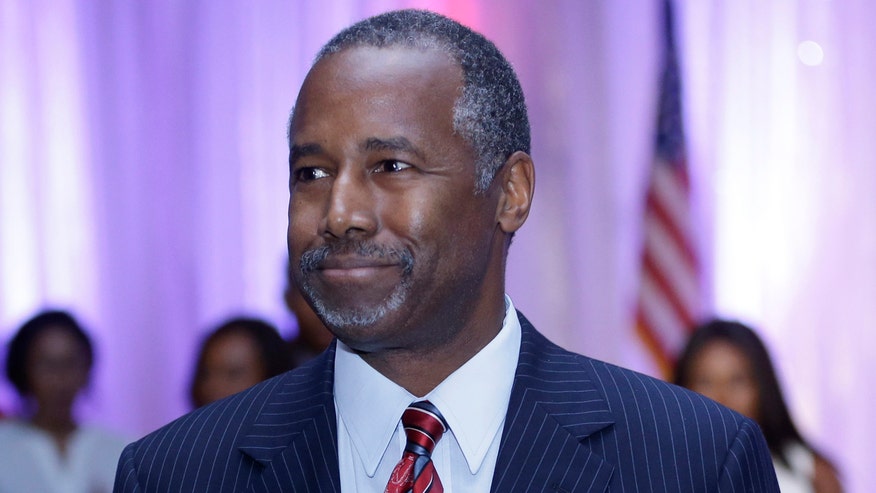 **Want FOX News First in your inbox every day? Sign up here.**
Buzz Cut:
• Carson foils character assassins
• A new GOP Power Index for a new phase of the campaign
• Power Play: What's the deal with the polls?
• Jeb, Rubio donor duel intensifies
• What could go wrong?
2016 GOP POWER INDEX: CARSON FOILS CHARACTER ASSASSINS
MILWAUKEE -- On the stage of the Milwaukee Theater in October 1912, Theodore Roosevelt, a bullet lodged in his rib, rasped his way through a 90-minute speech after a failed assassination attempt.

On the same stage on Tuesday, Ben Carson, will have the pleasure of showing the people who tried to take him out that he has survived an attempted assassination of his character.

The intensity with which the establishment press, Democrats and Carson's chief rival for the GOP nod, Donald Trump, battered the retired neurosurgeon for alleged inaccuracies in his biography reveals that Carson is, in fact, a legitimate contender.

Carson is right that there is an imbalance in the media scrutiny of his biography compared to that which then-Sen. Barack Obama received in 2007. Reporters didn't get serious about vetting Obama's best-selling biography, including his "composite character" girlfriend until Obama was on his way to a second term.

But this isn't just a Republicans-only thing. When candidates in either party have momentum, their rivals try to derail them by dumping opposition research on reporters. And reporters get interested when the candidate in question is actually a contender.

Media frenzies, fair or unfair, are part of the facts of life for viable presidential candidates. What determines success is how the candidates handle them. For example, Sen. Marco Rubio did an amazing rope-a-dope on Trump and Jeb Bush over the past weekend.

Rubio let Trump and Bush go all in on speculative slams about what would be revealed in the final batch of his state GOP credit card statements from his time as Florida House speaker. And then Rubio released the documents that contained a fat lot of nothing. Poof.

Carson is going a different route because he has a different problem.

Mostly ignored by the press until the late summer, Carson's rise in the polls has nurtured a whole new genre of political reporting. And Oh-my-gosh-guys-did-you-see-what-Carson-said journalism is not the finest flower to ever bloom in the field.

Some of the most foul blossoms grow out of the double ignorance of many in the political press: to faith and to the utter contempt with which the general public holds conventional politicians. Political reporters worship process. Republican primary voters mostly worship God.

But rather than killing Carson, his press and political persecutors have solidified his stature in the top tier. And what was misreported or overcooked is overshadowing those things about which GOP primary voters would actually be concerned. Surviving an attack of viral media coverage imparts short-term immunity.

But Carson is making all his detractors so crazy that they just can't help it. Consider Trump's willingness to repeat charges against Carson leveled by Politico, a news outlet that Trump has repeatedly said was unreliable; specifically that it was staffed by "clowns" and "pure scum." Trump was obliged to change his truth-o-meter setting for Politico from "totally dishonest" to "they write some true stuff."

Trump tried to use the mainstream media to attack Carson. In so doing, Trump helped Carson and picked up some of Politico's baggage. Like Bush's swan dive into the empty pool of Rubio's attendance record the third GOP debate, if you're a Republican and siding with the mainstream press, you're doing it wrong.

Now, this isn't to say that Carson is necessarily built to last. Even as these hits draw supporters closer and generate sympathy from voters who back other candidates, they leave scars. We'll see how voters feel about Carson at Christmastime and if he can continue to adapt and grow as a candidate.

But when he hits the stage here on Tuesday, it will be as a survivor as tough as the old Roughrider himself.

A NEW GOP POWER INDEX FOR A NEW PHASE OF THE CAMPAIGN - The Power Index has, since its inception in January, focused on a field of 10 candidates in contention for the Republican nomination. Nice round number and all that… But, as the man said, it is time to think anew and act anew.

With 12 weeks until voters start selecting a nominee, time is running out. To reflect that reality, we will narrow our focus to the top six contenders for the nomination.

This doesn't mean that Fox News First adjudges those out of the top six to be unable to pull off an epic upset. But, as we try to estimate which candidates have the best shots at the nomination, it's time to bore down. We'll certainly keep an eye on those off the leader board. After all, what stories do political journalists like to tell better than miraculous comebacks?

1) Ted Cruz; 2) Marco Rubio; 3) Ben Carson; 4) Carly Fiorina; 5) Donald Trump; 6) Jeb Bush

On the radar - John Kasich, Chris Christie, Rand Paul, Mike Huckabee, Bobby Jindal, Rick Santorum

What would you say? - Give us your take on the 2016 Power Index we will share the best and brightest with the whole class. Send your thoughts to FOXNEWSFIRST@FOXNEWS.COM

[Watch Fox: Chris Stirewalt joins "The Real Story with Gretchen Carlson" in the 2 p.m. ET hour with the latest on who's up and who's down in the 2016 Power Index.]

WITH YOUR SECOND CUP OF COFFEE…
Forty years ago today the SS Edmund Fitzgerald left Superior, Wisc., bound for Detroit with 26,000 tons of iron ore only to vanished on Lake Superior's unforgiving November waters. As artist Gordon Lightfoot described in his song on the shipwreck, "The lake, it is said, never gives up her dead when the skies of November turn gloomy." The Pioneer Press remembers search for the shipwreck: "The day after the SS Edmund Fitzgerald vanished from Lake Superior with her crew of 29 men and a full cargo of taconite pellets, the haunting aftermath was in full bloom for those involved in the search…The Naugatuck was quickly dispatched to its own section of the search grid and came upon oil slicks and wreckage from the Fitzgerald's weather decks -- life rings and jackets, a propane tank and oars, anything that blew off the ship or would float." The last message heard from the crew was "we are holding our own," but there were no survivors.

Got a TIP from the RIGHT or the LEFT? Email FoxNewsFirst@FOXNEWS.COM

POLL CHECK
Real Clear Politics Averages
Obama Job Approval: Approve – 44.4 percent//Disapprove – 52.3 percent
Directions of Country: Right Direction – 27.1 percent//Wrong Track – 64.0 percent

POWER PLAY: WHAT'S THE DEAL WITH THE POLLS?
Polling for the last two election cycles were way off the mark, and the 2016 presidential race looks is shaping up to be another polling headscratcher. Doug Usher, a pollster with Purple Strategies, joins Chris Stirewalt to decipher the problem with these political projections. WATCH HERE.

JEB, RUBIO DONOR DUEL INTENSIFIES
Miami Herald: "At least 45 people in the state have made financial donations to Miami's two presidential candidates, totaling nearly $221,000 between both campaigns as of the end of October, a Miami Herald analysis found. Some intended to back Bush all along but gave to Rubio's Senate reelection effort and let him keep the money after he switched to run for president. Others refused to pick between a pair of Republicans they know and like. And a few decided to hedge their bets — a move that's looking wise now that Bush, the one-time frontrunner, has plummeted in early polls while Rubio has surged. These are not, for the most part, big-time donors bankrolling political action committees and "bundling" donations from their well-heeled friends. They generally gave a few hundred or a few thousand dollars (the limit is $2,700 to each candidate for the primary) as a token of support to their local contenders in a crowded primary."

Rubio, Cruz same background, different approach - WSJ: "Sens. Marco Rubio of Florida and Ted Cruz of Texas have both seen a surge in media attention, donations and poll standings since last month's debate in Colorado. But they appeal to very different wings of the GOP electorate, with Mr. Cruz rallying anti-Washington conservative forces and Mr. Rubio drawing strength from the party's business-focused establishment wing…Mr. Cruz rails against illegal immigrants; Mr. Rubio takes a more welcoming approach. Mr. Cruz opposed President Barack Obama's fast-track trade bill; Mr. Rubio supported it. Mr. Cruz traffics in the highflying oratory of an evangelical minister's son; Mr. Rubio's brand of eloquence is more low-key."

WHAT COULD GO WRONG?
AP: "The Gas & Grass business opens Saturday in Colorado Springs. It is a gas station adjacent to a Native Roots medical marijuana dispensary. Colorado does not allow pot shops to sell non-marijuana products. So the gas station and pot shop will have distinct entrances. But medical marijuana patients that shop at Native Roots will get discounts on the gasoline, similar to a grocery store loyalty program. Members of the public who don't shop at the dispensary can also fill up at the station. Native Roots plans to open a second Colorado Springs location next month."

Chris Stirewalt is digital politics editor for Fox News. Want FOX News First in your inbox every day? Sign up here.
Chris Stirewalt joined Fox News Channel (FNC) in July of 2010 and serves as politics editor based in Washington, D.C. Additionally, he authors the daily Fox News Halftime Report political news note and co-hosts the hit podcast, Perino & Stirewalt: I'll Tell You What. He also is the host of Power Play, a feature video series on FoxNews.com. Stirewalt makes frequent appearances on network programs, including America's Newsroom, Special Report with Bret Baier and Fox News Sunday with Chris Wallace. He also provides expert political analysis for FNC's coverage of state, congressional and presidential elections.