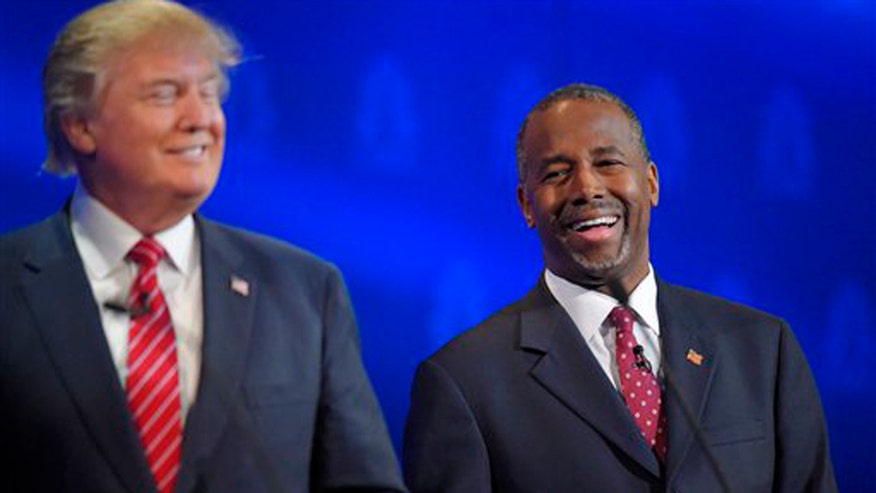 Republican presidential candidate Ben Carson on Sunday turned up his attack on the news media for stories he calls a "political hit job" and boasted that he's recently raised $3.5 million off the criticism.
"People see what's going on," Carson told ABC's "This Week." "They're saying 'Don't let them do this to you.' "
The most recent story is a Wall Street Journal report published Friday that states no evidence can be found about a classroom incident at Yale, which Carson attended as an undergraduate, that he says was reported with a photograph in the school newspaper.
"We found it," Carson, a first-time candidate and retired neurosurgeon, said repeatedly on ABC.
Carson has faced additional media scrutiny as he rises in voter popularity, leading in some national primary polls and placing in either first or second in essentially every poll with fellow GOP candidate Donald Trump.
Over the past several days, Politico published a story questioning whether Carson received a scholarship offer from the U.S. Military Academy at West Point.
And CNN reported finding no support for Carson's oft-repeated claim that he as a teen tried to stab a close friend. Citing privacy concerns, his campaign has refused to name the person involved.
On Friday night, the usually soft-spoken Carson lashed out at the news media for recent stories about his long-ago past, saying they are bias and amount to a "witch hunt."
"I think what … these kinds of things show, is there is a desperation on behalf of some to try to find a way to tarnish me," Carson said during a tense news conference outside West Palm Beach, Fla.
Carson tweeted Saturday: "We the People have made 10,000 donations each day this week, raising $3.5M this week alone. Thank you biased media."
On Sunday, Trump, whom most polls show now trails Carson in first-balloting state Iowa, continued his attack, in a clear effort to question his rival's credibility.
"I hope it all works out for him," Trump said on ABC. "It's a strange situation though when you talk about hitting your mother in the head with a hammer and … stabbing somebody."
The Associated Press contributed to this report.