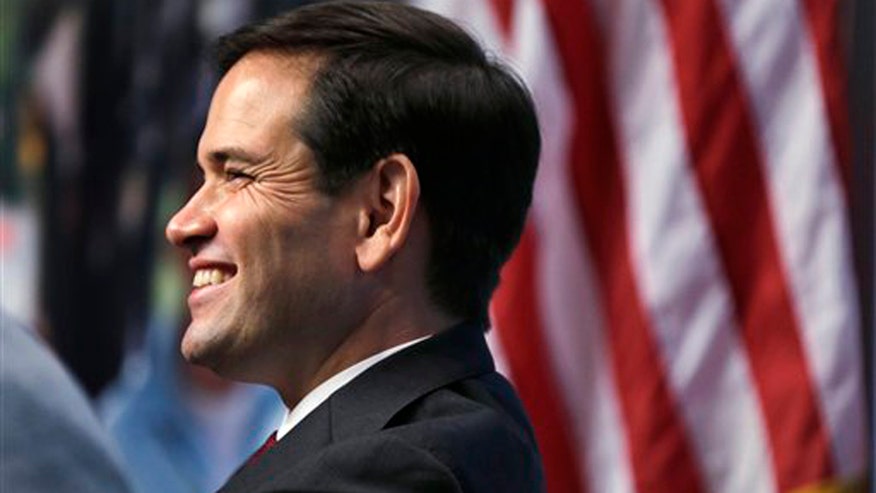 Republican presidential candidate Sen. Marco Rubio released on Saturday more of his credit card statements, in an apparent attempt to curtail continued questions and criticism about his personal finances.
As the Florida senator enjoys a recent rise in the polls, he has also been attacked by his 2016 White House rivals and others for using an American Express card issued by the Republican Party of Florida for some personal spending as a state lawmaker.
The statements released Saturday night, covering January 2005 to October 2006, show Rubio charged almost $65,000 on the card, which was supposed to be used for work-related expenses.
It included what his campaign acknowledged was more than $7,200 for eight personal expenditures. Rubio paid American Express directly for those personal charges, the campaign said in a statement.
However, Rubio supporters and his campaign argue that he spent significantly less than previous Florida House speakers and that Rubio is not concealing financial mistakes.
"These statements are more than 10 years old. And the only people who ask about them today are the liberal media and our political opponents. We are releasing them now because Marco has nothing to hide," Rubio strategist Todd Harris told Fox News on Saturday night.
Rubio had the party-issued card from February 2005 to December 2008. His campaign said he spent a total of about $182,000, including more than $22,000 for 73 separate personal charges, during the nearly four years he carried the charge card.
"The Republican Party of Florida did not pay for any of Marco's personal expenses. Further, taxpayer funds were not used for any political or personal charges on the card," the campaign said.
Rubio, for example, charged more than $5,000 during his seven-night stay at the Venetian hotel in Las Vegas in August 2005. The campaign said he made the trip for political business and then extended it to visit family in Nevada. He paid $1,745 for his portion of the charges in the next billing cycle.
Rubio has long said he would occasionally pull out his party American Express card to pay for personal items by mistake. When he wanted new pavers outside his house in Miami, Rubio paid Iberia Tiles $3,756.24 on his party card. He paid the personal expense the following month to American Express, the campaign also said.
Rubio has dismissed the recent attacks as old news, though he has said he wishes he had never put any personal charges on the card.
"What I would do differently is that I just wouldn't have done any personal things on it because I would have avoided all the confusion that it's created in the minds of some," Rubio told reporters in New Hampshire last week.
"It was just an issue that was contorted by my political opponents in 2010," he said. "It didn't work then and it won't work now."
Questions over the personal charges first emerged in 2010 during his successful U.S. Senate campaign. At the time, two Florida newspapers obtained American Express statements from late 2006 to late 2008 documenting Rubio's use of the charge card. He had charged items such as grocery bills, plane tickets for his wife and repairs to the family minivan to the card. His campaign has said those expenses were for party business, and that the state GOP paid them.
He had not released the remaining American Express statements until Saturday.
In addition to his use of an American Express card, critics also have raised the issues of a bank moving to foreclose on a house he co-owned in Tallahassee and him liquidating a retirement account.
A GOP member of Congress speaking last week about Rubio cashing in the account downplayed the criticism, telling Fox News that needing money to make ends meet in a tough economy is relatable to Americans and that hard-working people occasionally must do so for an expected expense.
Other personal expenses Rubio charged on the state party-issued charge card included a total of $599.45 to a Honda dealership near his West Miami home in May 2006, and $180 to a children's sports activity center in December 2005. The personal charges, again, were later paid to American Express, according to the campaign. On a trip to New York, Rubio charged $715 at the bargain clothes chain Syms, and later paid for it as a personal expense.
As further evidence Rubio did nothing wrong or improper, the campaign pointed to a 2012 Florida Ethics Commission report that dismissed a complaint lodged against Rubio and an audit by the state party in 2010 that found his expenses were, in fact, party-related.
The Washington Post reported Saturday that American Express charged Rubio and the state party more than $1,700 in delinquent and late fees incurred during the nearly four years he possessed the card.
GOP rival Donald Trump this week criticized Rubio on his personal finances, tweeting on Friday: "Marco Rubio can't even handle his own credit card how is he going to be able to handle the U.S. finances."
Fox News' Serafin Gomez and the Associated Press contributed to this report.