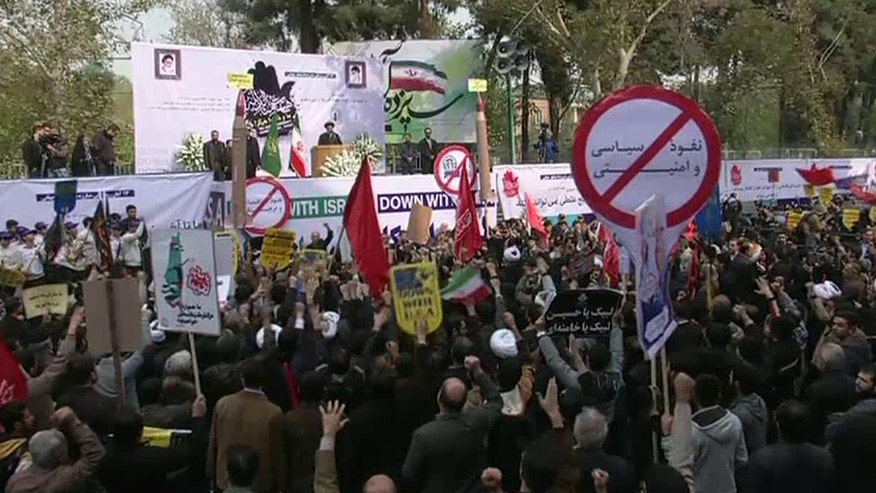 Iran's Revolutionary Guard is behind a recent wave of cyberattacks on email and social media accounts of White House personnel that are believed to be connected to the arrest of an Iranian-American businessman last month, U.S. officials told The Wall Street Journal.
Siamak Namazi, 40, a Dubai-based businessman who has spent most of his life advocating improved ties between the U.S. and Iran, was arrested in October as he was visiting relatives in Tehran. His detention came after an Internet freedom group said a Washington-based Lebanese citizen, Nizar Zakka, disappeared while on a trip to Tehran in September.
Officials told The Journal Obama administration personnel are among a large group of people who have had their computers hacked in recent weeks, including journalists and academics. Some of the officials hacked include those employees of the State Department's Office of Iranian Affairs and its Bureau of Near Eastern Affairs.
"U.S. officials were among many who were targeted by recent cyberattacks," an administration official told the newspaper, adding the U.S. is still investigating possible connections to the Namazi case. "U.S. officials believe some of the more recent attacks may be linked to reports of detained dual citizens and others."
Though President Obama and Secretary of State John Kerry had hoped the recent nuclear deal would further cooperation between the two nations, the cyberattacks from the Islamic Revolutionary Guard Corps (IRGC), the arrest of Namazi and Zakka's disappearance have signaled that Iranian hardliners have not toned down their hostile rhetoric toward Washington.
The IRGC has developed a team of hackers, trained by Russia, to focus on different Wall Street banks and Saudi oil companies, U.S. officials say, adding that Iran's cyberattacks have regularly been a test of U.S. defenses.
"Iran's threatening behavior will worsen if the administration does not work with Congress to enact stronger measures to pushing back, including ... targeted pressure against Iran's Revolutionary Guard, Sen. Mark Kirk, R-Ill., said Friday.
A spokesman at Iran's United Nationals mission in New York downplayed the attacks, saying Tehran has been falsely accused of committed cybercrimes. However, Namazi supporters fears Iran is working to build an espionage case against him.
Namazi has also been accused of being an apologist for the regime, but apparently had a falling out with hardliners in the Revolutionary Guard who have long been suspicious of him.
The Journal reports the IRGC has repeatedly hacked other Iranian-Americans and people tied to them, including Washington Post reporter Jason Rezaian, family members say. During the days surrounding Rezaian, Iran's security forces gained access to his social media accounts and tried to use them to connect him to their investigation.
Rezaian was convicted of espionage in an Iranian court last month. No sentence has been announced.
The Associated Press contributed to this report.
Click for more from The Wall Street Journal.