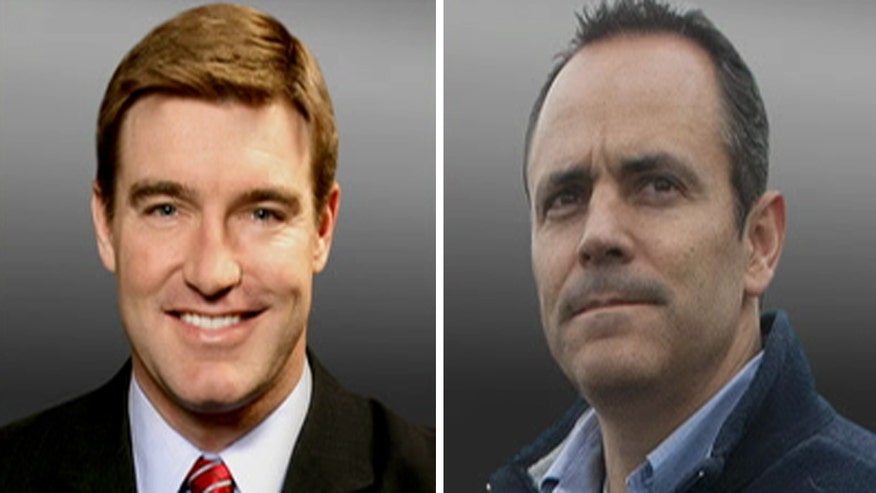 Kentucky's gubernatorial contest, where a high-profile Democrat and Republican are locked in an establishment vs. outsider match-up, will be the race to watch in Tuesday's off-year elections.
The Republican nominee is wealthy businessman Matt Bevin who last year failed to unseat senior Kentucky Sen. Mitch McConnell, the Senate GOP leader, in the party primary. The Democratic nominee is Jack Conway, a two-term attorney general who in 2010 lost an open-seat race to Republican Rand Paul in the Senate. Conway also lost a 2002 House bid.
Kentucky is among several states where voters will cast ballots Tuesday, in off-year elections being watched for clues about voter attitudes -- including how much they might support GOP outsider candidates like Bevin, and whether that might translate to broader support for 2016 presidential contenders like Donald Trump and Ben Carson.
"This is going to be a bit of a test … as to how receptive voters are to an unconventional candidate," Brian Morgenstern, of the Manhattan Republican Party, told FoxNews.com on Monday.
Others ballots garnering attention Tuesday include rival school-funding initiatives in Mississippi, an attempt to restrict Airbnb operations in San Francisco and a re-election bid by San Francisco Sheriff Ross Mirkarimi.
The sheriff's release of a Mexican illegal immigrant charged in the murder of a San Francisco woman this summer re-ignited the national debate over so-called sanctuary cities.
Two other states this year are also choosing a governor this month -- Mississippi and Louisiana.
Mississippi, which votes Tuesday, appears likely to reelect Republican Gov. Phil Bryant.
Louisiana has a much tighter race -- a Nov. 21 runoff between Democrat John Bel Edwards and Republican Sen. David Vitter.
State law prohibits GOP incumbent Gov. Bobby Jindal, now a 2016 presidential candidate, from seeking a third term.
The Kentucky governor race is true tossup, with Conway leading 44-39 percent, according to an average of polls by nonpartisan RealClearPolitics.com
"Off-year elections are usually low turnout," Accountability Project founder and President Nomiki Konst said Monday. "And conservative Republicans turn out more. I think [Bevin] might do better than we thought. But I still think Conway's going to win."
Bevin, by default, established himself as an outsider in 2014 by trying to unseat McConnell, then a five-term senator and Senate minority leader, the chamber's highest-ranking Republican.
And some of his comments on the gubernatorial campaign trail have helped solidify that outside tag and draw comparisons to Trump -- the off-script, billionaire businessman leading in national presidential primary polls.
"I have no favors to pay back," Bevin, a millionaire investor, told The Washington Post after a recent campaign stop. "There's not one person who I've promised anything to. … Donald Trump is an interesting fellow. … Part of what people appreciate about him is the very same thing. He doesn't owe anybody anything."
And a local TV station recently posted an online opinion piece titled "Bevin is Kentucky's Trump," in which the writer argued both are rich business tycoons "alike in many other ways" including their "abrasive" personalities.
The writer also called Bevin "condescending" for attending the revered but notoriously raucous Fancy Farms political event, only to say it is a showcase for "the very worst elements of the political process."
Still, Bevin's platform is clearly to attract the party's conservative base with such red meat issues as less government, opposition to same-sex marriage and limiting union power by making Kentucky a so-called right to work state.
Bevin, in fact, supported county clerk Kim Davis when she was put in jail for refusing to issue a marriage license to gay couples.
And McConnell has reportedly raised money for Bevin and offered to campaign for him.
Bevin's campaign said Monday that the candidate and his team were in a final state flyover and would try to respond to a request for comment.
Conway has accused Bevin of flip-flopping on issues but has run a more low-key campaign primarily focused on job creation and improving public education.
"When it comes to creating good-paying jobs, expanding early childhood education, and protecting health care for Kentucky families, Jack Conway is the only candidate Kentuckians can trust," campaign spokesman Daniel Kemp said. "Kentuckians have learned why Republicans labeled Matt Bevin an 'East Coast Con Man,' because Bevin has lied about everything from his positions on critical issues to his failure to pay his taxes."
The race has also turned into a referendum on ObamaCare, and the results could affect the health insurance of more than half a million people.
Democratic Gov. Steve Beshear, also retiring because of term limits, used an executive order to expand the state's Medicaid program to cover an additional 400,000 Kentucky residents and create a health exchange. And more than 100,000 residents have purchased discounted health plans with the help of federal subsidies.
Bevin has promised to scale back the expansion and eliminate the exchange, saying taxpayers can't afford it.
Conway has called Bevin's plan "callous" and said he would keep both programs.
A third candidate, independent Drew Curtis, has also said he would keep the Medicaid expansion.
The Associated Press contributed to this report.