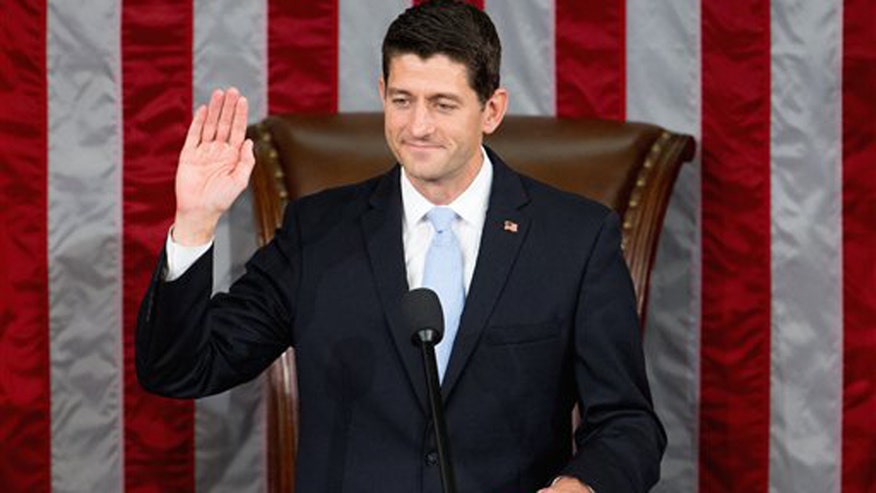 WASHINGTON – Republican Rep. Paul Ryan succeeded retiring John Boehner as House speaker on Thursday, appealing for unity and "understanding" as he embarks on the tough task of trying to heal deep divisions in the party and the chamber itself.
As he took the gavel after easily winning election on the floor, the Wisconsin congressman declared "the House is broken" and called for a fresh start.
"We're not solving problems, we're adding to them," Ryan said, declaring that going forward: "We are not settling scores. We are wiping the slate clean."
The selection of Ryan marks the end of a head-spinning and unpredictable succession. Boehner shocked Washington by resigning mid-term, and only after his deputy Kevin McCarthy suddenly bowed out of the race to replace him did Ryan seek the job -- after initially rebuffing appeals to do so.
Ryan, though, vowed to do his best to take "the tough issues ... head on." Lamenting that Americans see "chaos" in Washington, he rattled off a to-do list that includes fixing the tax code, growing the economy and paying down the debt. He also called for a more transparent legislative process.
More broadly, he urged both parties to figure out how to work together. "If you ever pray, let's pray for each other -- Republicans for Democrats, and Democrats for Republicans." He joked, "And I don't mean pray for a conversion. ... Pray for a deeper understanding."
"We are all in the same boat," Ryan said.
A day earlier, Ryan vowed to do his best to start "turning a page" in the House, where Boehner has sparred with a conservative wing whose legislative demands and penchant for battle over once-routine items have in turn frustrated GOP leadership.
It is a challenging task, though Ryan's relatively smooth election reflected an ability to bridge gaps in the conference, at least for now.
The Wisconsin congressman and 2012 GOP vice presidential nominee was elected with 236 votes, a majority. The outcome effectively was predetermined after he locked down most Republican members' support. Democrats put up their leader, Nancy Pelosi, who got 184 votes, to run on Thursday. But Ryan's chief GOP opponent Daniel Webster, R-Fla., took himself out of the running after Ryan easily beat him for the nomination -- though several Republicans voted for Webster on the floor anyway.
While Boehner helped resolve fights over must-pass legislation right before leaving office, Ryan will face his first real test with one unresolved matter -- a long-term bill to fund highway programs. Congress has approved a short-term bill to prevent a shutdown of highway programs, but lawmakers have only a few weeks to come together on a long-term measure.
Amiable and just 45, Ryan has been in Congress 17 years and has strong ties with all wings of the GOP. Past chairman of the House Budget Committee and current head of the Ways and Means Committee, he has put his imprint on deficit reduction, tax, health and trade legislation -- prime subjects that have raised his stature and put him at the center of many of Congress' highest profile debates.
Many Democrats like Ryan but none is hesitating to attack him as a symbol of Republican policies they consider harsh. These include efforts to reshape Medicare into a voucher-like program, squeeze savings from Medicaid and pare taxes for the rich.
Ryan becomes the House's 54th speaker, putting him second in line to succeed the president, and the youngest speaker since Rep. James Blaine, R-Maine, who was 39 when he took the job in 1869.
Ryan was elected Thursday after Boehner, the 25-year House veteran who stunningly announced his resignation last month after leading the House since 2011, delivered emotional farewell remarks.
Ryan's ascension was coming as Congress neared completion of a bipartisan accord to lift the debt ceiling and fund the government for two years. The House approved the bill Wednesday 266-167, with final Senate passage on track in a few days, despite opposition from conservatives including senators seeking the GOP presidential nomination.
The budget vote underscored Ryan's challenge in leading Republicans who often have scant interest in compromise with Democrats, especially with a GOP presidential contest dominated by candidates who vilify Washington insiders. Republicans opposed the budget deal by 167-79, but Democrats supported it unanimously.
Conservatives complain that Boehner has been excessively powerful, forcing bills to the House floor without rank-and-filed input, dictating committee chairs and punishing rebels. One Freedom Caucus leader, Rep. Raul Labrador, R-Idaho, said conservatives expect Ryan to alter that.
"We're going to have his back for the next few months and make sure that we give him the opportunity to show that he can be the leader that we hope he can be," Labrador said.
Boehner's resignation prompted a month of GOP turbulence after the Freedom Caucus derailed the candidacy of the heir-apparent, Majority Leader McCarthy, R-Calif. Establishment Republicans pressured a reluctant Ryan to seek the speakership, viewing him as their best shot at patching the GOP's ragged ruptures.
Ryan, though, set several conditions for him taking the job -- including that the chamber strip a tool that can be used to oust a sitting speaker; that all major caucuses support him; and that he be able to spend time with his family.
The Associated Press contributed to this report.