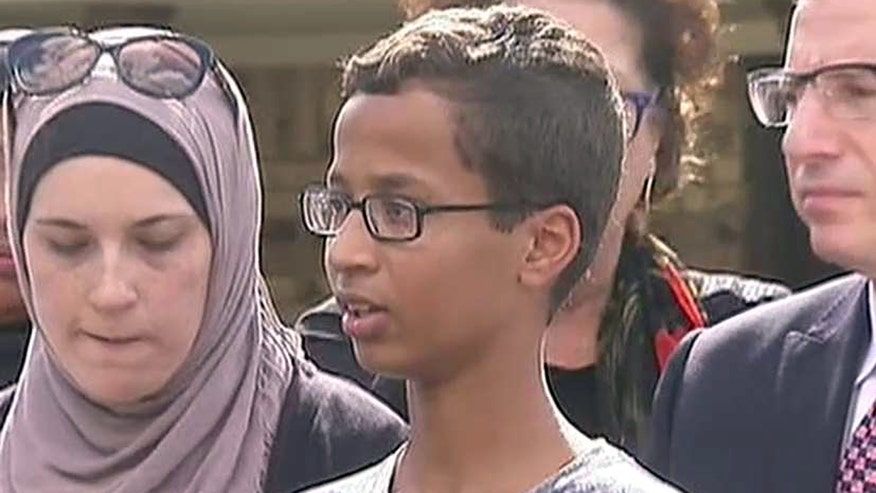 Ahmed Mohamed, the 14-year old boy arrested after a homemade clock he brought to school was mistaken for a bomb, may be putting President Obama in an awkward situation after meeting with Sudanese president and alleged war criminal Omar al-Bashir just days before a White House event to which he was invited.
Despite the controversy, the White House has not yet announced any change of plans for the invitation or the event – an Astronomy Night scheduled for Monday that brings together NASA astronauts and government scientists with students and teachers.
The White House did not return a request for comment from FoxNews.com. The boy's family reportedly has expressed interest in visiting the White House.
The White House first reached out to Mohamed after he gained national attention for being pulled from class and handcuffed after showing a digital clock to teachers at his Dallas high school. The arrest stirred accusations of Islamaphobia, and Obama offered his support.
Cool clock, Ahmed. Want to bring it to the White House? We should inspire more kids like you to like science. It's what makes America great.

— President Obama (@POTUS) September 16, 2015
But as the boy has gone on a tour across the globe to speak out against racism -- meeting with Turkish President Ahmet Davutoğlu in New York, and visiting a number of Middle Eastern countries such as Qatar and Saudi Arabia -- the visit to his father's home country of Sudan is raising eyebrows.
I am coming home, tell the world I am coming home #sudan pic.twitter.com/DEO0acpYtN

— Ahmed Mohamed (@IStandWithAhmed) October 13, 2015
He was photographed meeting with al-Bashir on Wednesday, reportedly alongside his father.
The Sudanese leader is wanted by the International Criminal Court for war crimes in Darfur, where he is accused of orchestrating genocide and crimes against humanity. Al-Bashir denies the accusations.
Sudanese human right advocates say that al-Bashir is using the 14-year-old's visit for his own political benefit.
"There is no doubt that this is a political move," Jimmy Mulla, president and co-founder of Voices for Sudan, told FoxNews.com. "So people will look at [al-Bashir] like he is a hero. They are looking for ways to try and improve relations with [the] U.S. but they only want to do it on their own terms."
As for Mohamed's Sudan visit, he said: "It doesn't make things difficult for us because we know who [al-Bashir] is. But for people who do not know him, they may look at it differently but we know who al-Bashir really is."
The Sudan controversy comes just a few weeks after questions were raised about the incident that brought Mohamed fame. Skeptics have claimed that the clock was a commercially made clock, just with the casing removed.
On HBO's "Real Time with Bill Maher," Dallas Mavericks' owner Mark Cuban also expressed concerns about the family's involvement. While calling Ahmed a "super smart kid," he said that when he spoke to Ahmed, "his sister, over his shoulder, you could hear, listening to the question, giving him the answer."