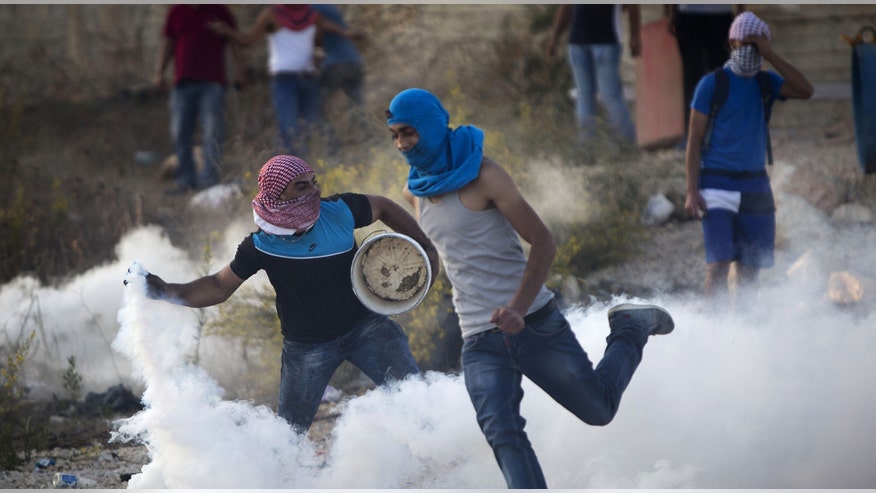 Benjamin Netanyahu appeared to take a swipe Thursday at the Obama administration and others who have urged both sides to stop the violence in Israel -- saying the country's "friends" should not "draw false symmetry" between Israeli victims and Palestinian attackers.
The Obama administration has delivered effectively the same message to Israeli and Palestinian leaders, stressing the importance of "condemning violence and combating incitement." On Wednesday, State Department spokesman John Kirby also described a recent stabbing attack by an Israeli against Arabs in the city of Dimona as an "act of terrorism." He went on to say, "I would say certainly individuals on both sides" have been capable of and guilty of "acts of terror."
Netanyahu, in brief remarks on Thursday, blasted Palestinian President Mahmoud Abbas for his own statements about the conflict -- but then shifted to deliver a message to allies.
"We expect all our friends, and anyone concerned with the facts and the truth, to look at these facts to see the truth and not to draw false symmetry between Israeli citizens and those who'd stab them and knife them to death," Netanyahu said.
He did not mention the U.S. But the statement comes after Secretary of State John Kerry, who plans to visit the region, spoke with both him and Abbas. Publicly, Obama administration officials have put pressure on both sides.
The worst of the violence flared up on Tuesday, though, when Palestinians committed four attacks that killed three Israelis and wounded many more.
The unrest was seen to be triggered by rumors that Israel was plotting to take over Jerusalem's most sensitive holy site, sacred to both Muslims and Jews. Israel has adamantly denied the allegations. But this hasn't stopped the attacks.
In response to Tuesday's attacks, Kirby put out a statement condemning "terrorist attacks against Israeli civilians, which resulted in the murder of three Israelis and left numerous others wounded."
He added: "We remain deeply concerned about escalating tensions and urge all sides to take affirmative steps to restore calm and prevent actions that would further escalate tensions."
White House Press Secretary Josh Earnest said Kerry's visit underscores the "continuing deep concern" the U.S. has and urged both sides to take "affirmative steps" to calm tensions.
Republican lawmakers have pressed the Obama administration to take a more active role. And Sen. Marco Rubio, R-Fla., a Republican presidential candidate, blasted the administration for blaming "both sides."
"As Palestinian terrorists continue to murder and maim Israelis, the Obama administration is spreading malicious falsehoods about the attacks," Rubio said in a statement.
On Thursday, Rep. Lee Zeldin, R-N.Y., called for Kirby to be removed from his position for saying the Israeli stabbing attacker committed terrorism.
"It is absolutely disgusting and shameful that the Obama Administration not only refuses to stand strong with our ally in Israel, but actually has the audacity to claim that the Israelis are guilty of terrorism," Zeldin said in a statement. "... If Secretary John Kerry refuses to speak out and discipline Mr. Kirby [then] Secretary Kerry needs to step aside as well."
The Associated Press contributed to this report.