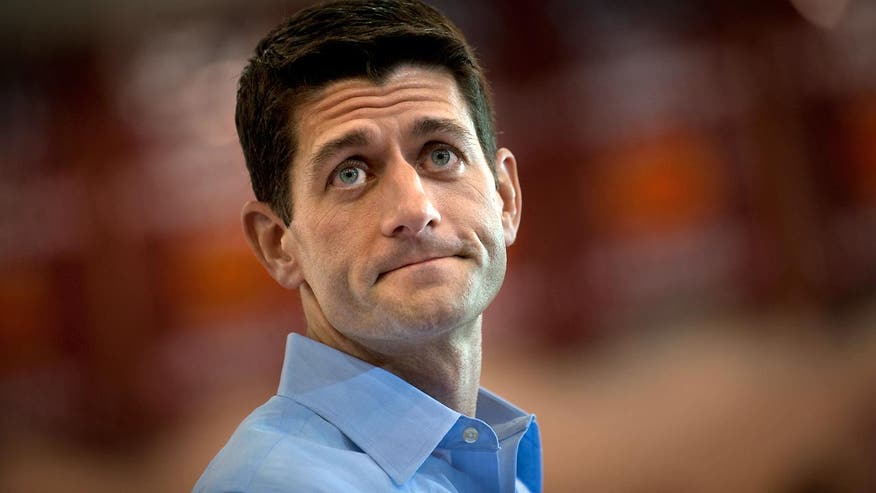 For about 30 seconds on Thursday afternoon, during which Annie Daines was supposed to be the most-important person in Washington, D.C.
Daines is a press aide for House Republican Conference Chairwoman Cathy McMorris Rodgers, R-Wash., and the daughter of Sen. Steve Daines, R-Mont.
At about 1:45 p.m., Daines was expected to stride before a bouquet of microphones and phalanx of television cameras arranged in the echoic vestibule of the Longworth House Office Building. Daines would come bearing critical news: Who Republicans chose in a nearby conclave as their nominee for House speaker. Perhaps, more importantly, Daines would declare how many votes that candidate received.
Daines's pronouncement never came.
Just feet away, inside the cavernous House Ways and Means Committee hearing room, House Majority Leader Kevin McCarthy, R-Calif., stunned his colleagues. He was expected to secure the nomination with the lion's share of votes inside the Republican Conference. He'd probably log roughly 200 of the GOP Conference's 248 members (including one non-voting delegate to Congress). But McCarthy needed to marshal somewhere around 218 votes on the House floor in an October 29 vote to succeed House Speaker John Boehner, R-Ohio.
The night before, the Freedom Caucus, the most-conservative bloc of Republicans in the House, declared that most of its 30 to 40 members would back Rep. Dan Webster, R-Fla., for the speaker's gavel.
McCarthy faced an onerous path to 218. Between Thursday afternoon and October 29, right-wing radio would sizzle with anti-McCarthy invective. House Republicans would face chafing rhetoric at home from staunch conservatives adamantly opposed to the "establishment." There was an increasing likelihood that neither McCarthy -- nor any other candidate -- could ever secure 218 backers.
A paralyzed House poses profound implications. The lower chamber is not permitted to conduct any business without a speaker. That's a dangerous scenario considering that Congress must soon grapple with raising the debt ceiling and deduce a way to avoid a government shutdown.
Just after 8 am Thursday, McCarthy walked confidently into a session of House Republicans in which he would make his closing argument for the speakership.
"It's going to go great," McCarthy beamed exuberantly, a skip in his step.
Nearly two hours later, he exited the confab. I asked the majority leader if he "nailed down the votes." McCarthy snapped his head upwards and roared with a belly laugh. He slapped me on the back -- but didn't answer the question.
Still, was he getting anywhere? Could McCarthy close the deal on 218?
"It went really well," McCarthy stated. "We are going to get the votes."
With that, he bounded up a towering staircase in the center of the Capitol and bolted into his office suite. A cadre of Honor Flight veterans from McCarthy's district awaited an audience with perhaps the next speaker of the House.
Two hours later, McCarthy was out of the running. Boehner cancelled the election. The acoustically-challenged Longworth corridors of granite and alabaster devolved into bedlam.
McCarthy determined this just wasn't his time. Multiple sources close to McCarthy indicated it may be a bloodbath to get to 218 -- and he didn't want colleagues to expend valuable political capital defending and promoting him just to seize the speaker's gavel.
After all, many observers suggested the House was such a toxic cesspool now that a McCarthy's speakership would be short-lived. He'd have to immediately wrestle with the debt limit and government spending bills. McCarthy would enjoy no honeymoon. Perhaps it was best to play the long game. Maybe a pathway to the speakership for McCarthy would emerge in a few years once the torrent calmed.
Meantime, members of the Freedom Caucus saw a road to the speakership on Thursday. They immediately questioned why Boehner called off the vote when the favorite quit.
"They probably wouldn't have delayed it if I was the one dropping out," Webster groused during an appearance on Fox Business.
A meeting will never be an orphan on Capitol Hill. So after the longer speaker candidate nominating session Thursday and the stunted, nine-minute episode in which McCarthy withdrew, Republicans conducted yet another assemblage Friday morning.
"We must have an orderly transition from one speaker to the next, and stepping down before we elect a new speaker would hurt the institution," Boehner said. "It is my plan for this House to elect a new speaker before the end of October. But at the end of the day, that's really up to the people in this room."
The problem with the GOP leadership race is that Republicans struggle to unite around anything, let alone anyone.
Moreover, the preferred candidates of many wings of the party never stepped onto the field. A movement to draft Rep. Trey Gowdy, R-S.C., fizzled. Some conservatives hoped Rep. Jim Jordan, R-Ohio, would run. Others on the right favored House Financial Services Committee Chairman Jeb Hensarling, R-Texas.
"Mr. Chairman," I called out to Hensarling as he walked into the House chamber Thursday afternoon to vote. "Would you run for speaker?"
"Chairman," Hensarling answered, musing over the word for a moment, "Chairman is a really good, good title."
Republicans knew at the Friday morning huddle there was but one House GOPer capable of filling the void: House Ways and Means Committee Chairman Paul Ryan, R-Wis.
But there's trouble with Ryan. If you look at his history, Bryce Harper and Jonathan Papelbon stand a better chance of going to dinner together than Ryan seeking a congressional leadership post.
Ryan is the same lawmaker who some courted to run against Boehner for minority leader in 2008, after Democrats handed the GOP their heads at the polls that fall.
He's the same congressman who took a pass at running for president, governor, senator and even majority leader after the unexpected primary loss of then-Majority Leader Eric Cantor, R-Va. -- to say nothing of speaker after Boehner announced his departure a few weeks ago.
"Ryan would be transformational," predicted Rep. Mick Mulvaney, a South Carolina Republican and a conservative who backed Webster.
House Oversight Committee Chairman Jason Chaffetz, R-Utah, indicated he'd drop his dark horse candidacy for speaker if Ryan entered the contest.
"I do believe that Paul Ryan is the one person who could clear the field," added Rep. Gregg Harper, R-Miss.
Not surprisingly, Ryan declined to grab the baton -- at least not publicly or right now. Ryan's aides published multiple statements declaring that he was -- like Hensarling -- enjoying the title of "chairman."
But behind the scenes, Republicans deluged Ryan with a cascade of pleas. Boehner called. Mitt Romney phoned. Source say Ryan switched privately from a "no" to a "maybe." He'd consider it over this weekend.
One source close to Ryan believed he would eventually come around. The source characterized Ryan as a "Boy Scout" who always did the right thing -- including salvaging the U.S. House of Representatives.
Others weren't so sure.
"He told me 'Hell no' three times yesterday," said Rep. Glenn Grothman, R-Wis. "He's told me 'no' enough times that I don't even ask any more."
A window into Ryan's thinking lies in the statement he issued when begged by some to challenge Boehner.
"My first priority in life will always be my wife and my three young children," Ryan said. "As I reflect upon the strains that this position would place on my young family, I have decided not to enter my name as a candidate."
One could crystallize Ryan's confliction into the final moments he spent on Capitol Hill on Friday afternoon. The House completed its last vote series of the week. Not long after votes, Ryan sprinted out of the Capitol, down the House steps and into an awaiting, green SUV parked on the plaza. He declined to entertain reporter's questions as he hustled toward the vehicle.
"Right now I'm going to make my flight so I can make it home for dinner," Ryan said.
Someone asked what where Ryan's plans for the weekend.
"The Packers are at home and they're going to beat the Rams and cover the point spread," he predicted.
Quintessential Ryan. Rushing home to spend time with his family and watch football. You can't do that when you're speaker of the House.
"I think the last thing we could do is pressure a reluctant warrior into service," said Rep. Scott Tipton, R-Colo.
"He shouldn't be guilted into it," said Rep. Kevin Cramer, R-N.D.
There's concern that the political cloudburst to coax Ryan to run was too intense.
Some GOP sources worry the full-court press may have overwhelmed Ryan, cementing his inherent reluctance.
That said, Ryan could face a problem similar to McCarthy's. Granted, there's more musculature to the Republican support for Ryan. But the chasms are so deep in the GOP Conference now, it's not certain that Ryan wouldn't face similar criticisms from the far-right.
As speaker, Ryan could be forced to immediately cut deals on the debt ceiling and government funding with Democrats and the White House.
Conservatives would howl. The conventional wisdom is that he could lock up the speaker's race quickly. But others question that theory. They point to his legislative and voting history: Support for the controversial fiscal rescue package in 2008 known as TARP (Troubled Asset Relief Plan). There are various votes to raise the debt limit and keep the government operating. He forged a controversial budget agreement nearly two years ago with Sen. Patty Murray, D-Wash.
"He's become a mouthpiece of the establishment," said one Republican lawmaker who asked not to be identified. "He's the go-to guy for Boehner."
We haven't even discussed immigration. Fair or not, several Republican lawmakers characterized Ryan's view as "amnesty."
There's chatter now that Republicans could enlist Ryan to at least serve as speaker for just the remainder of the current Congress.
It's widely believed that Ryan eventually wants to run for president. The speakership has a way of collecting a lot of political burs.
But serving as interim speaker limits the fallout. Plus, it ushers the House through the current crisis. As a result, Ryan looks like the hero, only bolstering his aura. He was willing to step into the fold when no one else could. Imagine what that looks like when he runs for president in few years or two decades from now? Hard to compete with those bona fides.
In Statuary Hall of the Capitol, a bronze floor plaque denotes the desk location of President James Polk. He is the only House speaker who later served as president.
The House was a raucous place in the mid-1830s. Churlish lawmakers frequently challenged one another to duels. One of Polk's objectives as speaker was to tame the House and make it less cantankerous.
A comparable goal that faces Paul Ryan or whomever emerges as the next speaker.