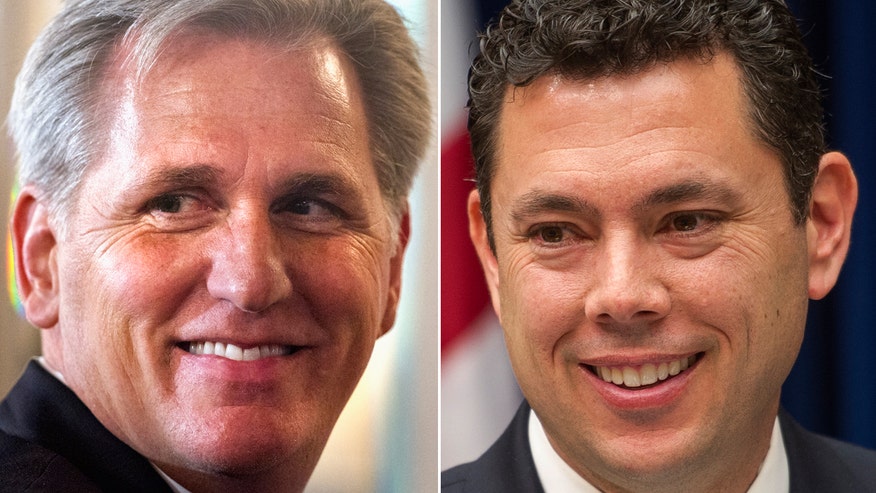 Utah GOP Rep. Jason Chaffetz on Sunday officially announced his bid to become the next House speaker, challenging next-in-line Majority Leader Kevin McCarthy and vowing to "bridge the divide" that has roiled the chamber's GOP caucus.
"I'm offering myself as an alternative," Chaffetz told "Fox News Sunday." "I think I can bridge that divide."
Speculation on Capitol Hill that Chaffetz would make a challenge began Friday. It was the latest turn in the scramble for House GOP leadership positions since Speaker John Boehner resigned Sept. 25, amid pressure from the Republican caucus' most conservative members.
McCarthy, a California Republican, appears to have enough support from House Republicans when they vote Thursday behind closed doors. However, it remains unclear whether he can get the 218 votes in a full House vote scheduled for later this month.
Florida GOP Rep. Dan Webster is the only other candidate in the speakership race.
"You just don't give a promotion to the existing leadership team," Chaffetz, known for his hard-charging efforts as chairman of the House Committee on Oversight and Government Reform, said Sunday. "That doesn't signal change."
Chaffetz said that he was recruited to make the challenge and that he will listen to all factions of the GOP House caucus before making decisions about policy and legislation.
"I didn't wake up last week and say, 'I'm going to be House speaker,' " Chaffetz also said.
Sources told Fox News on Sunday that some House Republicans are trying to limit the vote this week to only the speakership. But a Boehner spokesman said all leadership elections will take place on that day.
Fox News' Chad Pergram contributed to this report.