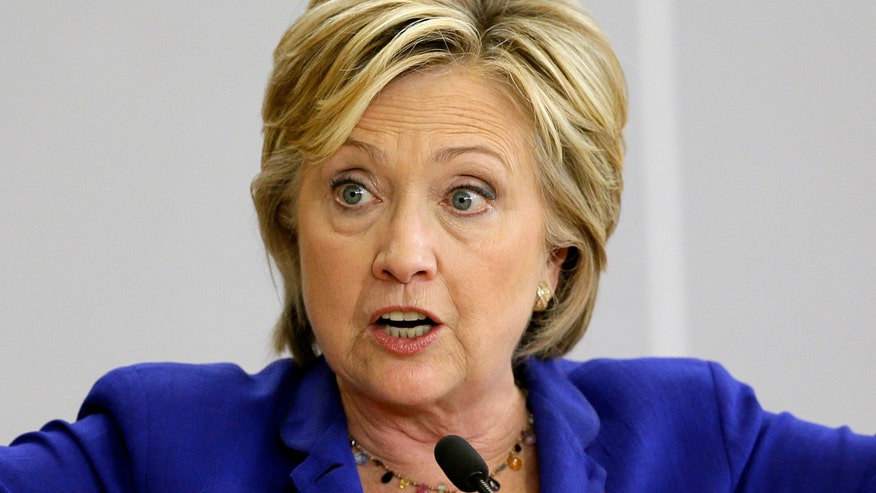 Democratic presidential candidate Hillary Clinton vowed Saturday that gay rights would be a key part of her presidency and warned about the potential consequences of electing Ben Carson or other GOP candidates.
Clinton told an audience at the Human Rights Campaign headquarters in Washington that she's running to "stand up" for their fundamental rights.
She also warned those in the audience: "We're going to face some ridiculousness especially from our friends in the GOP. In fact it's already begun. Ben Carson says that marriage equality is what caused the fall of the Roman Empire."
She also said Texas Sen. Ted Cruz, another 2016 GOP candidate, "slammed a political opponent for marching in a (gay) pride parade."
"He clearly has no idea what he's missing," she said to laughs and applause.
"If any one of them heaven forbid were ever to be elected president, they will do their best to threaten you and their families," she continued. "Every single Republican candidate for president is against marriage equality. Every one of them. Many of them are against anti-discrimination laws. Many are against same sex couples adopting."
Clinton's statement marked a remarkable evolution, considering she opposed same-sex marriage for more than two decades in public life as first lady, senator and presidential candidate. As recently as this year, Clinton said that while she personally supported gay marriage, the issue was best left for states to decide --a position held by most of the Republican presidential field.
Since then, she has placed equal rights at the forefront of her campaign, in part a reflection of the growing political and financial strength of the gay community in Democratic politics.
The Human Rights Campaign contributed roughly $1.17 million in the 2014 election cycle, mostly to the Democratic Party and its candidates, committees and leadership PACs and to Democratic-leaning outside spending groups, according to OpenSecrets.org.
Vice President Joe Biden is scheduled to give the keynote speech at the group's dinner Saturday evening.
The front-running Clinton also promised to pass federal legislation ending discrimination, lower costs for HIV treatment, cut off funding for child welfare agencies that discriminate against gay parents and open up military service to transgender people.
She also said she was "just getting warmed up" in her battle for equal rights.
The Associated Press contributed to this report.