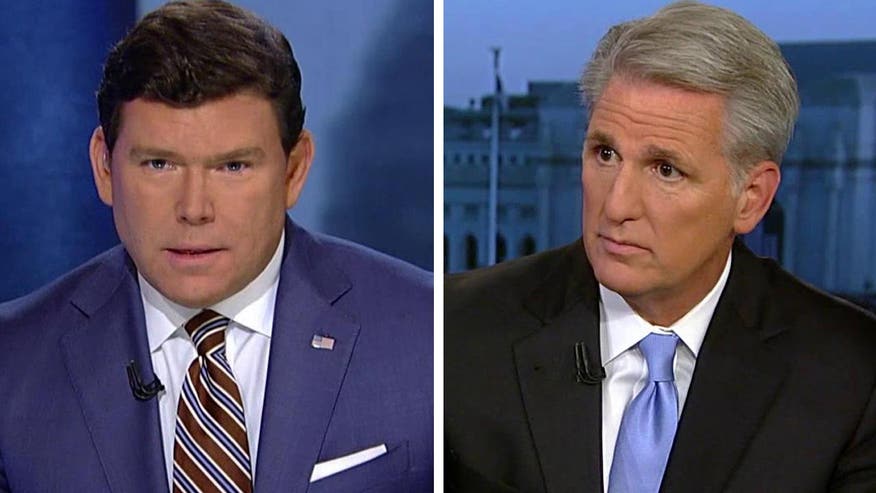 House Majority Leader Kevin McCarthy, in an interview with Fox News on Thursday, walked back comments on the Benghazi committee that have caused a political storm for his caucus and led to renewed Democratic calls for it to be disbanded.
McCarthy, the leading candidate for House speaker, earlier this week was accused by Democrats of implying the committee was created to politically damage Hillary Clinton, after he linked its work to her dropping poll numbers. On Thursday, some Republicans also criticized him, and urged him to clarify his remarks.
Speaking with Fox News' Bret Baier in a "Special Report" exclusive interview, McCarthy said he "never meant to imply" that the Benghazi committee has any political motivations.
"This committee was set up for one sole purpose - to find the truth on behalf of the families for four dead Americans," McCarthy said. "Now, I did not intend to imply in any way that work is political."
House Speaker John Boehner staunchly defended McCarthy on Thursday after senior Democrats called for the Benghazi investigation committee to be disbanded, claiming Boehner's top deputy -- and the favorite to step into the speaker's shoes -- implied in an interview the panel was created to politically damage Clinton.
The comments gave Democrats an opening to reprise allegations the committee is merely a political tool. Rep. Nancy Pelosi, the chamber's top Democrat, said Thursday that the investigation is "unethical" and the panel should be shut down. Pelosi also questioned whether the panel violates House rules forbidding spending taxpayer dollars for political purposes.
But Boehner, without mentioning McCarthy's remarks, fired back and issued a statement saying the panel would keep working.
"This investigation has never been about former Secretary of State Clinton and never will be," he said. "... The members of this committee have worked diligently and professionally to fulfill this important mission and they will continue to do so."
"The American people deserve the truth about what happened in Benghazi. That's always been our focus, and that's going to remain our focus."
McCarthy made the comments in an interview Tuesday night with Fox News' Sean Hannity. Describing how he would be different as speaker, McCarthy said he'd be a "conservative speaker that takes a conservative Congress that puts a strategy to fight and win."
He added: "And let me give you one example. Everybody thought Hillary Clinton was unbeatable, right? But we put together a Benghazi special committee, a select committee. What are her numbers today? Her numbers are dropping. Why? Because she's un-trustable. But no one would have known any of that had happened had we not ..."
Democrats swiftly suggested his comments undermine claims by the committee's leader and other Republicans that the panel is only seeking the truth about the deadly 2012 attacks at a U.S. diplomatic facility in Benghazi, Libya.
"I appreciate Rep. McCarthy finally coming clean and admitting what we have all known all along: that the Benghazi Select Committee was designed and created as a political attack tool to damage a potential Democratic presidential nominee," Rep. Adam Smith, D-Wash., a Benghazi committee member and top Democrat on the House Armed Services Committee, said in a statement.
Some Republicans also suggested this week that McCarthy's comments could damage the credibility of the committee and it's chairman, Rep. Trey Gowdy, R-SC.
"I think it's a total mischaracterization of the good work that's been done on the Benghazi committee," Rep. Jason Chaffetz, R-Utah, said of McCarthy's comments in an interview with the Associated Press.
Chaffetz, chairman of the House Oversight and Government Reform Committee, said he told McCarthy privately Wednesday that he still supported his bid to become speaker but considered his comments untrue.
"To discredit the committee and its purpose was wrong and he should walk back those statements," Chaffetz told the AP.
Rep. Thomas Massie, R-Ky., expressed similar sentiments to Chaffetz on Thursday, saying, "I think he should apologize to the families because his statement jeopardizes the committee's work and trivializes it."
McCarthy said Thursday he's spoken with Gowdy on how he never meant to imply the committee was political.
"I talked to Trey, and I told him, I regret that this has ever taken place, it is never my intention," McCarthy told Fox News' Brett Baier, "and Trey goes, 'I know it's not your intention, because you know it's not political.'"
Though he acknowledged his comments were a "setback," McCarthy also brushed off suggestions that his words could affect his push to replace outgoing House Speaker John Boehner.
"We're going to be able to win this race," he said.
But his comments are getting mixed reviews from Republicans as he approaches an initial test vote to succeed House Speaker John Boehner.
"Nobody has 218 today for Speaker," said Rep. Tim Huelskamp, R-Kan. "Those comments were not helpful. I don't think that got him one vote."
"Kevin (McCarthy) is dealing with some very thin margins on the floor (in the Speakership vote)," said Rep. David Jolly, R-Fla,. "He has had to backpedal. It's took it toll. It was regretful."
The remarks by Huelskamp and Jolly suggest that since McCarthy can't get to 218 votes, he can't afford to waste any vote. Any sort of bump in the road may have negative consequences for McCarthy.
"I don't think the leader meant to say what this is being construed as," said Rep. Brian Babin. R-Texas."It certainly was something that was unfortunate."
Fox News' Chad Pergram and the Associated Press contributed to this report.