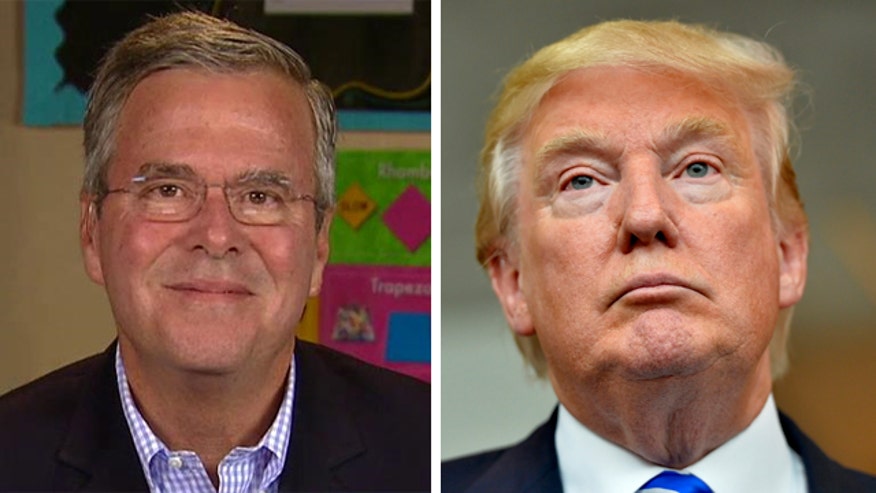 **Want FOX News First in your inbox every day? Sign up here.**
Buzz Cut:
• Ding, ding, ding: Trump, Jeb escalate feud
• Start your shutdown clocks
• Oh. Not Canada…
• Emails show Hillary's political fixations
• Must not be that impressive
DING, DING, DING: TRUMP, JEB ESCALATE FEUD
Donald Trump's video savaging former Florida Gov. Jeb Bush is rough stuff. It was so effective that it drew immediate howls of "Willie Horton," which is generally a sign that a Republican has produced a viscerally effective spot. The video juxtaposes Bush's comments about illegal immigrants committing an "act of love" with the mug shots of illegal immigrant murders.

But Bush's campaign was not caught flat-footed. The response was a supercut of some of Trump's wildest statements about partial-birth abortion, single-payer health insurance and his praise for Hillary Clinton. The kicker is Trump being asked why he is a Republican and him responding "I have no idea."

Maybe this feud is so nasty so soon because of history. The Daily Caller explores Trump's past calls for the impeachment of former President George W. Bush for getting the United States into the Iraq war "with lies."

Will Trump show for Cruz's Israel rally? - National Review: "Senator Ted Cruz (R., Texas) has invited Donald Trump to attend a September 9 rally against the Iran deal, but other 2016 presidential candidates who want to join might not receive the same courtesy…The organizers haven't yet decided on a final list of speakers…'There's discussion internally in the Cruz camp about that, there's discussion in the Trump camp, and the [activists] camp,' a Cruz campaign spokesman told NR on Friday. 'There's no consensus by anybody about what the agenda is going to be, and so we're working on that right now."'

Oh. Not Canada… - Did you hear that Gov. Scott Walker wanted to build a wall along the 5,525-mile U.S.-Canadian border? Presumably with moats and guard beavers. You know doubt did many, many times on Monday if you were following political news. Many. What a rube! Except he didn't. WashEx: "The governor never went so far as to say we should construct a wall similar to the one being proposed for the border between the United States and Mexico. He explained that addressing security concerns on the northern border would mean ensuring that the "intelligence community has the ability for counterterrorism and the ability to go after the infrastructure they need to protect us."

[Richmond Times-Dispatch: "Former state Attorney General Jerry W. Kilgore will serve as the statewide finance chairman for Wisconsin Gov. Scott Walker's presidential campaign in Virginia, the Walker campaign announced Monday."]

Rubio warns of losing the American Dream - Reno Gazette-Journal: "Sen. Marco Rubio, R-Fla., made his first stop in Reno this campaign cycle Monday night, telling an estimated crowd of about 250 at the Peppermill resort that the United States is in danger of losing the 'American Dream' of success and falling further behind militarily to other world powers…Rubio said. 'People are starting to believe that the American Dream is starting to slip from their reach. And you know what? If we keep doing what we are doing, that is exactly what will happen.'"

[Boston Globe: "State senators Richard Ross of Wrentham, Viriato deMacedo of Plymouth, and Ryan Fattman of Webster are among those heading up Rubio's Massachusetts 'leadership committee,' according to Jim Merrill, the candidate's top aide in New Hampshire. Together, they are good for three of the state's six GOP senators."]

Christie, Fiorina battle for a spot on the main stage - The Hill: "Chris Christie and Carly Fiorina are battling to be on the main stage of the next GOP presidential debate. While Christie's supporters are spending $1 million in advertising to solidify his spot, Fiorina is unlikely to be able to buy the ad time needed to help her climb enough in national polls to make it onto the main debate stage in two weeks, a GOP strategist said. With 10 days to go until CNN decides the top 10 for the next Republican debate…"

"I may be changing tactics. If I get to like to 15 questions in a row…you're going to go, 'Uh, uh, he's going to go nuclear now.'" – New Jersey Gov. Chris Christie on "The Tonight Show."

Seventeen is not enough? - Eliana Johnson talks to some members the claque of wealthy Mitt Romney 2012 donors still pining for the former Massachusetts governor to jump into the race.

Kasich says need to end spending caps - NBC News: "Ohio Gov. John Kasich on Monday said he would 'get rid of' the caps on defense spending known as sequestration if president. 'If I were president, that would not in any way impact my priority needs to rebuild the national security of this country,' he said at a national security forum hosted by Americans for Peace Prosperity and Security in Michigan."

[Feel that September chill? That's August's fundraising cash being counted for the 2016ers. For Kasich and Walker, August was the first full month stumping for cash as an official candidate; while Jeb Bush tried to sustain his deep pockets. Who has what it takes to go the distance? We'll be watching…]

Huckabee touts second Senate endorsement - Former Gov. Mike Huckabee, R-Ark., got the endorsement from Sen. Mike Rounds, R-S.D. earlier this month, joining Sen. John Boozman, R-Ark., as the second current senator to endorse Huckabee. With four current and one former senators seeking the GOP nomination, it makes Huckabee something of an unexpected standout.

START YOUR SHUTDOWN CLOCKS
Roll Call: "Senate Majority Leader Mitch McConnell said Monday that funding the government is the top challenge facing him when he returns to the Capitol next week. The Kentucky Republican said he would work with the White House to come up with budget levels to keep the government open past Sept. 30, conceding that President Barack Obama won't sign a measure with a rider defunding Planned Parenthood. "The Senate Democrats have a big enough number to prevent us from doing things. They prevented us from doing any of the bills that appropriate money for the government, thereby forcing a negotiation when we go back in after Labor Day, which I'll be engaged in with the administration and others to try to sort out how much we're going to spend and where we're going to spend it," McConnell told WYMT in Hazard, Ky."

WITH YOUR SECOND CUP OF COFFEE…
Pink Floyd's 1973 album "Dark Side of the Moon" undoubtedly topped the charts and revolutionized the music industry. But it was the 1975 follow-up album, "Wish You Were Here," that cemented the band's place in the rock pantheon. There were just five tracks, but they were remarkable stuff. The cover art of the album, though, may be just as much a part of its iconic status. Rolling Stone details: "Hollywood stuntmen Ronnie Rondell and Danny Rogers … remain best known for a single photograph taken on the Warner Bros. backlot in 1975. For the cover of Wish You Were Here, Rondell wore a business suit over a flame retardant suit and shook Rogers' hand while his clothing was on fire. To protect his head, Rondell wore a wig over a hood. Despite all the precautions, at one point during the shoot, the wind blew in the wrong direction and briefly spread the flames to Rondell's moustache." The album turns 40 this month.

Got a TIP from the RIGHT or the LEFT? Email FoxNewsFirst@FOXNEWS.COM

POLL CHECK
Real Clear Politics Averages
Obama Job Approval: Approve – 44.9 percent//Disapprove – 51.1 percent
Directions of Country: Right Direction – 28.7 percent//Wrong Track – 63.3 percent

EMAILS SHOW HILLARY'S POLITICAL FIXATIONS
Whether she did so by misfeasance or malfeasance, there are 125 new reasons to question Hillary Clinton's handling of sensitive information in her private email. Legality aside, Monday night's tranche of messages further tarnish the judgment of the presidential candidate running on competence and experience. Exchanges between then Secretary of State Clinton and advisers on sensitive subjects like Iran and a nuclear agreement with Russia, subsequently deemed classified and redacted, were among the 7,000 plus pages released by the State Department.

[Read 'em - WaPo provides a guide to the newly released email.]

The latest batch of email also draws a picture of Clinton's fixation on her political posture and those of others, making it clear that another White House bid was ever on her mind. Longtime friend Sidney Blumenthal was a constant source of advice and gossip for Hillary's political intelligence gathering. Blumenthal's often raw offerings ranged from the presidential aspirations of Gen. David Petraeus to a put down of House Speaker John Boehner.

[All in the family - WashEx examines what the emails reveal about the close ties to the Clinton Family Foundation maintained by the then secretary of state.]

Sanders: Clinton email 'not a good practice' - Clinton rival Sen. Bernie Sanders told NBC News: '[I]f elected, he would 'take a hard look' at whether cabinet secretaries should be allowed to use private email addresses. 'What's going on now, as I think Secretary Clinton now realizes, is not a good practice,' Sanders said."

Bernie builds in Iowa - NYT: "…it is Mr. Sanders's footprint in Iowa, that most critical of early states, where that expansion matters most…The Sanders campaign made its first hire here on May 18, an advance director with a history in student organizing. A field organizer came on next, followed by an administrative staff member, all in the campaign's one office in Des Moines…It now has 53 people on staff…This past weekend alone, he said, the campaign's 1,700 volunteers marched out of 15 campaign offices throughout the state to knock on 17,000 doors and make 10,000 phone calls."

MUST NOT BE THAT IMPRESSIVE
Chicago Tribune: "In a move that will likely lengthen his quest for gainful employment, a 23-year-old Aurora man sent naked selfies to the human resources manager of a St. Charles company where he had just been offered a job earlier this month, according to police…'There was a conditional offer of employment made to this particular applicant,' Elmhurst Police Chief Michael Ruth said…'My understanding is they've rescinded the offer of employment,' Ruth said…The texter told police it was all a mistake. '(Police) contacted the offender who admitted to sending the photographs, explaining they were actually meant for another individual and were sent to the victim in error,' the police report states. '(Police) advised the offender to cease any contact with the victim."

AND NOW A WORD FROM CHARLES…
"If you were in Bizarro World and had you to create an anti-Donald Trump, it would be Ben Carson. Who knew that this was the Summer of Carson? He's slowly creeping along. No one hears about him…Of course, Trump, Fiorina and Carson represent the anti-establishment. But you have got to give Carson his due. He is the ultimate gentle, soft-spoken family doctor. Who cannot like the guy?" – Charles Krauthammer on "Special Report with Bret Baier"

Chris Stirewalt is digital politics editor for Fox News. Want FOX News First in your inbox every day? Sign up here.
Chris Stirewalt joined Fox News Channel (FNC) in July of 2010 and serves as politics editor based in Washington, D.C. Additionally, he authors the daily Fox News Halftime Report political news note and co-hosts the hit podcast, Perino & Stirewalt: I'll Tell You What. He also is the host of Power Play, a feature video series on FoxNews.com. Stirewalt makes frequent appearances on network programs, including America's Newsroom, Special Report with Bret Baier and Fox News Sunday with Chris Wallace. He also provides expert political analysis for FNC's coverage of state, congressional and presidential elections.