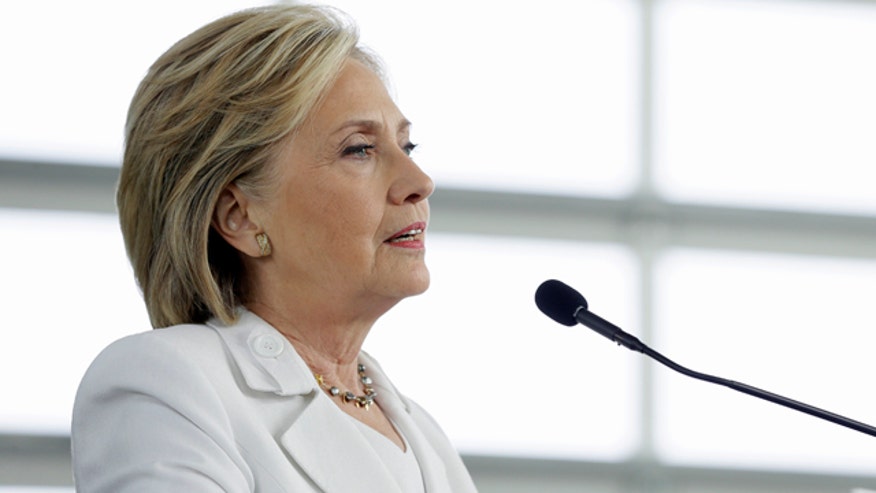 **Want FOX News First in your inbox every day? Sign up here.**
Buzz Cut:
• Dislike for Hillary intensifies
• Biden gets personal with party officials about run
• Trump's new Iowa hire busted trashing him
• Kasich PAC pumps up N.H. ad blitz
• If you can't trust gas station parking lot sausage…
DISLIKE FOR HILLARY INTENSIFIES
Hillary Clinton's lead in the Democratic nominating contest keeps on sliding and a new poll today from Quinnipiac University shows the trend is intensifying. Clinton's lead over Vermont Sen. Bernie Sanders is down 15 points from last month.

While she might not have to worry too much about Sanders given her 23-point advantage, her 10 point slip from July seems largely attributable to increasing interest in Vice President Joe Biden, who is mulling a campaign.

The best selling point for Biden backers: Clinton runs considerably worse in head-to-head matchups with potential Republican opponents than Biden. She runs 4 points ahead of GOP frontrunner Donald Trump, while Biden doubles that. Even socialist Sanders beats Jeb Bush by more than Clinton.

And surely by now you know the reason why.

Views of Clinton have turned intensely sour in recent weeks as her ongoing email scandal has left her and her campaign in a defensive crouch. Clinton's net favorability rating among all voters – a more valuable general election metric in the early going than horse-race numbers – is now a dreadful negative 12 points. That puts her in the same neighborhood as Rick Santorum and Martin O'Malley. Probably not the company she expected to be keeping just now.

Clinton's numbers have come to look a lot like those of her GOP counterpart, Trump. They are the best known candidates, with 92 percent of voters having formed opinions about each of them, and those opinions are not good. Fifty-four percent of voters think ill of Trump, compared to 51 percent for Clinton.

Clinton's advantage over Trump is that she faces much less resistance in her own party. Three quarters of Democrats have favorable views of Clinton – 10 points less than Biden, but still sturdy. Trump, on the other hand, is seen negatively by nearly a third of GOP voters.

Only 11 percent of Democrats said they would "definitely not" back Clinton compared to 26 for Trump with the GOP. Third-place GOP candidate Bush can be happy that a quarter of his party is keeping an open mind, but the grim news is that more than twice as many respondents would never consider supporting him (18 percent) than are currently backing his candidacy (7 percent). Only 9 percent of GOP respondents are waiting to hear more about Trump before making up their minds.

The poll shows continued good news for Ben Carson. He's pulled into second place behind Trump in the race for the GOP nomination and he has the best overall favorability score of any candidate in the race. The best liked candidate among GOP primary voters, though, is Marco Rubio, viewed favorably by 72 percent of his fellow Republicans. Carson is second in the GOP with 62 percent favorability.

Message: 'I get it' - WSJ: "Appearing before cameras after a speech in Iowa, she said she understands the concerns. "I know people have raised questions about my email use as secretary of state, and I understand why. I get it," she said Wednesday. She went on to give a familiar explanation: her arrangement was legally permissible at the time, she's turned over 55,000 pages of email, she has given her computer server to authorities investigating the matter and has plans to testify before a congressional committee."

[Clinton holds a campaign event in Cleveland before holding a fundraiser in the tony suburb of Bratenahl.]

Biden gets personal with party officials about run - NPR: "Confirming rumors that he is seriously considering jumping into the 2016 presidential race, Vice President Joe Biden acknowledged that he is indeed weighing whether to get into the contest. But in a closed-conference call with Democratic National Committee officials, he noted that he and his family are trying to decide 'whether or not there is the emotional fuel at this time to run.' Biden's son Beau died of brain cancer in May. 'If I were to announce to run,' Biden said, 'I have to be able to commit to all of you that I would be able to give it my whole heart and my whole soul, and right now, both are pretty well banged up. ... I've given this a lot of thought and dealing internally with the family on how we do this.'"

[Donors ready to deploy - The Hill: "…A number of big donors with ties to Biden have not thrown their support to the Democratic frontrunner."]

Ouch: Hillary backer Harkin says she might give Biden a job if he doesn't run - Former Sen. Tom Harkin, D-Iowa, said that Biden shouldn't make the leap, even suggesting that he could find work in Clinton's administration, albeit in a diminished role: "With Hillary as president, I can see him being secretary of state or ambassador to the United Nations," Harkin said.

The Judge's Ruling: Sweater weather - From failed operations in Libya and Syria to unsecured email on her private server, Senior Judicial Analyst Judge Andrew Napolitano asks whether Hillary Clinton has been pulling the wool over our eyes for years. "What if Clinton just doesn't care whether she has broken any federal laws, illegally caused the deaths of thousands of innocents, and profoundly jeopardized and misled the American people? What if the American people do care about all this? What will they do about it?" Read here.

WITH YOUR SECOND CUP OF COFFEE…
Every year at the Autumnal Equinox on Easter Island, chiefs of the native Rapu Nui tribe had a contest to see who could collect the first-laid egg on a nearby islet. The various clans within the tribe would gather at the same spot to select their representative. Contestants had to scale down a cliff and swim through rough surf and shark-infested waters in order to reach the islet. When the first person found the egg he had to bring it back intact. Why? Rough Guides explains: "The new birdman would first have all the hair shaved off his head; he would then live in strict seclusion for a whole year in a sacred house at the foot of Rano Raraku, eating only certain foods, and forbidden to bathe or cut his nails. His kin-group, meanwhile, was endowed with a special, high status, which was often taken as an excuse for members to dominate and bully their rival groups."

Got a TIP from the RIGHT or the LEFT? Email FoxNewsFirst@FOXNEWS.COM

POLL CHECK
Real Clear Politics Averages
Obama Job Approval: Approve – 44.3 percent//Disapprove – 51.5 percent
Directions of Country: Right Direction – 29.3 percent//Wrong Track – 62.8 percent

TRUMP'S NEW IOWA HIRE BUSTED TRASHING HIM
Iowa political personnel can be a tricky business, as Donald Trump can now attest. Trump's top hire in Iowa got busted in emails leaked to the Des Moines Register trashing his now-boss. In messages written as recently as last month, new Trump national co-chairman, Sam Clovis, who abandoned the struggling campaign of former Texas Gov. Rick Perry this week to work for Trump, calls the New York billionaire "a cancer on conservatism" and a man with "no foundation in Christ." Clovis said in one message that as a veteran he was "offended by a man who sought and gained four student deferments to avoid the draft and who has never served this nation a day — not a day — in any fashion or way." Clovis copped to the nastygrams, but said he had become convinced of Trump's merits and sincerity after he got the chance to "look [Trump] in the eye and ask him the tough questions."

Meanwhile... Huckabee scores top Iowa staffers - Former Arkansas Gov. Mike Huckabee is making a move in the Hawkeye State with the announcement that Aaron Trost will serve as Iowa state director. A mid-westerner, Trost was campaign manager for Sen. Deb Fischer, R-Neb., who defeated former Sen. Bob Kerry, D-Neb, in 2012 after her come from behind victory in the GOP primary. "We are following the same playbook that led us to victory in the 2008 Iowa caucuses," says campaign spokeswoman Alice Stewart. "Bringing Aaron on the team, with his Midwestern prowess, will allow us to build on our grassroots organization and win." Huckabee, who is polling in the middle of the pack both nationally and in RCP's average of Iowa polls, is also bringing on Terry Amann as state co-chairman. Amann is an influential central Iowa pastor who is on Republican 2016ers' most wanted endorsement list.

[Huckabee has three "Huck stops Here" events in northwestern Iowa before he attends Sen. Chuck Grassley's GOP summer picnic, in Okoboji.]

Trump ramps up populist pitch with call for high-end tax hike - Bloomberg:"Republican front-runner Donald Trump began to flesh out his economic vision for America, and it includes raising taxes on the wealthy. Trump said during a Wednesday interview on Bloomberg's With All Due Respect that he would like to change the tax code. 'I would change it. I would simplify it,' Trump [said]. … 'I would take carried interest out, and I would let people making hundreds of millions of dollars-a-year pay some tax, because right now they are paying very little tax and I think it's outrageous,' Trump said. 'I want to lower taxes for the middle class.' Asked whether his proposed changes meant he was prepared to raise taxes on himself, the billionaire framed his answer in terms of fairness. 'That's right. That's right. I'm OK with it. You've seen my statements, I do very well, I don't mind paying some taxes.'"

[Trump holds a rally in Greenville, S.C. today.]

Stay classy - What if the other candidates tweeted like Trump? Free Beacon ponders the possibilities.

Walker stands by China tough talk - AP: "GOP presidential candidate Scott Walker renewed his call Wednesday for President Barack Obama to cancel an official state visit with the president of China, saying the move would not hurt trade with states like Iowa, where he was spending the day campaigning, or Wisconsin, where he is governor…Walker defended the call on Wednesday when asked about possible negative repercussions for agricultural states like Iowa and Wisconsin that do billions of dollars of trade with Beijing. Walker said Obama shouldn't be offering a state visit to the leader of a country behind cyber attacks in the United States."

Rubio holds steady in N.H. - WMUR: "While [Sen. Marco Rubio, R-Fla.] can't boast of crowds or poll numbers like front-runner Donald Trump, he continues to draw solid crowds and generate positive buzz as he meets voters. In Londonderry, some Republicans waited close to half an hour to shake hands and take a picture with Rubio."

[Rubio holds a town hall at the University of South Carolina in Columbia today as well as a meet and greet.]

Kasich PAC pumps up N.H. ad blitz - Saying the more Granite State voters hear about him, the more they like him, the super PAC backing Ohio Gov. John Kasich, New Day for America, announced another big ad outlay. "New Hampshire ad buy has been extended through September 17th with another million dollars. Over the last two months, $5 million has been spent in NH.", the group said in a statement to Fox News. The announcement accompanies release of a new ad that ad highlights Kasich's budget hawkishness.

Rand's campaign says he's 'in it for the long haul' - Roll Call: "As Kentucky Sen. Rand Paul and his presidential campaign embarked this week on a western swing – working their way from Alaska to Utah – they hoped to send a message to his fellow Republican candidates — that Paul is 'in it for the long haul.'"

IF YOU CAN'T TRUST GAS STATION PARKING LOT SAUSAGE…
KHOU: "A San Antonio woman was arrested Monday, accused of stealing thousands of dollars worth of sausage from her job. Kimberly Carrillo, 28, was arrested after a fellow employee told police they witnessed her selling the links at a nearby gas station. Carrillo is now facing theft charges for stealing nearly $3,000 worth of sausage from the Kiolbassa Provision Company. According to Carrillo's arrest warrant, she was an employee at the company, but when her boss was made aware of the theft, she was fired. Police said there is also surveillance footage both of Carrillo taking the sausage from Kiolbassa, and selling it at the gas station."

Chris Stirewalt is digital politics editor for Fox News. Want FOX News First in your inbox every day? Sign up here.
Chris Stirewalt joined Fox News Channel (FNC) in July of 2010 and serves as politics editor based in Washington, D.C. Additionally, he authors the daily Fox News Halftime Report political news note and co-hosts the hit podcast, Perino & Stirewalt: I'll Tell You What. He also is the host of Power Play, a feature video series on FoxNews.com. Stirewalt makes frequent appearances on network programs, including America's Newsroom, Special Report with Bret Baier and Fox News Sunday with Chris Wallace. He also provides expert political analysis for FNC's coverage of state, congressional and presidential elections.