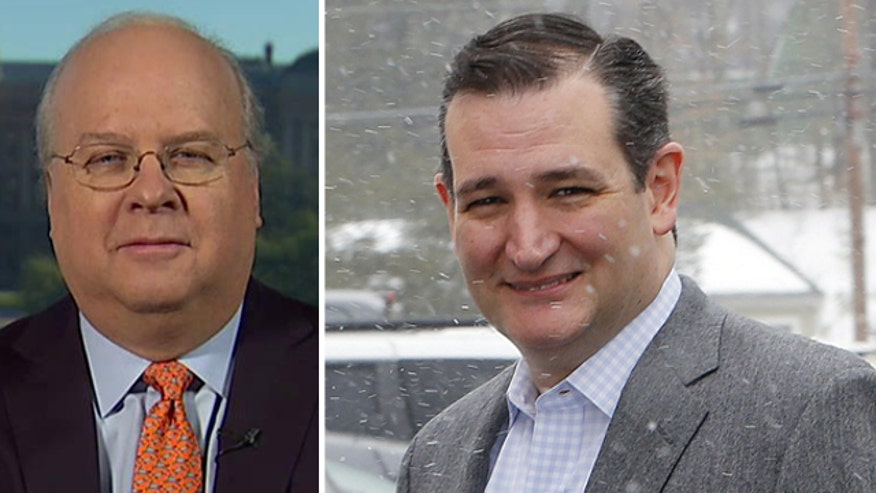 Karl Rove, former senior adviser to President George W. Bush, explained the strategy behind Sen. Ted Cruz's decision to become the first Republican candidate to officially enter the 2016 White House race.
"Easter's coming up in a couple of weeks. We're likely not to see anybody else announce until after Easter. So [Cruz] is going to have a window where there's going to be a lot of coverage about him and he hopes to take advantage," Rove said.
Rove noted that in a recent poll, the Tea Party favorite ranked 8th among candidates that Republican voters "could support." Polls also indicate that potential GOP rival Wisconsin Gov. Scott Walker is surging in Cruz's home state of Texas.
"It shows the advantage of getting out there... and see if he can drive those numbers in a good direction," Rove noted.
Rove sees "terrific strengths" in a Cruz candidacy: "This is a Princeton graduate; magna cum laude from Harvard Law School. He's really smart. He's incredibly articulate. He was a college debate champion and is a very accomplished speaker."
Rove also keyed on Cruz's attempt to separate himself from other Republican hopefuls: "He's come up with a label that might in some quarters be considered a disadvantage and turned it into an advantage... He says I want to lead a movement of 'courageous conservatives' to restore our country. This is an effort to take his role in the shutdown of 2013 and turn it into a positive by saying, in essence, I had the courage to take on this issue."