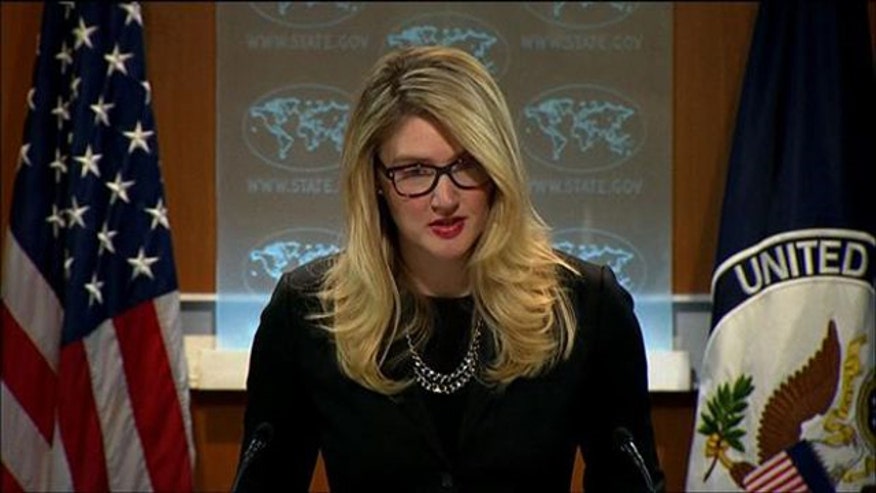 **Want FOX News First in your inbox every day? Sign up here.**
Buzz Cut:
• Shovel ready: Team Obama sees Islamist threat as jobs problem
• Baier Tracks: Court shakes up amnesty fight
• Team Hillary opens with 'war on women'
• NYT stays on Walker beat (down)
• Shhhhhh….
SHOVEL READY: TEAM OBAMA SEES ISLAMIST THREAT AS JOBS PROBLEM
Today is the start of the White House conference on "violent extremism," which is the administration's preferred euphemism for Islamist terrorism and militancy. The point is to gather government officials from around the world to discuss strategies for dealing with extremists of every kind. The actual purpose is to show that the president is doing something about a war effort Americans are deeply dubious about . One of the spokeswomen for the State Department certainly set the tone for the big to-do in an interview with MSNBC. And Marie Harf certainly had a doozy of a Kinsley gaffe. She explained to an exasperated Chris Matthews that it wasn't about winning military conflict with ISIS or other Islamist militants, but rather dealing with "root causes." She offered this to Matthews demand for a more robust offensive: "…we cannot win this war by killing them, we cannot kill our way out of this war." So what is the way to victory? "We need, in the longer term, medium and longer term, to go after the root causes that leads people to join these groups, whether it's lack of opportunity for jobs..." Ah.

[WashEx: "According to a Brookings Institution survey of American Political Science Association scholars, they put Obama on the worst, not best, list by a margin of nearly three-to-one."]

'And his momma cried…' - "Good jobs for good wages" sounds like an increasingly far-fetched campaign slogan in several parts of America as salary stagnation remains upon us. But if you think selling it Nashua, N.H. is tough, try Yemen. When people are eating grass and dirt, long-term economic recovery would sound just plain silly. When they're eating grass with murderous Islamists pointing Kalashnikovs at them, it would sound downright cruel. But that's what Harf said. She argued that the U.S. should work to end to the poverty that "makes these 17-year-old kids pick up an AK-47" instead of "trying to start a business." In this version, a budding entrepreneur is trapped in a hopeless society and eventually turns to "violent extremism" [wink, wink] in frustration. It is like Elvis Presley's "In the Ghetto" but for global Jihad. This doesn't quite explain why certain poor people are peaceful while others seem to be increasingly falling prey to "violent extremism" [nudge, nudge] but it's not an insane point of view… for an Elvis song, or Methodists missionaries or the International Monetary Fund. For the government that is charged with protecting America, however, this is some wild stuff.

[WaPo: "Shiite militias backed by Iran are increasingly taking the lead in Iraq's fight against the Islamic State, threatening to undermine U.S. strategies intended to bolster the central government, rebuild the Iraqi army and promote reconciliation with the country's embittered Sunni minority."]

More vox, less populi - Leave aside the issue of whether Islamist militants are actually primary causes of much of the economic suffering of these nations. The real deal here is how long such a strategy might take given the nature of the economic disadvantage in the countries where Islamists are running riot. We're talking decades or centuries. That's a pretty stunning lack of urgency. But it seems to be in keeping with the president's recently outlined position that Americans' worries about Islamists are a media-driven distraction from other issues. The real things are global warming and sustainable agriculture, you see. Beheading people or shooting up a magazine office is just a symptom… As it becomes clearer that this really is the administration's view the president and his party (and its presumptive nominee) will pay a heavy political price.

BAIER TRACKS: COURT SHAKES UP AMNESTY FIGHT ON HILL…
"As is so often the case, states lead the way. A lawsuit filed by 26 states against President Obama's executive actions on immigration, took a big step forward. On Monday, a federal judge blocked the president's actions granting legal status to millions of illegal immigrants. U.S. District Judge Andrew Hanen's decision puts a freeze on the president's plan, the first phase of which was supposed to begin Wednesday. While the administration will no doubt appeal the ruling, this decision could provide a legislative opening for the Homeland Security funding bill that is stalled in the Senate. The bill is being blocked by Democrats and would also be certainly vetoed by the President should it pass. So what is the way out of the standoff? The Republican argument may be to ask how they could fund anything that has been blocked by the courts and go full steam ahead on offense. Or, Republicans may be so encouraged about the chance for legal remedy that the looming showdown is drained of some of its urgency and move toward compromise. We'll see what they choose." – Bret Baier.

Pump it up - The Hill: "The Obama administration is ratcheting up pressure on Republicans to fund the Department of Homeland Security, which faces a shutdown without action by Congress after Feb. 27. Congress appears stuck on the issue because the House is insisting that the funding bill also overturn President Obama's executive actions on immigration that have provided legal status and work permits to millions of immigrants…Homeland Security Secretary Jeh Johnson and other agency officials are also expected to press the case over the coming days, with one senior official there calling the push for full funding a 'huge priority for this department.' Johnson is trying to convince Republicans to bend. The department says Johnson has already visited with at least 20 lawmakers on Capitol Hill to discuss the funding situation, and placed more than a dozen phone calls to members."

OBAMACARE DEADLINE EXTENDED FOR SOME
The Hill: "The Obama administration is giving some customers an extra week to buy health insurance if they have faced long wait times or other issues when trying to submit applications over the final sign-up weekend. Customers who experienced difficulties with ObamaCare signups will have until Sunday to buy coverage, the Centers for Medicare and Medicaid Services [CMS] announced in a statement one day after the official enrollment period ended."

[Watch Fox: Correspondent Shannon Bream has the latest on ObamaCare.]

WITH YOUR SECOND CUP OF COFFEE...
While the celebrations of Mardi Gras in New Orleans and Carnival in Brazil get all the attention, today is significant for Christians all over the world as the last day before the start of Lent, a season of somber reflection before the faith's highest holiday, Easter. But for many, the feasting and revelry done with abandon on Bourbon Street or in Rio is replaced by the humble pancake. The English-born tradition of a modest feast on Shrove Tuesday (derived from the word "shrive," meaning to present oneself for penance or confession) has become synonymous with pancake suppers, which once sounded like a pretty tame as an indulgence by American standards. But given current dietary attitudes about sugar, gluten and fat, pancakes have returned to a position of decadence. So this brings us to a key question of doctrine: Thick or thin? While there are many devotees of flapjacks as thick as a pillow, making those is as simple as following the directions on a store-bought box. But if you want to go thin to win, here's how: Mix two teaspoons of sugar very thoroughly into two eggs. Then stir in 3 cups of milk and a quarter teaspoon of salt. Then gently add just one-and-a-quarter cups of white flour until the batter is combined but not perfectly smooth. Let the batter stand for 15 minutes. Then heat up your best cast-iron skillet to medium-high and slide in a pat of butter. Pour a ladleful of batter into the foamy butter and cook for a couple of minutes until nicely browned. Flip it over and even up the other side for about a minute. Serve hot with butter and either jelly or powdered sugar and lemon. A few plates of those will keep you feeling penitent for at least 40 days!

Got a TIP from the RIGHT or LEFT? Email FoxNewsFirst@FOXNEWS.COM

POLL CHECK
Real Clear Politics Averages
Obama Job Approval: Approve – 45.6 percent//Disapprove – 50 percent
Direction of Country: Right Direction – 35 percent//Wrong Track – 56 percent

TEAM HILLARY OPENS WITH 'WAR ON WOMEN'
EMILY'S List, the pro-Hillary Clinton, pro-choice group Democratic group is not waiting to start "war on women" attacks on the GOP field. With almost a year to go until the first votes are cast, the first ads are out. RealClearPolitics: "[The] campaign that will document each time a Republican candidate 'ignores, insults, or offends' American women. The 'Insult & Injury' initiative, first shared with RealClearPolitics, includes digital advertising and graphics that can be shared via social media…. EMILY's List is targeting Republican presidential candidates' opposition to Planned Parenthood and/or their efforts to defund it, as well as their opposition to raising the federal minimum wage, which the group argues disproportionately affects women."

Coming out party - Democratic frontrunner Hillary Clinton, is slated to keynote EMILY'S List's 30th anniversary gala March 3. The speech before the group, which is a pillar of the machine backing her probable bid for the White House, will be Clinton's first appearance before a political organization this year.

[GOP 2016 hopeful Ben Carson is scheduled to speak today at the Parkgate Pregnancy Clinic in Tupelo, Mississippi.]

Time for choosing - WashEx's Noemie Emery observes that Hillary has a tough choice to make: "Her problem has been getting voters as enthused about herself as she is, leaving her to: A) Play the woman card, which becomes less specific to her as many more women rise to high office; and B) go the Gore/Kerry/Romney route of trying to bend herself into the image of what polls suggest voters find appealing."

[In an extensive National Journal interview, former Hewlett Packard CEO Carly Fiorina criticizes Democratic frontrunner Hillary Clinton saying she "will play the gender card over and over again, which is unfortunate but predictable."]

Hush - Clintonites are getting annoyed at David Axelrod, former top strategist to President Obama, for a rash of comments about Hillary and her potential campaign. "'It's not helpful and it's definitely not appreciated,' [a Clinton ally told The Hill]. 'The last thing we need is another round of headlines about lingering tension and this is doing exactly that. 'When he speaks, it gets picked up and people listen,' the ally added."

It could hurt his hopes? Really? - The Hill: "Sen. Bernie Sanders [I-Vt.] says that single-payer healthcare did not fail in Vermont and could be revived, amid speculation that flailing efforts in that regard could hurt his 2016 presidential hopes. Sanders, a self-described socialist…"

NYT STAYS ON WALKER BEAT (DOWN)
NYT: "Summed up in one phrase, 'the boundaries of the university are the boundaries of the state, the mission statement, known as the Wisconsin Idea, has been cherished by educators and graduates for a century. So when Gov. Scott Walker, a second-term Republican, presented a budget this month proposing to delete some of its most soaring passages, as well as to sharply cut state aid to the system, he ignited a furious backlash that crossed party and regional lines…"

Howdy, neighbor - Sen. Rand Paul, R-Ky., is the featured guest speaker tonight at the Lincoln Reagan Day dinner in Clermont, Ohio.

Christie puts corporate tax reform at the top of his presidential priorities - [New Jersey] Star-Ledger: "Gov. Chris Christie gave the first glimpse of what he'd do if Americans elected him to the White House while speaking to New Hampshire Republicans in the presidential battleground state tonight. 'Within the first 100 days, if I were to run for president and be elected, we would change this tax system in this country so that people and companies aren't leaving the country anymore,' Christie said during a brief question and answer session with audience members at the Concord and Merrimack County GOP Annual Lincoln Reagan Day Dinner. 'Secondly, we would pass a national energy policy, and one that takes full advantage of all of the resources that we have available to us to help grow our economy and make the world a more peaceful and stable place,' he said. 'And the third thing is ... is to reestablish American leadership around the world.'"

Glad I caught you - David Drucker is keeping track of which Republican lawmakers' phones are ringing with calls from GOP Sixteeners in pursuit of a well-timed endorsement. On the list of sought after would-be backers: Sens. Tim Scott, R-S.C., Joni Ernst, R-Iowa, Tom Cotton, R-Ark., and Cory Gardner, R-Colo.

Sound off: Readers respond to this week's 2016 Power Index…
"I think that former Texas Governor Rick Perry remains one of the most underrated candidates in this Presidential cycle and this will play to his advantage in 2016. He's got a veteran, he's a patriot and more importantly, he's got the experience and the record. He's the one to watch this Presidential cycle."--Ian Tan, Perth, Australia

"My overwhelming choice though has to be Rick Perry who ran the second largest state for FOURTEEN years with balanced budgets, and left Billions of Dollars in a 'Rainy Day Fund.' During Obama's reign - Perry has helped Texas create one-third of ALL the jobs created in the U.S. That's the leadership we need."--Doug Mathes, Houston, Texas.

"In a state brimming with potential 2016 Presidential candidates, the voters are talking about [Scott Walker]. Not Rand Paul whose father hails from Texas as does Jeb Bush and of course our former outstanding Governor Rick Perry and our rock star Senator Ted Cruz. I mean shazam that's four fabulous candidates with Texas roots vying for the support and cash of the Big Boys here."--Lori Haughton, Dallas, Texas.

"John Kasich is the only one with the background to be the next president, with experience in congress and a governor of a large industrial state and wants an amendment to the constitution for a balanced budget. What more could you want more!"--Paul J. Schmitz, Foley, Ala.

DEMS STRUGGLE TO LAND BLUE-CHIP RECRUITS
WaPo: "The war hero. The star fundraiser. The popular governor. The toughened ex-senators. These are the blue-chip recruits many Democrats believe are essential to winning back control of the U.S. Senate in 2016 after a midterm drubbing cost them their majority. Less than four months after the painful losses, Democratic officials have begun charting a path back to Senate control that runs through more than half a dozen blue and purple states where the presidential campaign is expected to boost Democratic turnout. But even in that favorable terrain, the party faithful fear they could fall short if marquee challengers don't step forward, since their talent pool is shallow and they are trying to unseat a well-prepared group of Republican senators."

SHHHHHH….
If you are longing for some peace and quiet, the American Association for the Advancement of Science has the spots for you. In their latest research, scientists have mapped the noise levels across the country on an average summer day. Using acoustic data fed into a computer algorithm researchers modeled gradations in audio levels including variables such as air and street traffic. The deepest blues predominantly occurred in the western portions of the country including Yellowstone National Park in Wyoming and the Great Sand Dunes National Park in Colorado. These areas had levels under 20 decibels similar levels as prior to European colonization, significantly lower than most cities which averaged 50 to 60 decibels. The National Park Service will put the research to use identifying where human noise affects that are considerably more sensitive than human ears and impacts the animals' abilities to hunt small insects and rodents.

AND NOW, A WORD FROM CHARLES…
"[T]he ideology of ISIS is clearly supremacist in the sense that anybody who is not Islamic in their understanding is to be either enslaved or eradicated in a genocidal movement. You kill Christians, you kill Jews you kill Yazidis but you may in certain circumstances, enslave them, that's what we're up against. And we have an administration that will not even admit there is a religious basis underline what's going on." —Charles Krauthammer on "Special Report with Bret Baier" Watch here.

Chris Stirewalt is digital politics editor for Fox News. Want FOX News First in your inbox every day? Sign up here.
Chris Stirewalt joined Fox News Channel (FNC) in July of 2010 and serves as politics editor based in Washington, D.C. Additionally, he authors the daily Fox News Halftime Report political news note and co-hosts the hit podcast, Perino & Stirewalt: I'll Tell You What. He also is the host of Power Play, a feature video series on FoxNews.com. Stirewalt makes frequent appearances on network programs, including America's Newsroom, Special Report with Bret Baier and Fox News Sunday with Chris Wallace. He also provides expert political analysis for FNC's coverage of state, congressional and presidential elections.