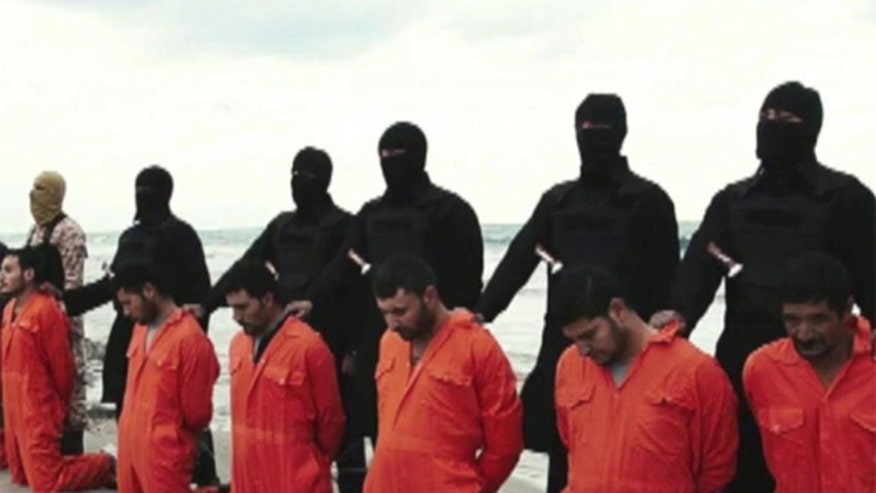 **Want FOX News First in your inbox every day? Sign up here.**
Buzz Cut:
• Libya debacle casts shadow on Obama war plan
• Cruz forward: 2016 GOP Power Index
• Power Play: Goodlatte lays out House immigration plan
• The campaign without a candidate rolls on
• Hey, it's been very cold lately
LIBYA DEBACLE CASTS SHADOW ON OBAMA WAR PLAN
President Obama had better leave some blank spaces in the next draft of his proposal to Congress for a "right-sized" war to fight ISIS in Iraq and Syria. Key U.S. ally Egypt has now bombed ISIS targets in Libya, which is some 700 miles away from what we were are told is theater of war – a distance about the same as that between Pittsburgh and Savannah. (So at least now you know who not to ask for directions.) In the spirit of baseball spring training, maybe the updated version can just say "Iraq, Syria, Libya and nations to be named later…" But before we get to the issue of Egypt bombing an ISIS affiliate in Libya in reprisal for the beheadings of 21 Egyptian Christians, we might do well to consider how we ended up with an ISIS affiliate in Libya anyway.
["The president is asking for less authority than he has today under previous authorizations. …And I don't believe what the president sent here gives him the flexibility, or the authority, to take on this enemy and to win." – Speaker John Boehner, R-Ohio, on "Fox News Sunday with Chris Wallace." Watch here.]
What a difference - Four years ago today, the chatter was also all about Egypt and Libya, but the news was very different. In Egypt, the country was in turmoil in the wake of President Hosni Mubarak's resignation five days earlier under intense pressure from Obama. But the big news was in Libya, where the rebellion against dictator Muammar Qaddafi had just gotten underway the night before in the city of Benghazi. Within 10 days, both Obama and then-Secretary of State Hillary Clinton would call for regime change in Libya. The U.S. would join the civil war on the side of the rebels about a month later. Eighteen months after that, Islamist militants would attack and destroy a U.S. outpost in Benghazi, the city where the rebellion began. Each passing month would bring worse news from Libya as the Islamists who fought in the rebellion took more control over and eventually suffocated the fledgling Western-backed government.
["The president's outlined a very precise use of our force…" – White House Chief of Staff Denis McDonough in an interview with CBS News.]
Bad call - Things looked to be going in the same direction for a time in Egypt. The "moderate" Islamists who took control after Mubarak's ouster proved to be not-so-moderate after all. As the largest Arab nation was careening toward disaster, U.S. allies in the region successfully pressured the Obama administration to back a restoration last year of the same kind of government Obama had helped unseat four years ago. Libya today is a nightmare state and Egypt is back under the control of the military. It may sound like madness, but don't forget how deeply (and as it would turn out, wrongly) the world swooned at the idea of what was then known as the Arab Spring. The Obama administration took an aggressive stance on the unfolding revolutionary movement that has left the region in even deeper chaos. How real are the chances that the president will again be part of a coalition to strike Libya, but this time against some of the same factions he previously supported? Well, the U.S. is now coordinating with the regime in Syria it once threatened to attack, so never say never.
WITH YOUR SECOND CUP OF COFFEE...
None of our 44 presidents was born on this day. But in deference to ease of scheduling and partly a desire to avoid political offense, today's federal holiday has been widely known as President's Day since 1971. It is still technically recorded as George Washington's Birthday (which is actually Feb. 22), but the popular understanding is that today's holiday honors all presidents. Any event that celebrates Franklin Peirce and Woodrow Wilson equally to Washington and Abraham Lincoln can truly be said to celebrate nothing. So what's the point? Why, a day off, of course. And for decades, Americans have used the extra day to go car shopping. Auto sales surge by about 25 percent every President's Day weekend. But before it was cars, it was bicycles. The Atlantic examines the largely lost, Gilded Age history of how bicycles helped make the holiday into a mercantile moment for the nation.

Got a TIP from the RIGHT or LEFT? Email FoxNewsFirst@FOXNEWS.COM

POLL CHECK
Real Clear Politics Averages
Obama Job Approval: Approve – 45.2 percent//Disapprove – 50.2 percent
Direction of Country: Right Direction – 35.1 percent//Wrong Track – 56.8 percent

CRUZ FORWARD: 2016 GOP POWER INDEX
Republican leaders are feeling bullish about their chances of getting Democrats in the Senate to back off their filibuster of a funding bill for the Department of Homeland Security. And while the next 10 days will bring plenty of drama in the fight to roll back President Obama's temporary executive amnesty for illegal immigrants, the hardline approach is good news for at least one Republican presidential hopeful: Sen. Ted Cruz, R-Texas. Cruz, who has also continued to add key staff members and build out what might be a formidable fundraising machine, seems to have so far avoided a shooting war with his own party on the issue. That truce has helped the conservative favorite move to his highest ranking yet in the Fox News First 2016 GOP Power Index. And making his debut on the list is Gov. John Kasich, R-Ohio, another fiscal hawk. He will make his first visit to the early primary state of South Carolina on Wednesday. [And before you tell us why Kasich can't win, we would offer you this riddle: What's round on both ends and "hi" in the middle… and is the most important state every presidential election?]

[Watch Fox: Chris Stirewalt joins Gretchen Carlson on "The Real Story" in the 2 p.m. ET hour with the latest on who's up and who's down in the 2016 Power Index.]

And here's this week's full ranking: 1) Jeb Bush; 2) Scott Walker; 3) Marco Rubio; 4) Ted Cruz [+1]; 5) Rand Paul [-1]; 6) Rick Perry; 7) Ben Carson; 8) Chris Christie; 9) John Kasich [first ranking]; 10) Mike Huckabee [-1].

On the Radar - Rick Santorum, Bobby Jindal, Mike Pence, Carly Fiorina

[What would you say? - Give us your take on the GOP field and we will share the best and brightest with the whole class. Send your thoughts to FOXNEWSFIRST@FOXNEWS.COM]

Essentially nonessential - The Hill: "…Most DHS employees are considered 'essential,' meaning that workers like border patrol agents and Transportation Security Administration employees would remain on the job, albeit without pay. So in the eyes of some lawmakers, a DHS shutdown wouldn't have as much impact as the government-wide shutdown in 2013."

Power Play: Goodlatte lays out House immigration plan - House Judiciary Chairman Bob Goodlatte joins host Chris Stirewalt to discuss the latest on the immigration debate in Congress. What's the plan? WATCH HERE.

Wide open spaces - NBC News "[A] trio of new NBC News/Marist polls show that the Republican race is wide open in the early nominating states of Iowa, New Hampshire and South Carolina. In fact, seven different possible Republican candidates get double-digit support in at least one of the states. But only two candidates, former Florida Gov. Jeb Bush and Wisconsin Gov. Scott Walker, are in double digits in all three states…In Iowa, former Arkansas Gov. Mike Huckabee leads the GOP pack getting support from 17 percent of potential Republican caucus-goers, followed by Bush at 16 percent, Walker at 15 percent, New Jersey Gov. Chris Christie at 9 percent and Sen. Rand Paul, R-Ky., at 7 percent. In New Hampshire, Bush gets support from 18 percent of potential GOP primary voters, followed by Walker at 15 percent, Paul at 14 percent and Christie at 13 percent. And in South Carolina, it's native son Sen. Lindsey Graham, R-S.C., at 17 percent, Bush at 15 percent, Walker at 12 percent, and Huckabee and retired neurosurgeon Ben Carson tied at 10 percent."

Minus Mitt, Nevada caucuses up for grabs - Real Clear Politics "…Though it is far too early to put much weight into such surveys, a poll conducted by the group Citizens for Responsible Energy Solutions found a wide-open race among likely GOP caucus-goers with Scott Walker [18 percent], Jeb Bush [12 percent] and Rand Paul [9 percent] constituting the top three."

Perry pumping up Iowa presence - Des Moines Register: "Republican Rick Perry continues to build steam for a likely presidential bid, booking a return trip to Iowa and hiring Iowa political operatives. The former Texas governor will be in the Sioux City area Monday for a full day of private meetings and a 5 p.m. town hall at Morningside College's Lincoln Center. Perry's political action committee, RickPAC, has hired four Iowans: [Perry's 2012 Iowa Co-Chairman] Robert Haus, [former Gov. Tim Pawlenty's 2012 Iowa Field Director] Andy Swanson, [2014 Iowa GOP Senate Majority Fund state director] Dane Nealson and [western Iowa coordinator for Americans for Perry in 2011] Kip Murphy, aides told The Des Moines Register."

[Live free or die, y'all - In his first campaign style digital ad, Perry pays homage to the first in the nation primary state saying, "Are you ready to send that message across this country, that New Hampshire is about living free or dying?"]

Christie back to N.H. - Gov. Chris Christie [R-N.J.] is scheduled to give remarks at the Concord City Republican Committee Lincoln-Reagan Dinner tonight in New Hampshire.

Rand takes page from Hillary playbook - The Hill notes that 2016 GOP contender Sen. Rand Paul is employing a favorite Hillary Clinton tactic – working across the aisle – ahead of a potential presidential bid. "This week, Paul introduced legislation with Senate Democratic Leader Harry Reid [D-Nev.] to restore federal voting rights to non-violent offenders who have been released from prison. Last week, he unveiled a bill with Sen. Patrick Leahy [Vt.], the senior Democrat on the Judiciary Committee, to give federal judges more discretion to hand out sentences below the requirements of mandatory minimums…In her time in the Senate, Hillary Clinton sponsored an array of bipartisan bills, with an eye on fashioning a pragmatic image after years of being seen as a hyper-partisan figure…And such efforts are not wholly confined to the past for Clinton, who is preparing for another likely White House run in 2016."
[Swing state sojourn - Paul is slated to speak Tuesday at Ohio's Clermont County GOP Lincoln-Reagan Day Dinner.]

Carson to pitch in Palm Beach - Palm Beach [Fla.] Daily News: "The Palm Beach Republican Club will hold a reception, book signing and photo opportunity [today] with potential 2016 presidential contender Dr. Ben Carson."

Walker jobs program under scrutiny - Reuters: "The Wisconsin Economic Development Corporation, a public-private body set up by [Wisconsin Gov. Scott Walker] shortly after he took office in January 2011, was supposed to help the state climb out of recession by shedding bureaucratic rules and drawing on private-sector expertise. But the WEDC has fallen short of its own goals by tens of thousands of jobs and failed to keep track of millions of dollars it has handed out…Critics say the WEDC's struggles highlight a significant gap in Walker's resume as he lays the groundwork for a likely Republican presidential bid in the 2016 election: his middling record on job creation…Walker's office dismisses such criticism, saying the WEDC, which he chairs, is one part of a comprehensive strategy that includes tax cuts, streamlined regulations, worker training and targeted investments in areas like energy and shipbuilding."

THE CAMPAIGN WITHOUT A CANDIDATE ROLLS ON
KCRG: "MoveOn and Democracy for America members in Hiawatha Monday to open the local Run Warren Run office to show the broad, grass roots support for Sen. Elizabeth Warren [D-Mass.] to run for president in 2016. The groups supporting the Run Warren Run effort will open an office at 764 N. Center Point Rd., Hiawatha at 6 p.m. Feb. 16. After holding 220 Run Warren Run house parties across the country, Run Warren Run supporters are following up with Presidents Day actions, holding rallies, barbecues, and other traditional Presidents Day Weekend activities, with a goal of reaching a broad audience and building momentum behind the growing effort to draft the Massachusetts Democrat into the presidential race."

[ICYMI - In her NYT column, Maureen Dowd is back in her sweet spot writing a scathing takedown of the courtiers in Hillaryland.]

Don't forget the little people - Tampa Bay Times: "Ready for Hillary, the Super PAC backing Hillary Clinton for president, is holding a small-dollar fundraiser in Tampa on Feb. 24, according to an invite."

HEY, IT'S BEEN VERY COLD LATELY
The landmark obelisk on the National Mall is not as a towering presence as previously thought. AP reports that officials are set to announce that the new measurements put the Washington Monument at 554 feet, 7 and eleven-thirty-seconds of an inch, nearly 10 inches shorter that the historical recognized height of 555 feet, 5 and 1/8 inches. The National Geodetic Survey scientists are tasked with the measurement say it is simply a case of improved measurement standards which starts at the lowest open-air pedestrian entrance. Chief Geodesist, Dru Smith said, "The building didn't change height because of anything; it is just where you start from." Lt. Col. Thomas Casey took the original dimensions in 1884 using four brass markers at the base with the only noticeable height change occurring at the tip which had been rounded over time thanks to frequent lightning strikes. Have no fear, the National Park Service doesn't plan to change the historical number, "For our purposes we'll still use the historic height rather than the architectural height, since they're measured from different places," said spokeswoman Jenny Anzelmo-Sarles.

Chris Stirewalt is digital politics editor for Fox News. Want FOX News First in your inbox every day? Sign up here.
Chris Stirewalt joined Fox News Channel (FNC) in July of 2010 and serves as politics editor based in Washington, D.C. Additionally, he authors the daily Fox News Halftime Report political news note and co-hosts the hit podcast, Perino & Stirewalt: I'll Tell You What. He also is the host of Power Play, a feature video series on FoxNews.com. Stirewalt makes frequent appearances on network programs, including America's Newsroom, Special Report with Bret Baier and Fox News Sunday with Chris Wallace. He also provides expert political analysis for FNC's coverage of state, congressional and presidential elections.