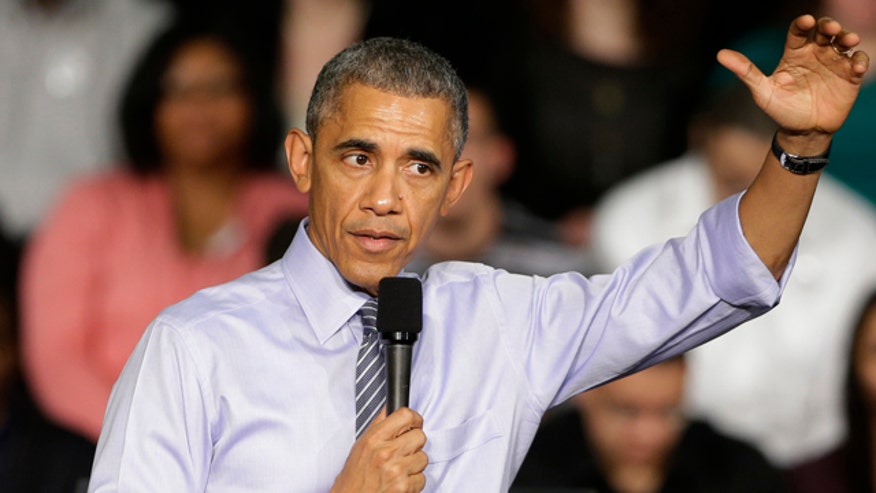 Want FOX News First in your inbox every day? Sign up here.
Buzz Cut:
• Obama faults media hype for terror fears
• Feds start new hotline for executive amnesty
• Power Play: 2016 Power Index
• Hundreds of experts labor on Hillary economic plan
• Don't even ask where the pig is
OBAMA FAULTS MEDIA HYPE FOR TERROR FEARS
The Hill: "The news media 'absolutely' overstates the risks of terrorism because stories about things like climate change aren't 'sexy' and don't drive ratings, President Obama said in an interview published Monday. 'What's the famous saying about local newscasts, right? If it bleeds, it leads, right?' Obama told Vox. 'You show crime stories and you show fires, because that's what folks watch, and it's all about ratings. And, you know, the problems of terrorism and dysfunction and chaos, along with plane crashes and a few other things, that's the equivalent when it comes to covering international affairs.' Obama said there was not going to be 'a lot of interest' in stories showing positive progress on issues like infant mortality or improving productivity for farmers. 'It's not a sexy story,' Obama said. 'And climate change is one that is happening at such a broad scale and at such a complex system, it's a hard story for the media to tell on a day-to-day basis.'"
Compares role to "a big city mayor" fighting crime - "It is entirely legitimate for the American people to be deeply concerned when you've got a bunch of violent, vicious zealots who behead people or randomly shoot a bunch of folks in a deli in Paris. We devote enormous resources to that, and it is right and appropriate for us to be vigilant and aggressive in trying to deal with that — the same way a big city mayor's got to cut the crime rate down if he wants that city to thrive." – President Obama in an interview with Vox.
Kerry says U.S. 'on the road' to defeating ISIS - Fox News: "Secretary of State John Kerry and a top White House official claimed Sunday that the U.S. strategy to defeat the Islamic State is working, despite warnings from other corners of the Obama administration that the terror network is in fact spreading. Following the purported deaths last week of two ISIS hostages and concerns about the U.S. needing to do more, Kerry told NBC's 'Meet the Press' that the U.S.-led coalition was 'on the road' to defeating the Islamic extremist group, also known as ISIS or ISIL, in Iraq and Syria. He argued that coalition forces have recaptured 22 percent of the populated areas that ISIS once held in the region 'without launching what we would call a major offensive.' The claim came just days after Lt. Gen. Vincent Stewart, director of the Defense Intelligence Agency, delivered a grim assessment of the group's evolution in testimony to the House Armed Services Committee."
"We've had hundreds of Americans travel to fight in the region and some of those have returned. Talk about barbarians at the gate -- we need to keep them out of the gate and we need to monitor those who have gotten through the gate." -- House Homeland Security Chairman Rep. Michael McCaul, R-Texas, on CBS's "Face the Nation"
Merkel arrives seeking to nix plans to arm Ukraine - USA Today: "Ukraine's beleaguered president appealed to Western leaders in Munich on Saturday for political, economic and military support against Russian-backed rebels, but Germany and the United States appeared divided over whether providing arms to Kiev would deter the separatists and keep Russian President Vladimir Putin at bay. German Chancellor Angela Merkel, freshly back from talks in Moscow with Putin and French President Francois Hollande to fashion another cease-fire deal, expressed doubts over any quick resolution to the crisis. Merkel and Hollande plan to discuss the latest proposal, which includes a broad demilitarized zone and greater autonomy for eastern Ukraine, in a phone call Sunday with Putin and Ukrainian President Petro Poroshenko…The latest talks are aimed at salvaging the so-called Minsk agreement reached in September in Belarus for a tentative cease-fire to end fighting in eastern Ukraine between government troops and Russian-backed rebels."
FEDS START NEW HOTLINE FOR EXECUTIVE AMNESTY
Stephen Dinan reports: "The Homeland Security Department has set up hotlines for illegal immigrants who believe their rights under President Obama's amnesty policy have been violated. In a memo announcing the customer complaint line, U.S. Customs and Border Protection asked illegal immigrants to 'please tell us about your experience' if they believe they were treated 'contrary to the new DHS enforcement priorities.'"
Homeland Security Secretary pushes for unconditional funding bill - WashEx: "Homeland Security Secretary Jeh Johnson pressed Congress to drop a directive to stop President Obama's executive order on immigration attached to a funding bill for his department, a move that has endangered support from Democrats. Johnson said that the rider threatened his department's operations. DHS funding is slated to run out Feb. 27 if Congress can't pass a new spending bill. 'I am on Capitol Hill now virtually every working day' to get a bill passed, Johnson said Sunday on CNN's 'State of the Union.'"
Go ahead and go: - Senate Majority Leader Mitch McConnell's plan for keeping the Senate runs through the Senate amendment process. David Drucker reports: "In after action reports, Republican strategists said that a major driver behind the demise of Sen. Harry Reid's Democratic majority in 2014 midterms was his extraordinary ability to keep his caucus unified on Senate votes and President Obama's agenda…. But his strategy for keeping his caucus from splitting had a side effect: Democrats had virtually no opportunities to collaborate with Republicans and establish their independence — either from the party or from Obama. This turned out to be fatal blow to the Democrats in a battle for the Senate that was fought largely on Republican turf. Ever the political tactician, Kentucky Republican McConnell is determined not to repeat Reid's mistake in 2016, when the Senate battleground is likely to favor the Democrats."
Shoot the lights out - WSJ: "Newly empowered Republicans are looking to do something that hasn't been accomplished since 1996: funnel a budget through both houses of Congress and then pass timely appropriations bills. But first the party must agree on what its budget document should say."
"[The ObamaCare replacement plan] helps by giving more choice, more competition, reducing the regulatory burden, again, not only helping our businesses in terms of reducing costs, giving them more options, but for individuals as well. That's the kind of thing that makes our economy go." --Sen. John Hoeven, R-N.D., on "Sunday Morning Futures" Watch here.
Holder: 'Single failure' as A.G. was not getting Congress to pass gun control - "It is, I think, the single failure that I point to in my time as Attorney General, that I was not able to… convince Congress to really follow the will of the American people – which was to enact meaningful, reasonable, gun safety measures. The gun lobby simply won." – Attorney General Eric Holder in an interview with MSNBC
WITH YOUR SECOND CUP OF COFFEE...
Fred Kaps had possibly the hardest act to follow in show business history 51 years ago today as his debut on "The Ed Sullivan Show" happened to fall on the same night the same night as another act's debut. The British invasion had finally reached the United States with the Beatles performance with over 70 million Americans estimated to have tuned in that night. Kaps was a world renowned Dutch magician having won the prestigious Fédération Internationale des Sociétés Magiques Grand Prix three times. Undeterred, Kaps worked the stage with his infamous Salt Shaker and card tricks. The Fab Four then returned to the stage to close the show. Thanks to his appearance, Kaps was offered movie roles and appeared on other shows performing worldwide, including shows for the Dutch and British royal families. He received numerous honors and commendations in the magic community before his passing from cancer in 1980.
Got a TIP from the RIGHT or LEFT? Email FoxNewsFirst@FOXNEWS.COM
POLL CHECK
Real Clear Politics Averages
Obama Job Approval: Approve – 45.6 percent//Disapprove – 49.4 percent
Direction of Country: Right Direction – 34.9 percent//Wrong Track – 56 percent
POWER PLAY: 2016 GOP POWER INDEX
With Mitt gone, Jeb takes on the frontrunner mantle and the hard work that goes with it. And the task is getting more complicated as his top rival, Scott Walker, gains additional momentum. Watch as Bret Baier joins "Power Play with Chris Stirewalt" to dissect that the 2016 Republican race. WATCH HERE.
And here's this week's full ranking: 1) Jeb Bush; 2) Scott Walker; 3) Marco Rubio [+1]; 4) Rand Paul [-1]; 5) Ted Cruz; 6) Rick Perry; 7) Ben Carson [+1]; 8) Chris Christie [-1]; 9) Mike Huckabee; 10) Rick Santorum
On the Radar - Mitt Romney, John Kasich, Bobby Jindal, Mike Pence, Carly Fiorina
[What would you say? - Give us your take on the GOP field and we will share the best and brightest with the whole class. Send your thoughts to FOXNEWSFIRST@FOXNEWS.COM]
New Hampshire wide open - In the latest Bloomberg/Saint Anselm College poll of likely New Hampshire voters, Jeb Bush leads potential GOP contenders with 16 percent of the vote, followed by Sen. Rand Paul, R-Ky., at 13 percent, Gov. Scott Walker, R-Wisc., at 12 percent and Gov. Chris Christie, R-N.J., at 10 percent.
[Watch Fox: Chris Joins Gretchen Carlson on "The Real Story" in the 2 p.m. ET hour with the latest on who's up and who's down in the 2016 Power Index.]
CRUZ HEADS TO FLORIDA FUNDRAISER
Houston Chronicle: "Ted Cruz will head to Florida later this month to headline a local Republican fundraising dinner, a trip that will put him in front of the Republican voters more familiar with two of Cruz's likely competitors in 2016: His Senate colleague Marco Rubio and former Florida Gov. Jeb Bush. Cruz will keynote the Duval County Lincoln Day Dinner in Jacksonville on Feb. 20, billed as a 'huge event' that raises money for the county GOP…His drop-in to the Sunshine State comes as Bush gradually emerges as the front-runner in the 2016 Republican field, a race that Cruz hasn't yet committed to but said Sunday that he was looking at 'very seriously.'"
Keep calm and campaign on - Gov. Scott Walker, R-Wisc., departs for the United Kingdom for a five-day trade mission. Walker is also expected to lead a trade mission to Israel later this year.
Back again - Gov. Chris Christie [R-N.J.] is making another swing through Iowa with Dallas County Republicans at the Spring Speaker Series.
Pomp and Circumstance - Sen. Marco Rubio [R-Fla.] will be at Miami Dade College today speaking to graduates.
Perry joins board of company pushing Iowa pipeline - Des Moines Register: "Former Texas Gov. Rick Perry, who is exploring an Iowa caucus bid for the Republican presidential nomination, has joined the board of a company planning to build a controversial Bakken oil pipeline across 18 Iowa counties. …The underground pipeline, which would transport up to 570,000 barrels of oil daily, is proposed by Dakota Access LLC, a unit of Energy Transfer Partners. The pipeline would begin in North Dakota's Bakken oil fields and would pass through South Dakota and Iowa en route to a distribution point at Patoka, Ill. The Iowa section would cover 343 miles, including some of the state's richest farmland."
Answer man - "I'm a very careful person, so I want to make sure I have all of the infrastructure in place. To be able, if I make such an [presidential] announcement to tell you the answer to all the questions that you are going to be asking in terms of personal and rational, so we're putting all that together, yes." – Dr. Ben Carson, on "Fox News Sunday" Watch here.
[Carson is holding a book signing in Edmond, Okla. tonight.]
Drilling Common Core - Gov. Bobby Jindal, R-La., is in Washington to present his series of educational reforms at the Christian Science Monitor Breakfast and a congressional forum hosted by Sen. Tim Scott [R-S.C.].
Carly Confab - Former Hewlett-Packard CEO Carly Fiorina will be addressing the 48th annual Conservative Party Political Action Conference in Albany, New York.
HUNDREDS OF EXPERTS LABOR ON HILLARY ECONOMIC PLAN
NYT: "With advice from more than 200 policy experts, Hillary Rodham Clinton is trying to answer what has emerged as a central question of her early presidential campaign strategy: how to address the anger about income inequality without overly vilifying the wealthy. Mrs. Clinton has not had to wade into domestic policy since before she became secretary of state in 2009, and she has spent the past few months engaged in policy discussions with economists on the left and closer to the Democratic Party's center who are grappling with the discontent set off by the gap between rich and poor… Although people close to Mrs. Clinton say she has not yet settled on a specific platform, she is expected to embrace several principles. They include standard Democratic initiatives like raising the minimum wage, investing in infrastructure, closing corporate tax loopholes and cutting taxes for the middle class. Other ideas are newer, such as providing incentives to corporations to increase profit-sharing with employees and changing labor laws to give workers more collective bargaining power."
London Mayor's roadshow hits the US - The Independent: "Boris Johnson will sit down for talks with Hillary Clinton this week during a six-day US tour seen by some as preparation for a future Conservative leadership bid. The Mayor of London's meeting with the former US Secretary of State, the Democrat frontrunner to be the next President, is his highest profile yet in a busy few months of building relationships with international power brokers."
Working for Warren - The Working Families Party of New York joins the chorus of supporters urging Sen. Elizabeth Warren [D-Mass.] to enter the 2016 Democratic primary against Hillary, saying, "Elizabeth Warren has been a champion for working families…Our country will be better off if Elizabeth Warren runs for president."
Biden to Iowa next week - Des Moines Register: "Joe Biden, the vice president and an underdog for the race for the Democratic presidential nomination, is scheduled to be back in Iowa next week…His office later confirmed that he will deliver remarks at Drake University and do a roundtable at Des Moines Area Community College on college affordability."
Bernie at Brookings - Sen. Bernie Sanders [I-Vt.] will be speaking at the Brookings Institute about his 12-point Agenda for America designed to address rising inequality and rebuild America's middle class.
Open Door Policy? - Fox News: "Secretary of State John Kerry said in an interview broadcast on Sunday that he has not ruled out a 2016 White House bid, which would put him in a wide-open Democrat primary field behind front-runner Hillary Clinton. Kerry, the party's presidential nominee in 2004, told NBC's 'Meet the Press' that 'nobody ever says never.' However, he said he could think of 'no scenario whatsoever' in which he would start such a campaign…"
DON'T EVEN ASK WHERE THE PIG IS
KTLA reports that last week Sacramento County firefighters responded to a rather bizarre call. Charles Campbell said his wife was forced to call for help for their 30-year-old horse, Phantom. The horse was prancing around the stall and tripped falling into the tub which doubled as a food trough. According to Sacramento Metropolitan Fire District, "She was totally stuck, legs up in the air and all!" Authorities were so perplexed by the initial call that they called back to clarify the situation, Campbell said, "[The dispatcher] called her back and said, 'Your husband can't get out of the bathtub?' And she says, 'No it's my horse.'" Rescuers took about 20 minutes to free Phantom from her precarious position. After the successful rescue, Campbell joked that he would "have to get one of those old folks tubs that has the door on it." The entire escapade was caught on video and posted online by Sacramento Metropolitan Fire.
Chris Stirewalt is digital politics editor for Fox News. Want FOX News First in your inbox every day? Sign up here.
Chris Stirewalt joined Fox News Channel (FNC) in July of 2010 and serves as politics editor based in Washington, D.C. Additionally, he authors the daily Fox News Halftime Report political news note and co-hosts the hit podcast, Perino & Stirewalt: I'll Tell You What. He also is the host of Power Play, a feature video series on FoxNews.com. Stirewalt makes frequent appearances on network programs, including America's Newsroom, Special Report with Bret Baier and Fox News Sunday with Chris Wallace. He also provides expert political analysis for FNC's coverage of state, congressional and presidential elections.