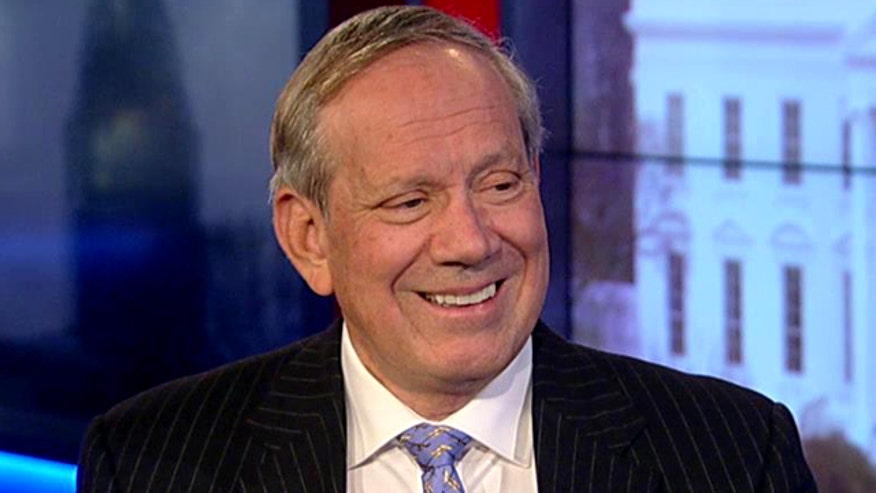 While no one has formally declared a bid, the list of potential 2016 Republican presidential candidates seems to be growing daily -- making the field every bit as fluid and crowded as in 2012, even as the Democratic side appears to be a list of one.
The latest name to take a step deeper into the GOP presidential pool is former New York Gov. George Pataki, who told Fox News on Monday he's "seriously" exploring a 2016 bid.
The former governor said he plans to travel to New Hampshire on Tuesday to meet with political figures and citizens, and "lay out my ideas" for the country.
"I'm thinking about it very seriously," Pataki told Fox News, when asked if he might run.
The move comes just days after 2012 Republican nominee Mitt Romney told supporters he would not run for the GOP nomination in 2016, after flirting with a potential candidacy for much of January.
The former Massachusetts governor's abrupt exit has opened up some space for more centrist, establishment-friendly Republicans to emerge, and compete.
And while former Florida Gov. Jeb Bush is widely seen as the immediate beneficiary with Romney gone, a new Iowa poll released over the weekend showed Bush ranking only in the middle of the pack -- and Bush, given his high-profile, has taken some hits in the press.
Political analysts see New Jersey Gov. Chris Christie and others as competing for a similar set of GOP voters and donors. Democratic strategist Richard Fowler said Pataki could be part of that mix.
"It clearly shows how fluid the Republican field is when it comes to candidates," he said of Pataki's latest comments. "It's going to be a loaded field -- that will make it harder for voters to pick, and likely lead to a lengthy primary."
Wisconsin Gov. Scott Walker also has managed to fight his way back into the top tier of potential GOP candidates. After a stirring speech last month at a conservative summit in Des Moines, the governor best known for his dramatic fight against the public employee unions ranked at the top of a Des Moines Register poll of Iowans last week – the same one that showed Bush hovering in the middle.
No potential candidate has definitively declared a presidential run yet. But several – including Walker, Christie, Bush and Florida Sen. Marco Rubio – have launched political committees, which can serve as vehicles to raise money and spread their message.
GOP Presidential Candidates | FindTheBest
Further, those candidates and more are visiting early-voting states. Rubio has a book tour this month that will take him to Iowa, New Hampshire, South Carolina and Nevada.
All this is in contrast to the Democrats' dominant potential candidate, former Secretary of State Hillary Clinton, who is widely expected to run but has laid low in recent weeks. With Clinton overshadowing the field, few viable challengers have emerged.
Pataki, who plans to spend Tuesday and Wednesday in New Hampshire, also visited the first-in-the-nation primary state last fall, around the time he launched a super PAC called Americans for Real Change.
Pataki served as governor from 1995 through 2006.
He rode a national Republican wave into the governor's mansion in 1994, and was held in high esteem as a fiscal conservative who was able to win the top office in a traditionally blue state. But his positions on gun control, gay rights and global warming created a schism with his more socially conservative supporters, and fiscal conservatives were still underwhelmed by his economic policies during his years as governor. These complaints, analysts have noted as he has flirted with a 2016 bid, could have an effect on his success in the Republican primaries, should he run.
Nonetheless, he has taken a populist, small-government tone in recent television appearances and PAC commercials.
Fox News analyst and Republican strategist Angela McGlowan said Pataki could be seen as more moderate in "certain instances."
But she said, if he runs, Pataki needs to remind voters he was "America's governor" during 9/11, as governor of New York state during the terror attacks.
"I think he would make a wonderful candidate," she said, while voicing some doubts over whether he could actually win the nomination.
McGlowan added: "We need leadership, true leadership. The War on Terror is not over. So, Pataki as a candidate would do well weighing in on foreign policy."
Fox News' James Schneider contributed to this report.