While big-name candidates battle it out in roughly two dozen toss-up Senate and gubernatorial races -- as well as several tight House contests -- a handful of candidates in lesser-watched races could pull off an election night surprise. The odds would appear to be against them, but several entered the midterms claiming they'll stage an upset. Here's a look at the possible sleeper candidates.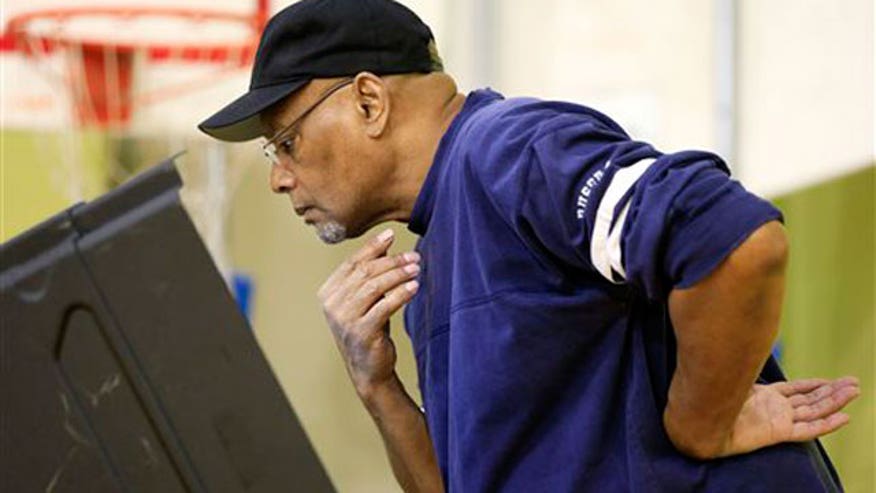 1.

Maryland gubernatorial candidate Larry Hogan

The gubernatorial race in deep blue Maryland had been well off-the-radar. But Republican nominee Larry Hogan has mounted a competitive bid for governor against Democratic Lt. Gov. Anthony Brown in the closing days.

A recent poll conducted by Gonzales Research shows Brown leading Hogan by just 2 points in the overwhelmingly Democratic state. The Cook Political Report and other election oddsmakers are now calling it a toss-up.

Hogan, 58, is a former businessman who founded a commercial real estate brokerage firm. In 2003, Hogan served as appointments secretary under former Maryland Republican Gov. Bob Ehrlich.

"It has gotten very close," Ehrlich told FoxNews.com on Tuesday. "I know it's cliche, but it's really all about the turnout now."

Ehrlich, the state's only Republican governor in the past five decades, lauded Hogan's campaign, which has focused on eight years of tax increases under the Martin O'Malley administration, in which Brown is lieutenant governor.

"Brown hasn't been able to shake that," Ehrlich said. "And Larry's message has been consistent and has hit home with Maryland's conservative base."

Hogan, who spent Monday evening campaigning in Baltimore City, Prince George's and Howard counties, told WJZ-TV his race "may be the biggest upset in the country" this Election Day.

"But we're not taking this for granted," Hogan told the station. "We're running like we're still 20 points behind."

Republican New Jersey Gov. Chris Christie, who has visited Maryland four times to campaign for Hogan, said Sunday that O'Malley should clear out his office for Hogan.

"Big, bad Marty O'Malley; big, big taxing Marty O'Malley; big spending Marty O'Malley; and in two days, big loser Marty O'Malley and Anthony Brown," Christie told a crowd of supporters. "I want to look right into the camera and talk directly to my friend Marty. Hey Marty -- don't waste your time being nervous. Just get ready to clear out your office and turn it over to Larry Hogan."

2.

New Mexico Senate candidate Allen Weh

Allen Weh, a businessman and former Marine, is challenging incumbent Democratic Sen. Tom Udall in New Mexico. A recent poll shows Weh, a Republican, only 4 points behind Udall -- the latest survey showing him closing a double-digit gap.

"We expected to be here," Weh said Tuesday of his apparent bump in the polls. "We came to play and we had a plan and we're executing the plan."

Weh, appearing on Fox News, said his campaign strategy was to produce television ads that featured his rival speaking about the issues. He also sought to closely align Udall with President Obama and his policies, he said.

"He's never had a tough race, so he says things as if he doesn't have to be held accountable," Weh said of Udall, who was elected to the Senate in 2008. "Our entire advertising series in every ad, we always included Tom Udall talking about the issue. And we were able to convey to people that this is who Tom Udall really is, versus who he'd like you to think he is."

Weh, 71, ran for governor of New Mexico in 2010 and lost to his main Republican opponent in the primaries. Weh joined the U.S. Marine Corps at age 17 and is the recipient of two Bronze Stars and three Purple Hearts.

3.

Virginia Senate candidate Ed Gillespie

Ed Gillespie, a former Republican National Committee chairman, is challenging Democratic Sen. Mark Warner in Virginia -- and maintains his campaign picked up late momentum.

It would still be a heavy lift for the GOP nominee. While Gillespie's support has risen in the polls since this summer, Warner's support has never dipped below 50 percent.

Among Gillespie's supporters is former President George H.W. Bush who issued a statement through Gillespie's campaign on Sunday, calling him a friend "who will always do the right thing for Virginia and America."

"Ed will be an effective senator from day one. He'll fight for you every single day. Ed will also stand up for our nation's veterans, over 800,000 of whom call Virginia home – who have fought to keep us safe and free," Bush said.

Gillespie, 53, is a longtime GOP strategist who served as RNC chairman and senior counselor to former President George W. Bush.

In January, former Republican Sen. John Warner backed his Democratic successor over Gillespie. The Warners are not related.

4.

South Dakota Senate candidate Larry Pressler

Larry Pressler is running as an independent in a four-way race for South Dakota's open U.S. Senate seat. Republicans think they've got the race locked down, but Pressler recently gave the party a scare when his poll numbers started to rise.

Former South Dakota GOP Gov. Mike Rounds, Democrat Rick Weiland and independents Gordon Howie and Pressler are all competing to replace retiring Democratic Sen. Tim Johnson.

Pressler is a seasoned politician, having served two terms in the U.S. House of Representatives from 1975 to 1979 and three terms in the U.S. Senate from 1979 to 1997. The 72-year-old Pressler, who touts himself as someone who can reach across the aisle, was the first Vietnam veteran to be elected to the Senate.

"I am a candidate for the U.S. Senate as an Independent, determined to break the stranglehold of the insane partisan bickering that is dragging our nation down," Pressler says on his campaign website. "I am still the 'fix the debt' moderate conservative I was when I served as Republican Senator for three terms; however, I have become convinced that both parties are locked into a lobbyist-controlled spending and taxing cycle, trapped in poisonous partisan fights while nothing is being resolved."

5.

Texas gubernatorial candidate Wendy Davis

Wendy Davis was the star of the Democratic Party in Texas after she gained attention for a marathon filibuster in the state capital against an abortion bill in 2013.

Her campaign for governor against Republican Attorney General Greg Abbott, though, has since struggled. The RealClearPolitics average of polls shows Abbott leading by more than 15 points.

Davis and her supporters still claim the Texas state senator can pull off an upset -- just like she did in 2008 when she was first elected to the state Senate.

"I want it to be remembered as the biggest political upset in Texas history," Davis said, according to the Houston Chronicle.

The Harvard Law graduate previously served on the Fort Worth City Council. She and Abbott are running to fill the seat being left by Gov. Rick Perry.