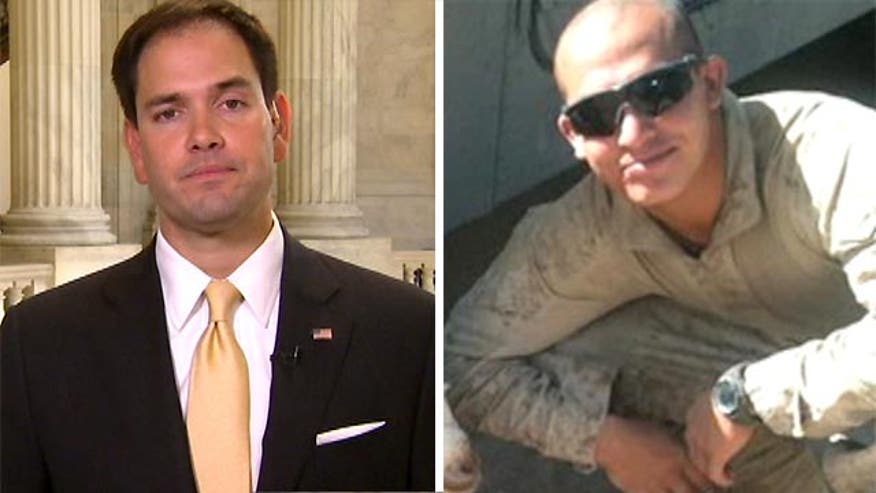 Sen. Marco Rubio told Fox News' Greta Van Susteren Thursday it is time for President Obama to make the case of Sgt. Andrew Tahmooressi, the Marine jailed in Mexico, a priority and convey its importance to Mexican authorities.
Tahmooressi was arrested March 31 after border inspectors found three legally purchased and registered firearms in his truck. Although he says he made a wrong turn at the poorly marked crossing, he was taken to the notorious La Mesa Prison in Tijuana and charged with weapons trafficking.
Rubio, R-Fla., said on "On the Record with Greta Van Susteren" that he understands Mexican authorities would like to work through Tahmooressi's case in their own judicial system.
However, he said he believes the situation was clearly an accident, and that Tahmooressi does not fit the profile of someone dangerous.
"I hope he is treated fairly. I hope he is back in Florida soon," Rubio said. Tahmooressi grew up in southern Florida and his mother still lives there.
Rubio said the Obama administration should make it clear to the Mexican government that Tahmooressi's case is important to the U.S., and work to find a solution.
"I think he should call on the authorities over there, including the president of the country Peña Nieto, and make this a priority," he said, later adding that the U.S. should "use our diplomatic influence to ensure that they know that this matters to us, and I hope the White House will do that."