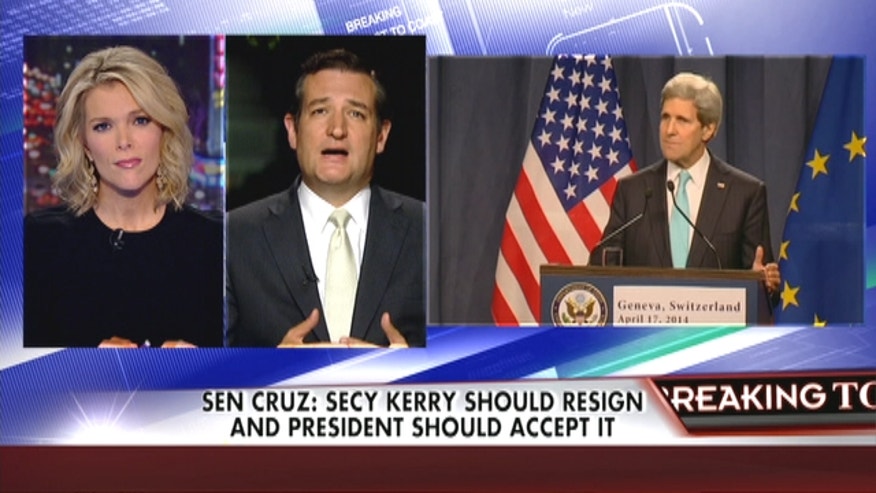 Sen. Ted Cruz has called for the resignation of Secretary of State John Kerry over reportedly telling world leaders that Israel could become an "apartheid state."
The Texas GOP said on Monday he was "greatly saddened" to read the comments Kerry made during a closed-door meeting of the Trilateral Commission in Washington on Friday.
The Daily Beast reported that during the meeting, Kerry said Israel risked becoming an "apartheid state" with two classes of citizens if negotiations for a peace deal failed and a two-state solution is not reached.
"I was convinced that as Secretary of State, John Kerry would place what he considered to be the wishes of the international community above the national security interests of the United States. I fear with these most-recent ill-chosen remarks, Secretary Kerry has proved those concerns founded," Cruz said during a floor speech Monday. "Secretary Kerry has thus proven himself unsuitable for his position and that before any further harm is done to our alliance with Israel, he should offer President Obama his resignation and the President should accept it."
Cruz continued: "The term 'apartheid' means 'apart' — different, isolated — the state of the victims of apartheid with which the Jews are all too familiar. The notion that Israel would go down that path, and so face the same condemnation that met South Africa, is unconscionable,"
In a statement released by the State Department Monday, Kerry said he chose the wrong word in describing Israel's potential future and lashed out against "partisan political" attacks against him. He acknowledged his comments during the closed meeting could be misinterpreted.
While he pointedly did not apologize for his remarks, Kerry stressed he was, and is, a strong supporter of Israel, which he called a "vibrant democracy."
He said his remarks were only an expression of his firm belief that a two-state resolution is the only viable way to end the long-running conflict. And, he stressed, he does not believe Israel is, or is definitely on track to become, an "apartheid state."
"I will not allow my commitment to Israel to be questioned by anyone, particularly for partisan, political purposes, so I want to be crystal clear about what I believe and what I don't believe," Kerry said after U.S. lawmakers and pro-Israel groups criticized him, with some demanding his resignation or at least an apology.
In his statement, Kerry defended his general point, noting that numerous Israeli officials, including Prime Minister Benjamin Netanyahu and predecessors Ehud Barak and Ehud Olmert, have offered similar assessments in the past.
But he said while Barak, Olmert and Israeli Justice Minister Tzipi Livni "have all invoked the specter of apartheid to underscore the dangers of a unitary state for the future, it is a word best left out of the debate here at home."
Netanyahu's office declined comment on Kerry's remarks. But Israeli Transportation Minister Yisrael Katz, a member of Netanyahu's Likud Party, wrote scathing criticism of the secretary of state on his Facebook page. Noting that Kerry's comments coincided with Israel's annual Holocaust Memorial Day, Katz wrote: "Shame on you, Kerry! There are words that mustn't be said."
House GOP leader Eric Cantor, R-Va., said Kerry should apologize, while the powerful American Israel Public Affairs Committee described his use of the term as "offensive."
Democratic Sen. Barbara Boxer of California was also critical of Kerry's comment, saying on Twitter, "Israel is the only democracy in the Middle East and any linkage between Israel and apartheid is nonsensical and ridiculous."
The Associated Press contributed to this report.
Follow us on twitter.com/foxnewslatino
Like us at facebook.com/foxnewslatino