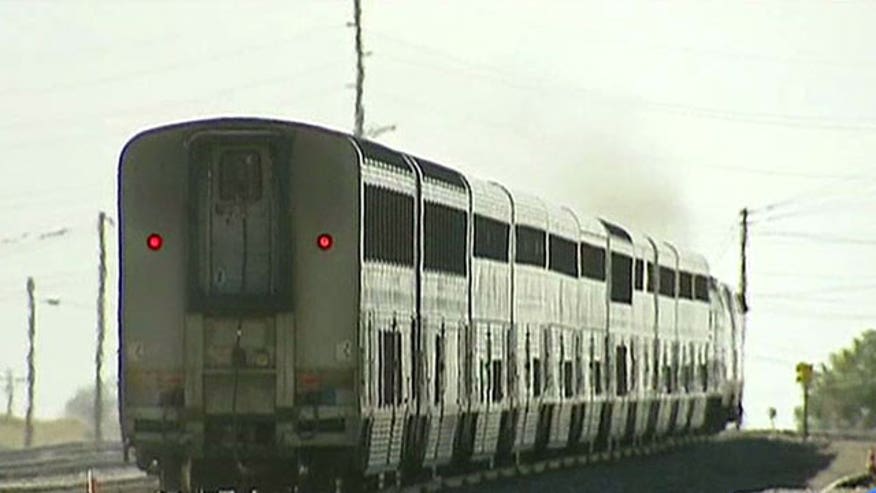 For more than 40 years, Amtrak's Southwest Chief train has run from Chicago to Los Angeles and back again, through some of the most scenic vistas in America.
But Amtrak says customers along a 600-mile stretch of the famous line will lose service in 2016 unless the states they live in cough up enough cash to upgrade aging track.
"With the tracks and the shape they're in, the trains cannot keep the speeds they need to maintain this 24-hour-a-day schedule," explained Colorado state Sen. Larry Crowder, through whose district the Southwest Chief runs.
He said Amtrak has asked Colorado, New Mexico and Kansas to each come up with $4 million per year for 10 years "to basically rebuild the tracks." If not, residents in nine small towns will be out of luck.
The part of the line in question runs from Hutchinson, Kan., through southeastern Colorado and on down to Albuquerque, N.M. Burlington Northern Santa Fe Railway owns the track, but their freight cars do not need it to be as good as Amtrak does.
"Steel rail does wear out, and bridges do wear out," Amtrak spokesman Marc Magliari said. "And the fact is [BNSF] doesn't need it to be good enough for a 60 or 70 mile-an-hour passenger train."
Amtrak says it will take $200 million to upgrade the track. They are proposing a five-way split among the states and the two railway companies. Magliari said they must have an answer by the end of this year.
"By the end of 2014 if it's not very clear that there's a way forward, we'll spend 2015 looking at rerouting the train between Kansas and Albuquerque," he said.
The new route would run south from Hutchinson to Amarillo, Texas, before turning west to Albuquerque. The reroute would bypass the current stops in nine small towns, depriving the region of thousands of passengers, dozens of jobs and the millions of dollars in economic impact they bring.
"The scenery is what's it's all about at this point," Chris Dickinson, a tourist from Perth, Australia, told Fox News, talking about his reason for traveling by train -- while waiting at a stop in Raton, N.M. "This is my first time in the U.S., and I wanted to see a bit of the country and not just fly over it. Going from one place to another where you're seeing friends and in between, there's America."
It's not just tourists who would be impacted. Sandra Thompson of Winslow, Ariz., has been using the Southwest Chief to visit southern Colorado for years. "This has been real handy for us. It gets me to see my sisters and family more often because I don't drive," she said.
While waiting for the train home from Trinidad, Colo., she said if the train is rerouted she will "cry!"
She explained: "I'd have to stay at home because this is ideal. I can catch it about 10 blocks from my home in Winslow, and it's very handy then for my sister to pick me up."
Las Vegas, N.M., resident Marilyn Sanchez echoed those feelings. "It wouldn't be cool, I would not like that at all," she said. "They need this and it brings a lot of tourists and stuff to Las Vegas."
Lawmakers in Kansas, Colorado and New Mexico all say they want the Southwest Chief to stay where it is, but so far none of the three states has committed to the $40 million payment Amtrak is requesting. "We're dealing with three states with three different legislative cycles, with different governors, different philosophies," Magliari acknowledged. "So the clock is ticking."
Crowder, who describes himself as a fiscal conservative, is co-sponsor of a bipartisan bill to form a commission that would be charged with finding a way to come up with Colorado's share. "I did wrestle with this quite a bit. What we're looking at is a state subsidy for a federal Amtrak rail line, and the situation is that the federal government will not step up to the plate so we will have to."
Crowder said the line is too important to the region to lose despite what he feels is a perception in Washington, D.C., that the needs of rural areas of the country are just not as important as others. "This past year the federal government increased their subsidy [to Amtrak] an additional $45 million. But the problem is that $45 million pretty much took care of items on the West Coast and the East Coast. It did not come into Colorado."
Magliari said Amtrak hopes they will not have to reroute the Southwest Chief. He points out the company's cost sharing proposal is not without precedent. "In North Dakota, BSNF and Amtrak combined and saved a route that would have otherwise been severed. The difference between here and North Dakota is we're talking about three states. So sure, it's a harder mountain to climb, but we still believe it's climbable."