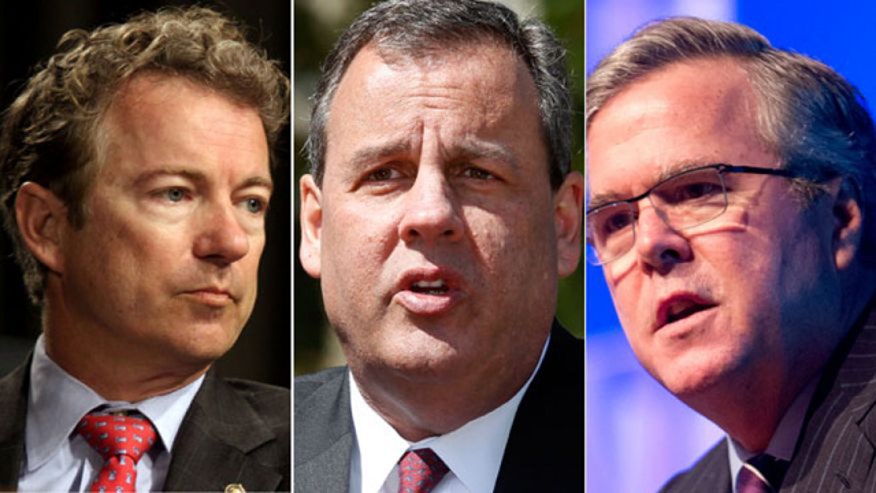 A new Fox News poll, and a new number's making news. It's 61. As in, 61 percent of respondents say the president lies about significant issues "most" or "some" of the time. And guess what Republicans have to say about that? It begins with "broken" and ends with "promises."
Do you agree with this latest poll? http://t.co/DflQcjV0V6 pic.twitter.com/LfwtecqiAx

— FOX & Friends (@foxandfriends) April 17, 2014
.@FoxNews poll shows @BarackObama losing Americans' trust. After all his #BrokenPromises, he shouldn't be surprised. http://t.co/QkIP2swW9P

— Diane Black (@RepDianeBlack) April 17, 2014
And just because we can't stand not speculating about something that's happening TWO YEARS from now, New Jersey Gov. Chris Christie leads the potential Republican presidential pack, according to a separate poll. Former Florida Gov. Jeb Bush and Kentucky Sen. Rand Paul are not far behind.
If the 2016 election "were held today," the poll finds Hillary Clinton would trounce Christie by 8 points, and she'd beat Jeb Bush and Rand Paul by 9.
Hence the Christie battle cry: Still not dead!
Chris Christie: Still not dead. http://t.co/IrSwUkkER0 And leading in a Fox news poll for 2016. http://t.co/nplM3RDdBY

— Jeff Edelstein (@jeffedelstein) April 17, 2014
Just saw a poll on Fox where 54% say Hillary is trustworthy and 41% say Christie is trustworthy. We. Are. Scrreeeewwwwwwed.

— Holly Fisher (@HollyRFisher) April 17, 2014
The liberal Daily Kos takes a gander at what Christie would bring to D.C. Pointing to a 100-page 2016 presidential transition report, the website's piece is surprisingly fair -- outlining who could serve in his cabinet.
A First Look at the President Christie Administration http://t.co/NPo7ZstTXq via @dailykos

— ramaxe (@ramaxe1965) April 17, 2014
I'm sure this isn't all DK has up its sleeve.
***
File this under the "isn't this sweet" category. Mitt Romney sends a love letter to his betrothed via Twitter.
Happy birthday to my sweetheart, @AnnDRomney. Can't think of a better way to spend the day. pic.twitter.com/jmoeMqY5Hl

— Mitt Romney (@MittRomney) April 16, 2014
Instead of spending the day with grandchildren, he could be stuck on the phone with Putin. Which is better?
***
And we can file this under the "isn't this cool" category. Or not.
Instagram just got Biden'd. @WhiteHouse follows up with a selfie: http://t.co/gcsSJ3qilo pic.twitter.com/pPvy6IkBy3

— POLITICO (@politico) April 17, 2014
Lauren Ashburn joined the network in 2013 and currently serves as a Washington-based contributor for FOX News Channel (FNC). On MediaBuzz with Howard Kurtz, Ashburn contributes commentary on the state of the news media shaping current events, their role in politics, cultures, business, and tech. Click here for more information on Lauren Ashburn.