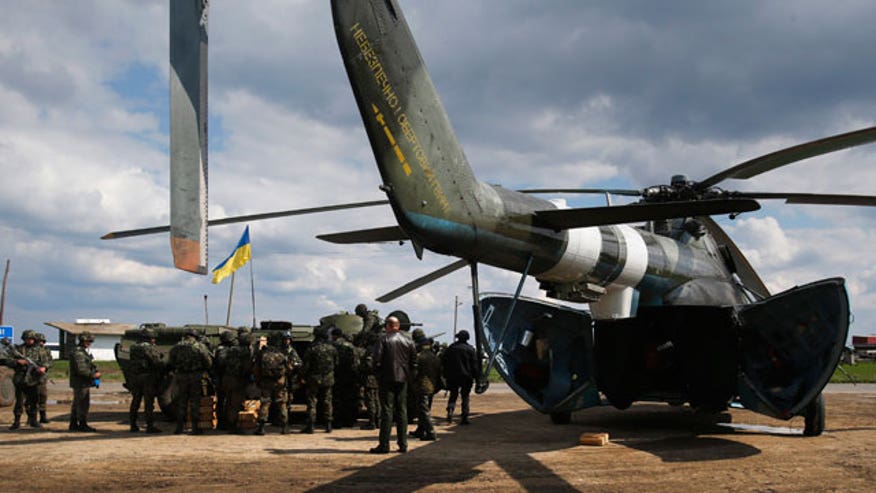 The Obama administration reportedly is withholding even non-lethal military aid to Ukraine for fear it could further inflame tensions -- despite already intensifying clashes between the country's government and pro-Russia militiamen.
A critical report detailing the requests was sent to Congress and the White House by retired Gen. Wesley Clark and former Defense Department official Phillip Karber, according to The Washington Free Beacon.
After returning from a trip to Ukraine, Clark and Karber reportedly wrote that the U.S. government had turned down requests for everything from body armor to night-vision goggles to communications equipment. The Obama administration apparently was concerned that type of aid would be seen as "provocative."
Clark and Karber urged the administration to reverse those decisions, calling the approach "seriously flawed," according to the Free Beacon.
The report comes as some on Capitol Hill urge the Obama administration to step up its support for the Ukraine government amid concerns that Moscow is fomenting the unrest in the country's eastern region.
Ukraine's government moved against demonstrators on Tuesday, in the first military action by the government after acting President Oleksandr Turchynov announced an "anti-terrorist operation" against the separatists who have seized control of numerous buildings.
The two sides clashed at a small airport that was briefly occupied by militiamen but, according to the government, retaken by Ukrainian forces later in the day.
Sen. John McCain, R-Ariz., speaking on Sunday to CBS' "Face the Nation," said: "We ought to at least, for God's sake, give them some light weapons with which to defend themselves."
White House Press Secretary Jay Carney stressed Tuesday that the administration is "not considering lethal assistance" -- but would not comment directly on the non-lethal aid issue.
"We are obviously evaluating requests and looking at ways that we can support the Ukrainian government, but our focus is on continuing to put pressure on Russia so that it understands that the international community is united when it comes to support for Ukraine's sovereignty and territorial integrity, and that there is a path for Russia to take that would deescalate the situation, ensure that it doesn't devolve into violence," Carney said.
Asked if he considers body armor and night-vision goggles to be "lethal," Carney said: "I don't want to, you know, parse forms of assistance. ... We are focused right now on providing the economic assistance that Congress and the administration have worked together to secure for Ukraine and to provide the diplomatic effort that we're engaged in."
Carney also said Monday that "we do not see a military solution to this crisis."
Treasury Secretary Jacob Lew on Monday announced the signing of a $1 billion loan guarantee for Ukraine, in the first major step taken by the U.S. government to assist the new government in Kiev. CIA Director John Brennan recently also met with officials in the capital.
With the threat of more sanctions back on the table, President Obama spoke by phone on Monday with Russian President Vladimir Putin to voice "grave concern" about Russian government support for separatists in Ukraine.
According to the White House: "The President noted Russia's growing political and economic isolation as a result of its actions in Ukraine and made clear that the costs Russia already has incurred will increase if those actions persist. "
In another flare-up, Pentagon officials reported that a Russian jet made several close-range passes by a Navy destroyer in the Black Sea over the weekend. A U.S. official called the move "provocative."
The Associated Press contributed to this report.