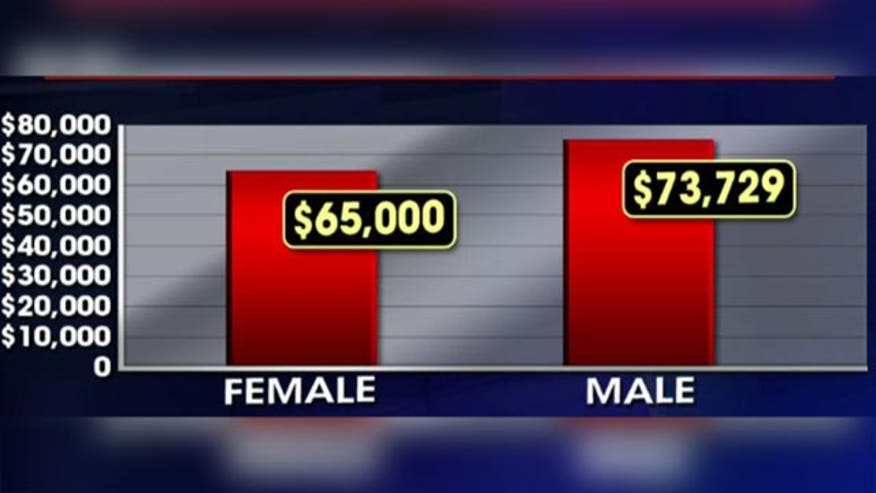 Democrats have made equal pay for women a huge priority. As President Obama took pen to paper on "Equal Pay Day" Tuesday to sign two orders that would make it easier for federal contract workers to find out if they are compensated fairly, a recent report shined a light on White House practices.
Is it do as I say, not as I do?
The conservative think tank, American Enterprise Institute, found that women working at the White House made 88 cents on the dollar compared with male staffers. Average salaries? Men: $74,000 Women: $65,000.
The chairwoman of the College RNC cried foul.
Trolled the White House today with some fruit. #crnc pic.twitter.com/agSGz9hS9s

— Alex Smith (@AlexandraCSmith) April 8, 2014
Conservative columnists are making the argument that the equal pay failure is not deliberate discrimination against women -- saying past work histories, quitting to raise kids, or purposely reducing workloads could be factors in the pay scale. Or, as syndicated columnist Charles Krauthammer says, "It's demagoguery."
The Week's Matt Lewis invokes the old saying: "Lies, damn lies, and statistics."
Do women really make '77 cents on the dollar'? http://t.co/DaVcHU1Fci

— Matt Lewis (@mattklewis) April 8, 2014
The White House claimed victory for women with Nancy Pelosi using the hashtag #NoMadMenPay, referring to the popular drama set in an advertising office in the '60s.
On #EqualPay Day, House Dems call on Congress to make equal pay for equal work a reality for all Americans. Watch: http://t.co/vCuUXl36IT

— Nancy Pelosi (@NancyPelosi) April 8, 2014
"I've got two daughters and I expect them to be treated just like anybody's sons." —Obama on #EqualPay for women pic.twitter.com/yWJzpR2q6C

— The White House (@WhiteHouse) April 8, 2014
CBS scribe Mark Knoller stuck to the sartorial summary.
Reminded of gender difference in dry cleaning, POTUS says "I don't know why it costs more for Michelle's blouse than for my shirt."

— Mark Knoller (@markknoller) April 8, 2014
***
The Rev. Al Sharpton is getting his fair share of media attention for helping the FBI get to the mob. I ran across the New York Post headline in the drug store:
@nypost take on @TheRevAl "Rev Rat" "I was not and am not a rat," sez Sharpton. pic.twitter.com/5Mz5FgHxTf

— Lauren Ashburn (@laurenashburn) April 8, 2014
The Rev turned into Dr. Seuss to defend himself saying that he was threatened by music industry "goons" and needed the government to protect him.
"I am not a rat. I am a cat, I chase rats thugs, gangsters, bigots, drug dealers. Bad cops whoever out of our community. That is right"

— Reverend Al Sharpton (@TheRevAl) April 8, 2014
The flap led Drudge -- who took the opportunity to slam the media.
Stunning story on Sharpton as FBI informant not a surprise. I literally suspect so many in media are double agents!! http://t.co/YUNycEzn6z

— MATT DRUDGE (@DRUDGE) April 7, 2014
Now back to writing my other column for … oh, never mind.
***
You may need Urban Dictionary to help with the next tweet: OH SNAP (exclamatory phrase) a playful indication of surprise, misfortune, or insult.
Oh, snap - @JohnKerry: "Georgia [invasion] happened under George Bush. And he didn't even bring a sanction. President Obama has."

— Ali Weinberg (@AliABCNews) April 8, 2014
I'd say she was going for the insult part of the definition.
Lauren Ashburn joined the network in 2013 and currently serves as a Washington-based contributor for FOX News Channel (FNC). On MediaBuzz with Howard Kurtz, Ashburn contributes commentary on the state of the news media shaping current events, their role in politics, cultures, business, and tech. Click here for more information on Lauren Ashburn.