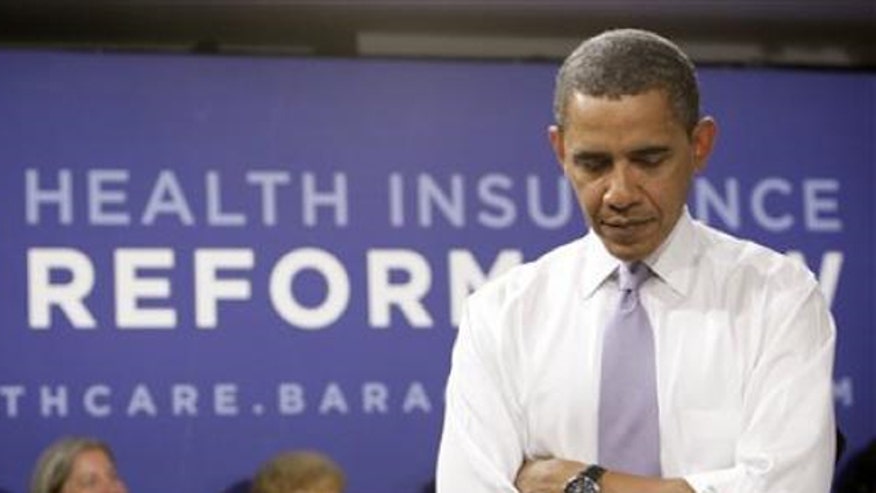 **Want FOX News First in your inbox every day? Sign up here.**
Buzz Cut:
• Get the pen out: Unions step up ObamaCare attacks
• Dems hold global warming talk-a-thon
• It's election eve in ObamaCare 'Ground Zero'
• Power Play: Cotton returns fire
• Talk about an establishment candidate…
GET THE PEN OUT: UNIONS STEP UP OBAMACARE ATTACKS
One of the most powerful Democratic interest groups is demanding that President Obama get out his pen again for another big change to his signature health law. The massive service workers' union, UNITE HERE, which boasts more than 265,000 members, has issued a scathing study that accuses ObamaCare of worsening "income inequality." Those are fighting words among Democrats, who have settled on accusing Republicans of fostering income disparity in a bid to hold the Senate this fall. With culinary workers in Las Vegas threatening to shut down the Strip with an ObamaCare-fueled strike, the issue is reaching a boiling point for already-divided Democrats. Big labor's complaint about the law relates to targeted taxes that penalize benefits plans that provide "Cadillac" health coverage. Such benefits are the key selling point for many unions. ObamaCare poses a major threat to already flagging private-sector union membership. The report reads like a ransom not to the president and vulnerable Democrats, deliver another carve out or face the wrath of the groups that fund and provide foot-soldiers for Democrats: "Having already made efforts to accommodate businesses, churches and congressional staff, it is ironic that the administration is now highlighting issues of economic inequality without acting to preserve health plans that have been achieving the goals of the ACA for decades."
Pay cut - Washington Examiner: "[The union] warned that due to Obamacare's much higher costs for health insurance than what union workers currently pay, the result will be a pay cut of up to $5 an hour. 'If employers follow the incentives in the law, they will push families onto the exchanges to buy coverage. This will force low-wage service industry employees to spend $2.00, $3.00 or even $5.00 an hour of their pay to buy similar coverage.'''
THREE HOTS, A COT AND OBAMACARE FOR PRISONERS
NYT: "…jails and prisons around the country are beginning to sign up inmates for health insurance under the law, taking advantage of the expansion of Medicaid that allows states to extend coverage to single and childless adults — a major part of the prison population… Although Medicaid does not cover standard health care for inmates, it can pay for their hospital stays beyond 24 hours – meaning states can transfer millions of dollars of obligations to the federal government. But the most important benefit of the program, corrections officials say, is that inmates who are enrolled in Medicaid while in jail or prison can have coverage after they get out. People coming out of jail or prison have disproportionately high rates of chronic diseases, especially mental illness and addictive disorders. Few, however, have insurance, and many would qualify for Medicaid under the income test for the program — 138 percent of the poverty line — in the 25 states that have elected to expand their programs. Health care experts estimate that up to 35 percent of those newly eligible for Medicaid under Mr. Obama's health care law are people with histories of criminal justice system involvement, including jail and prison inmates and those on parole or probation."
[Flashback - Jailhouse navigators find captive audience for ObamaCare - Daily Caller: "…billionaire George Soros and the Obama administration help fund the Chicago nonprofit that set up Obamacare enrollment programs for prison inmates. Chicago-based Treatment Alternatives for Safe Communities (TASC) helped establish Obamacare enrollment programs for prisoners at Chicago's Cook County Jail."]
Mystery numbers: Officials not tracking rate hikes for cancelled plans - Denver Post: "In some cases, people whose policies were canceled are finding that new, [ObamaCare] compliant insurance is more expensive…. But Colorado's insurance division is not tracking what happens to premiums as policyholders move to ACA-compliant plans, so it's not known how many people are facing premium hikes and how steep those increases are."
Rise of the 'uber presidency' - George Washington University law professor Jonathan Turley explores what he says is President Obama's 'power grab': "The United States is at a constitutional tipping point: The rise of an uber presidency unchecked by the other two branches. This massive shift of authority threatens the stability and functionality of our tripartite system of checks and balances. … In this sense, Obama is not simply posing a danger to the constitutional system; he has become the very danger that separation of powers was designed to avoid…To be clear, President Obama is not a dictator, but there is a danger in his aggregation of executive power."
HOT AIR: SENATE DEMS HOLD GLOBAL WARMING TALK-A-THON
It may seem helpful to his goal of retaining the Senate, but Majority Leader Harry Reid is allowing the most liberal members of his party to make noise about climate change all night long. The issue is murder on the red-state Democrats who's survival is key to keeping Reid in power. But for the liberal activists and corporate donors who keep the party chugging, it's a must-do. In contrast to the epic Republican floor speeches of late, like the drone filibuster from Sen. Rand Paul, R-Ky., and the day-long floor speech on ObamaCare from Sen. Ted Cruz, R-Texas, tonight's antics are leadership-sanctioned. Sen. Brian Schatz D-Hawaii, who is facing a thorny primary challenge back home, is leading the effort. Participants will include Sens. Barbara Boxer, D-Calif., Sheldon Whitehouse, D-R.I., Dick Durbin, D-Ill., Charles Schumer, D-N.Y., Elizabeth Warren, D-Mass., and Sen. Al Franken, D-Minn.
Byronic explainer - Washington Examiner's Byron York: "Democrats know where their money is coming from.[Tom Steyer] founded a political action committee called NextGen Climate Action and has announced plans to spend $100 million in the 2014 midterm elections 'to pressure federal and state officials to enact climate change measures through a hard-edge campaign of attack ads against governors and lawmakers,' according to a New York Times report. An all-night talkathon is not exactly bold action. But perhaps it's enough for Democrats to show their big-money donors that they're doing something."
[Watch Fox: Chief Congressional Correspondent Mike Emanuel has the latest on the Senate Dems all-nighter.]
WITH YOUR SECOND CUP OF COFFEE...
In the first of a three-part series, James Pinkerton considers Alzheimer's disease and the politics of an aging nation: "… [I]f tens of millions of Americans develop [Alzheimer's disease-related] dementia—a condition requiring 24/7 care that can last for years—then we face a catastrophic fiscal and ethical crisis in the decades ahead. … Lack of interest from liberals might be explicable, because, after all, the Democrats have made health insurance, as opposed to health itself, their big cause… Improving the medical health of Americans could indeed be one such way [for the GOP] to break through to alienated swing voters… In a public health emergency… action is needed. It needn't be bureaucratic action, but it has to be some sort of action. That's a medical imperative, and, for Republicans, it's also a political imperative."
Got a TIP from the RIGHT or LEFT? Email FoxNewsFirst@FOXNEWS.COM
POLL CHECK
Real Clear Politics Averages
Obama Job Approval: Approve – 43 percent//Disapprove – 52.5 percent
Direction of Country: Right Direction – 29 percent//Wrong Track – 63.9 percent
Generic Congressional Ballot: Democrats – 42 percent// Republicans 41 percent
IT'S ELECTION EVE IN 'OBAMACARE GROUND ZERO'
Tuesday is election day in what has become a hotly contested race in Florida, as Republicans and Democrats spend millions in an ObamaCare proxy war that sprang up with the death of long-time Tampa-area Rep. Bill Young, R-Fla. Democrats were banking on a win in the increasingly blue Pinellas County district after recruiting 2010 gubernatorial nominee Alex Sink to run. The district was Sink's only bright spot in her failed bid four years ago. But, as Slate's Dave Weigel points out, the district is "Obamacare's Ground Zero." From Weigel: "Republicans watched the county go for George W. Bush, then for Barack Obama, then for Barack Obama again. They watched it vote for Alex Sink, in 2010, when she ran for governor…A drive through the district, which covers all but the most urban parts of Pinellas, doubles as a tour of an Obamacare panic zone…" The takeaway: If Sink can find a way to hold on, Democrats may feel emboldened to defend the president's troubled law. If she stumbled, Democrats will again sound the retreat.
Early votes suggest squeaker - Tampa Bay Times: "As of Saturday, about 117,000 ballots had been cast in Pinellas County's special election for Congressional District 13 …Republicans had a 4,515-vote advantage over Democrats in District 13 and likely will cast significantly more votes on election day than Democrats. It still may not be enough for [Republican David Jolly], given the way swing voters ultimately pick the winner in this centrist district. Consider that in 2012, Republicans had cast nearly 11,000 more votes than Democrats by election day and then outperformed Democrats on election day by more than 9,000 votes. Barack Obama still narrowly won the district. In 2010, Republicans had a nearly 12,400-vote lead prior to election day and then on election day cast more than 8,600 more votes than Democrats. Sink still narrowly beat Republican Rick Scott in the district. It's shaping up to be a squeaker, but giving the recent track record of District 13 voters, Jolly needs an even stronger GOP surge in the final stretch and on Tuesday. If it's really close, we may not know the winner for sure until March 21, the deadline for overseas ballots to arrive."
RUBIO TO ROLL OUT ECONOMIC PLAN
WSJ: "[Sen. Marco Rubio, R-Fla.] will use the Washington speech, hosted by Google Inc. and the Jack Kemp Foundation, to propose streamlining the federal regulatory review process for natural-gas pipelines, creating a system to monitor the impact of regulations, expanding access to the wireless spectrum and more closely coordinating research breakthroughs between the government and private businesses, among other things. In an interview, Mr. Rubio said the speech is meant to advance discussions about the best way to expedite economic growth. The U.S. isn't as competitive as it used to be, he said, blaming that loss of vitality on 'our tax laws, our regulatory structure and our national debt.'''
GOP FRONTRUNNERS STAKE OUT PUTIN POSITIONS
Fox News: "[On 'Fox News Sunday with Chris Wallace,' Sen. Rand Paul, R-Ky.] defended his foreign policy views, including his position that the United States should seek 'respectful' relations with Russian President Vladimir Putin, who has sent troops into the Crimea region of Ukraine amid the country's political turmoil. Paul said he would warn Putin that he's creating "chaos" and potentially the next Syria-type crisis. He also said he embraces the Reagan maxim of 'Don't mistake our reluctance for war for a lack of resolve.' Said Paul: 'People still need to know this. Were I in charge, I think they would'"
[Rand Paul claims Ronald Reagan's foreign policy mantle in his Breitbart column today.]
Washington Examiner: "Sen. Ted Cruz said President Obama's 'weakness' has embolden Russian President Vladimir Putin to act militarily in Ukraine's Crimea region. 'Putin fears no retribution' from the United States, said the Texas Republican in an interview shown Sunday on ABC's 'This Week' Cruz, who called Putin a 'KGB thug,' said the Obama administration's policy has been to 'alienate and abandon' U.S. allies and to 'coddle and appease our enemies'… Cruz also criticized fellow conservative GOP Sen. Rand Paul for the Kentuckian's recent comments that the U.S. should have a "respectful" relationship with Russia. 'I'm a big fan of Rand Paul, he and I are good friends; I don't agree with him on foreign policy,' he said."
[Watch Fox: Sen. Mike Lee, R-Utah, appears in the 10 a.m. ET hour]
Reuters: "Representative Paul Ryan [R-Wis.], appearing on CBS's 'Face the Nation,' suggested targeting the oligarchs who back Putin and boosting U.S. natural gas exports as a way of cutting into a crucial Russian business in Europe."
[Watch Chris Stirewalt talk with Shannon Bream about the foreign policy positioning by 2016 contenders in both parties, via "America's News HQ."]
Schuss-schuss: Team Romney hits the slopes - WaPo: "[Mitt Romney] The 2012 Republican presidential nominee has invited his debate prep advisers and senior campaign aides to his mountaintop chalet in Park City, Utah, for a weekend of skiing later this month, according to two people close to Romney… The reunion is expected to include some senior campaign staff and debate prep advisers, including Beth Myers, Stuart Stevens, Russ Schriefer, Bob White, Peter Flaherty, Eric Fehrnstrom, Austin Barbour, Gail Gitcho and others…"
POWER PLAY: COTTON RETURNS FIRE
In today's installment of "Power Play with Chris Stirewalt" get to know Rep. Tom Cotton, R-Ark., the likely GOP challenger to embattled Sen. Mark Pryor. Pryor tops the list of incumbent Senate Democrats in red states who are vulnerable due to President Obama's low approval and the unpopularity of ObamaCare. Mitt Romney carried Arkansas by 23 percent in the 2012 presidential election. Watch the interview here.
If you feel the need to say so… - "You can look at the whole tape that MSNBC ran -- and I thought it was fair -- one of the things I said is that I'm very supportive of veterans and very appreciate [sic] to all veterans including my opponent." – Sen. Mark Pryor, D-Ark., explaining in an interview why he, who holds his father's Senate seat, rebuked Republican challenger Rep. Tom Cotton for thinking his service in Iraq and Afghanistan "entitled" him to a Senate seat.
BEGICH GETS ON KOCH
Sen. Mark Begich, D-Alaska, debuts his first television ad today. Like other struggling Democrats, Begich is focusing on Charles and David Koch, the oil-industry billionaires who launched Americans for Prosperity, the group that has been assailing Begich's record on air for weeks. From Begich's ad: "First it was a D.C. actress pretending to be an Alaskan…Now ads attacking Mark Begich on a carbon tax have been called false and not true." The oil business is crucial to Alaska's economy, so Koch attacks are riskier there. Begich tries to finesse that angle by criticizing Koch Industries for closing an Alaska refinery.
PICK SIX: THUMBS UP IN MICHIGAN?
Republicans need to gain six seats to take control of the Senate. Which six Democrat-held seats are the most vulnerable? The current consensus among Fox News First readers: Arkansas, Montana, Louisiana, South Dakota, North Carolina and West Virginia. Reader John Berney of Lapeer, Mich. says his home state deserves a spot in the top tier. "Michigan should bolt to the top as [Rep. Gary Peters, D-Mich.] is becoming a non-issue."
Share your top six picks. Email them – just your top six, please – to FOXNEWSFIRST@FOXNEWS.COM or tweet @cstirewalt.
[Listen to Fox: Sen. Lindsey Graham, R-S.C., joins Kilmeade and Friends in the 10 a.m. ET hour]
COLORADO'S TOUGH CONTESTS FOR DEMS
Washington Examiner's Michael Barone considers bellwether Colorado: "Colorado is one of the hot states--maybe the hottest state--in the 2014 elections for senator and governor. It was carried twice by Barack Obama, and if you array the states in order of Obama 2012 percentage it was the state that cast the 270th electoral vote for him. So although Obama did just slightly better in Colorado (51 percent-46 percent) than nationally (51percent-47 percent), Colorado was arguably the median state in the political spectrum. Entering the 2014 electoral cycle, Colorado had two apparently popular candidates for reelection, Governor John Hickenlooper and Senator Mark Udall. But they have not been faring well in public polls, as I have noted several times."
NOT EXACTLY RED MEAT FOR KANSAS DEMOCRATS
Kansas Gov. Sam Brownback has been sagging in the polls, but the Democratic brand is in such poor repair in Kansas that he still may be hard to unseat this year. Hence a novel approach unveiled by the state party at its convention this weekend. Wichita Eagle: "…Democratic leaders expressed confidence about the party's chances to win the governor's race with House Minority Leader Paul Davis – plus a few House seats in November's election. Their strategy is simple: Convince moderate Republicans dissatisfied with the conservative wing of the GOP that they have a place underneath the Democratic Party's big tent… 'This election is not about putting a Democrat in the governor's office. It's about putting a commonsense Kansan in the governor's office.'"
[Minnesota Republican Senate frontrunner Mike McFadden has released a new Web video chronicling a day on the campaign trail. "And Republicans, we are as bad as Democrats and it's killing us…we have too many people in Washington that are there because they just want to be something…"]
Already in the barn - Des Moines Register: "The Des Moines Register's latest Iowa Poll shows 63 percent of Iowans approve of the job [Gov. Terry Branstad, R-Iowa] is doing as governor — his highest rating since the end of his fourth term in 1999."
TALK ABOUT AN ESTABLISHMENT CANDIDATE…
AP: "With no one else on the ballot, state media reported Monday that supreme leader Kim Jong Un was not only elected to the highest legislative body in North Korea, he won with the unanimous approval of his district, which had 100 percent turnout…" And like a lot of incumbents this year, he went negative early on his rival.
Chris Stirewalt is digital politics editor for Fox News. Want FOX News First in your inbox every day? Sign up here.
Chris Stirewalt joined Fox News Channel (FNC) in July of 2010 and serves as politics editor based in Washington, D.C. Additionally, he authors the daily Fox News Halftime Report political news note and co-hosts the hit podcast, Perino & Stirewalt: I'll Tell You What. He also is the host of Power Play, a feature video series on FoxNews.com. Stirewalt makes frequent appearances on network programs, including America's Newsroom, Special Report with Bret Baier and Fox News Sunday with Chris Wallace. He also provides expert political analysis for FNC's coverage of state, congressional and presidential elections.