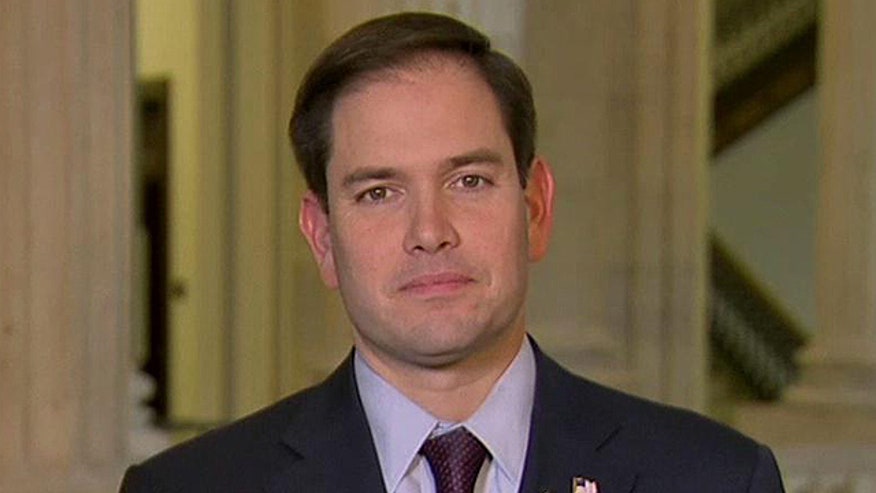 **Want FOX News First in your inbox every day? Sign up here.**
Buzz Cut:
• Rubio makes case for ObamaCare bailout blockade
• Cee-Bee-Oh-No
• IRS boss will get more than a smidgen of heat
• Pryor goes ugly early with Medi-scare ads
• Livin' la vida Putin
RUBIO MAKES HIS CASE FOR OBAMACARE BAILOUT BLOCK
Do Republicans have the appetite for another debt-ceiling showdown? President Obama and his fellow Democrats are betting that the red team doesn't and that House Republicans will eventually yield to an unconditional hike in the federal borrowing limit. But Sen. Marco Rubio, R-Fla., will make the case today that House Republicans can use the looming borrowing breach as leverage to start to unwind ObamaCare. Rubio, the lead proponent of a move to block insurance industry bailouts built into the law, will testify this morning before the House Oversight and Government Reform Committee about his plan. House Speaker John Boehner has said he is open to the idea of making the debt lift contingent on blocking potentially billions of dollars in handouts to insurance firms grappling with the fallout from ObamaCare. But Boehner won't go ahead unless Republicans are united behind the plan. That's why Rubio's sales pitch today is a pretty big deal. The alternate House plan would be to leverage the debt hike for a largely symbolic move to demand what is now considered the inevitable approval of an oil pipeline from Canada. – Watch Fox: Correspondent Peter Doocy is following the hearing and considers what the provisions mean for consumers.
[Gallup's latest survey finds 51 percent oppose ObamaCare and only 24 percent feel it will personally benefit them.]
High stakes - Ending the bailouts could be the end of ObamaCare since insurance companies would be unlikely to remain in the program without the taxpayer subsidies to offset their guaranteed losses under the law. If they bolt, the law collapses, meaning Obama would be highly unlikely to ever sign such a bill. But if Rubio can get the House to act, he might at least be able to force a painful vote in the Senate on a provision of the law that is unpopular across the political spectrum.
David Drucker explains: "The Republican leadership is informally whipping the proposal with rank-and-file members to gauge interest and determine if it's possible to corral 218 GOP votes for such a package… the strategy now, if House Republicans can agree on a plan to increase the debt ceiling, would be to act first to prevent Senate Democrats from jamming them at the last minute with a proposal that they oppose."
CEE-BEE-OH-NO
Team Obama has a doozy of a hangover today from a Congressional Budget Office report that found ObamaCare will reduce the number of hours Americans work by a number equal to 2.3 million full-time jobs and add $10 trillion to federal deficits by 2024. It was always known that the entitlement program would cause some workers to quit full-time jobs in order to get health insurance subsidies, but the number in the new report is triple the original estimate. And none of that even touches on the workers who will be forced into part-time status or be laid off as companies face compliance costs. The White House tried to spin the damning report as a positive, with White House Press Secretary Jay Carney saying that American workers who give up income in order to get ObamaCare benefits "will be empowered to make choices about their own lives and livelihoods." Quite so. Carney brought in chief White House economist Jason Furman to take beanballs, but he didn't get on base either. Furman said having subsidies creating economic incentives for not working "creates a situation where you can be more dynamic." Rep. Paul Ryan, R-Wis., will tackle the findings during a House Budget Committee hearing today. More.
["That was a sad briefing … that performance by Jason Furman was one of the most unconvincing performances I've seen. His answers to the questions were just… they were pathetic." – Fox News Senior Political Analyst Brit Hume on "The Kelly File"]
Cuts both ways - As Dana Milbank notes: "For years, the White House has trotted out the nonpartisan Congressional Budget Office to show that Obamacare would cut health-care costs and reduce deficits:
"CBO Confirms Families Will Save Money Under Health Reform."
"CBO Update Shows Lower Costs for the New Health Care Law."
"CBO Confirms: The Health Care Law Reduces the Deficit."
Live by the sword, die by the sword, the Bible tells us. In Washington, it's slightly different: Live by the CBO, die by the CBO."

Care to revise and extend those remarks? - "This legislation is about creating jobs and strengthening the middle class and reducing the deficit. Four million jobs will be created by the legislation when it is fully in effect. $1.3 trillion will be saved in the life of this legislation. And it strengthens the middle class because it creates jobs." – Then-House Speaker Nancy Pelosi, D-Calif., in a 2010 press conference touting ObamaCare.
STUDY: MOST DOCS SAY 'NO' TO MEDICAID
Daily Caller: "Obamacare supporters have boasted about an uptick in Medicaid enrollments, but does the program offer much more than an insurance card? Health-care consulting firm Merritt Hawkins conducted a survey of Medicaid acceptance rates which found that just 45.7 percent of physicians are now accepting Medicaid patients in the U.S.'s largest 15 cities."
Feds focus on cities for ObamaCare compliance efforts - AP: "Federal officials have identified 25 key metro areas to focus on. The top two are in Texas: Dallas and Houston. Next come Miami and Atlanta. In the Northeast, the northern New Jersey megalopolis and Philadelphia are on the list. Midwest markets include Detroit, Cleveland and Indianapolis. Southern cities also include Nashville, Tenn., and Charlotte, N.C. Washington is largely steering clear of states that are leading their own sign-up efforts, such as California, New York and Illinois."
Failing forward - "The company that built the failed Obamacare website received six additional contracts from the Obama administration's Centers for Medicare and Medicaid Services after the website's disastrous launch, The Daily Caller has learned. According to a company spokesman, CGI Federal was awarded six additional contracts from CMS worth approximately $37 million between October 1 – when the over $600 million Obamacare website launched – through January 2014."
IRS BOSS WILL GET MORE THAN A SMIDGEN OF HEAT
President Obama's told Bill O'Reilly that there was no corruption involved in the IRS targeting of the president's political opponents. "Not even a smidgen," Obama laughingly said. Newly appointed IRS Commissioner John Koskinen won't be having many laughs today when he appears before the House Ways and Means Committee. House Republicans are demanding a special counsel be appointed to investigate the targeting of conservative groups because of Obama's pre-judgment of the outcome of the existing case and because one of the lead attorneys, Barbara Bosserman, is an Obama political donor. Koskinen will also face heat for reinstating employee bonuses that had been cancelled during the height of the scandal. – Watch Fox: Chief Congressional Correspondent Mike Emanuel has the latest on the hearing from Capitol Hill.
["So of course the president is confident because the fix is in. The person heading the investigation gave [President Obama] a maxed out contribution, gave him a bunch of money. I think he sent her a signal Sunday when he talked to [Bill O'Reilly]: 'Here's what we need to have happen: No problem here.'" – Rep. Jim Jordan, R-Ohio, on "The Kelly File." Watch.
New at Fox News Opinion - American Center for Law and Justice's Jay Sekulow says You're wrong, Mr. Obama, the IRS is corrupt: "Viewpoint neutrality is a basic legal requirement for federal bureaucrats, one they're made aware of from day one of federal employment. In other words, singling out conservatives wasn't an accident or mistake; it was an intentional act by lawyers who knew it was wrong…President Obama ignores the IRS's own lies. When the IRS made its public apology, it told a series of lies to the American public… But he can't escape the truth, and, soon enough, his administration won't be able to escape accountability."
DRILLING FOR VOTES
WSJ: "A bipartisan group of senators and House members stepped up pressure on the White House Tuesday to approve the Keystone XL pipeline… 'This pipeline is essential, the time for study is over,' said Sen. Mary Landrieu, a Louisiana Democrat who is in a tight race for re-election this year…. Senators at the press conference also included Democrats Joe Manchin of West Virginia and Heidi Heitkamp of North Dakota …Keystone backers in the Senate may be close to 60 votes, Mr. Manchin indicated. 'We need 15 Democrats,' he said. 'I think we're very close to 15 strong Democrats,' he added."
["I want [President Obama] up in Alaska so I can show him where his policies haven't worked. I'll drag him up there to show him what he needs to be doing. I don't need him campaigning for me."—Sen. Mark Begich, D-Alaska, to AP.]

"…the moment when the rise of the oceans began to slow and our planet began to heal…" - As the Obama administration lays the groundwork for approving a pipeline to bring Canadian oil to Gulf Coast refineries that is bitterly opposed by global-warming activists, the president is offering environmentalists the promise of new regulations that would cripple the U.S. coal industry in years to come. In the near team, though, the "year of action" on global warming looks pretty inert. President Obama today will announce the creation of "climate hubs." From Reuters: "The hubs will act as information centers and aim to help farmers and ranchers handle risks, including fires, pests, floods and droughts, that are exacerbated by global warming. The hubs will be located in Ames, Iowa; Durham, New Hampshire; Raleigh, North Carolina; Fort Collins, Colorado; El Reno, Oklahoma; Corvallis, Oregon; and Las Cruces, New Mexico, [an unidentified official] said. Additional "sub hubs" will be set up in Rio Piedras, Puerto Rico; Davis, California; and Houghton, Michigan.]
TRILLION DOLLAR BABY
Millions to promote the sheep and maple syrup industries, funding for a catfish inspection office and a new 15-cent tax on every live-cut Christmas tree sold are just a few of the goodies in the nearly $1 trillion farm bill passed by Congress and ready for President Obama's pen. There's even a provision to make hemp farming legal, a home-state issue championed by Senate Minority Leader Mitch McConnell, R-Ky. Tim Carney, the scourge of K Street, details the Beltway marriage of convenience between big business and welfare proponents. President Obama will sign the billion-dollar-per-page bill at Michigan State University on Friday.
[Washington Examiner's Watchdog has a new series asking, is the government "Too Big to Manage."]
WITH YOUR SECOND CUP OF COFFEE...
Real Clear Science editor Alex Berezow argues Obama must take hit for pot talk: "On Jan. 26, 1998, President Clinton looked America in the eye and said, 'I did not have sexual relations with that woman.' That fib kick-started an odyssey in which our country debated things such as the meaning of the word 'is' and whether oral sex is actually sex… What we don't want to see is the marijuana equivalent of the Clinton-Lewinsky effect – call it the Obama effect… Presidents simply need to be far more careful about what they say. Whether they like it or not, they serve as a role model for all Americans. On the rare occasion that a teen listens in on the national debate, we want to make sure he gets reliable information."
Got a TIP from the RIGHT or LEFT? Email FoxNewsFirst@FOXNEWS.COM
POLL CHECK
Real Clear Politics Averages
Obama Job Approval: Approve – 43.2 percent//Disapprove – 51.7 percent
Direction of Country: Right Direction – 29.5 percent//Wrong Track – 63.0 percent
Generic Congressional Ballot: Democrats – 40.5 percent// Republicans 42.0 percent
PRYOR GOES UGLY EARLY WITH MEDI-SCARE ADS
Vulnerable Arkansas Democrat Sen. Mark Pryor isn't waiting for the general election to start going nuclear. It's still three months before the state's primary election, but Pryor is unleashing what is usually Democrats' preferred late-cycle attack, accusing Republicans of taking seniors' Medicare. Pryor also takes the unusual step of naming GOP frontrunner Rep. Tom Cotton. In what Politico says is "a six-figure buy," the ads feature women. Gray-haired "Linda" says: "Retirement is just around the corner for us. That's why I was so concerned when I read Congressman Cotton voted to change Medicare into a voucher system." Millennial-looking "Courtney" talks about Medicare reform's effect on her relatives: "It says here that Cotton voted in Congress to change Medicare into a voucher system that will increase out of pocket expenses for every senior in Arkansas, thousands of dollars every year," she says. "My grandma and grandpa can't afford that, and neither can my parents."
Go down swinging? - Senate Democrats are getting a pep talk today from President Obama and former President Bill Clinton. The Democratic members of the upper chamber are said to be talking policy as they gather today at Washington's Nationals Park, but it is no doubt a gloomy midterm forecast that will get more attention. Red state Democrats will likely be looking for some swing tips from batting coach Bubba.
REGRETS? THEY'VE HAD A FEW…
Americans for Prosperity is spending big to hit vulnerable Democrats over their support of ObamaCare. The group is pumping $1.4 million into television ads hitting Sen. Kay Hagan, D-N.C., and Rep. Nick Rahall, D-W.Va. Hagan's ad features a woman saying "millions of people can't see their own doctors. And millions are paying more and getting less. ObamaCare doesn't work. It just doesn't work." Rahall's ad features a clip of Rahall saying "it may be in their best interest to be cancelled."
[WSJ details how the GOP is closing in on Senate Democrats in the money race.]
PICK SIX: DON'T SELL LANDRIEU SHORT?
If Republicans are able to gain six Senate seats in the midterm election they will gain control of the upper chamber. Which six seats are the most likely GOP pickups? The current consensus among Fox News First readers: Arkansas, Montana, Louisiana, South Dakota, North Carolina and Alaska. Reader Casey Levy cautions against underestimating Sen. Mary Landrieu, D-La. "[D]on't sell her short – she's smart," Levy writes.
Share your top six picks. Email them – just your top six, please – to FOXNEWSFIRST@FOXNEWS.COM or tweet @cstirewalt.
DONORS FUND DAVIS' FIRST-CLASS DIGS
"Embattled Democratic gubernatorial candidate Wendy Davis has spent more than $131,000 in campaign funds to pay for luxury apartments in Austin, Texas, since her election to the Texas State Senate in 2008, according to a Washington Free Beacon analysis…While such use of campaign funds is legal in Texas, the amounts involved and properties rented may undermine Davis's campaign persona of a working class single mom…First elected to the Texas State Senate in 2008, Davis has expensed upwards of $2,000 in monthly rent each legislative session. Davis lived at the Monarch during the 81st session, from January 13, 2009, to June 1, 2009. The residence is described as a 'luxury community,' with 'five-star resort amenities.' The total amount of rent and utilities paid to the Monarch during the session was $13,882.07."
[Breitbart: "Dallas Cowboys great Emmitt Smith donated $10,000 to support Texas gubernatorial candidate Wendy Davis."]
ECUADORIAN EMBEZZLERS GETTING HELP FROM CONGRESS?
Daily Beast: "Sen. Robert Menendez [D-N.J] is under federal investigation for his advocacy on behalf of two Ecuadorian bankers convicted of embezzlement. Turns out he wasn't the only prominent lawmaker accepting donations and doing favors for the brothers. Florida Republican Congresswoman Ileana Ros-Lehtinen, while she was Chairwoman of the House Foreign Affairs Committee, sent a letter to federal agencies on behalf of two Ecuadorian bankers convicted of embezzlement who were seeking U.S. residency. She also advocated for their family members, who donated over $20,000 to her campaign.William and Roberto Isaias, who were convicted in absentia of embezzlement in Ecuador more than a decade ago, have been fighting for the right to avoid extradition and establish residency in the United States."
N.J. DEM QUITTING AMID ETHICS WOES WENT 0-646 ON BILLS
WaPo: "In his 23 years in Congress, Rep. Robert E. Andrews (D-N.J.) has written 646 different pieces of legislation. That is a vast array of bills, covering a vast number of subjects: children's pajamas, relations with Taiwan, commemorative coins and trade duties on licorice. But all of Andrews's bills had one thing in common. Only four of Andrews's hundreds of bills have ever passed the House of Representatives. But none of them passed the Senate, so none made it to the president's desk. Even in Congress, where the vast majority of bills fail, that is an unusually awful batting average."
[Democrat Clay Aiken, made famous by his second-place finish on "American Idol" a decade ago, is making his North Carolina congressional run official. Aiken, an outspoken opponent of the state's recently approved ban on same-sex marriage, launched his campaign with an attack on incumbent Rep. Renee Ellmers, R-N.C.]
PUSHING FOR CANTOR COUP?
"Speaker John A. Boehner should lose his gavel if he pursues immigration this year, a prominent tea party Republican said in an interview with CQ Roll Call on Tuesday. 'I think it should cost him his speakership,' Rep. Raúl R. Labrador of Idaho said, if Boehner puts an immigration overhaul on the floor. But even if Boehner shelves immigration, Labrador said, the party needs new leadership — and the two-term lawmaker is not ruling out a run for leadership himself …Labrador said the new GOP leadership in the 114th Congress could include members currently in leadership, particularly Majority Leader Eric Cantor of Virginia, with whom Labrador has a strong working relationship."
NEVER TOO EARLY FOR NEW HAMPSHIRE
Sens.Rand Paul, R-Ky. and Mike Lee R-Utah, Rep. Marsha Blackburn, R-Tenn., NBC reality-show host Donald Trump, CNN personality Newt Gingrich and "Huckabee" host, former Arkansas Gov. Mike Huckabee will appear at a New Hampshire event hosted by Citizens United and Americans for Prosperity April, 12. Via Breitbart.
TO SAVE ON HEALTH, CURE DISEASE
House Energy and Commerce Committee chairman Fred Upton, R-Mich., is applauding a partnership between the nation's largest drug companies and the National Institutes of Health to find cures for Alzheimer's, diabetes, rheumatoid arthritis and lupus. Camp said the $230 million project "exemplifies the very best of a public-private collaboration, and we in Congress also want to do what we can in the name of breakthrough research." For conservatives, it's a fiscal issue too. As James Pinkerton put it: "If you really want to save money on Medicare, cure Alzheimer's. It's a lot cheaper to beat than to treat."
LIVIN' LA VIDA PUTIN
Journalists from around the world are descending on Sochi, Russia before the start of the Winter Olympics on Thursday night. But globe-trotting journos are not finding Russian hospitality quite up to their standards. WaPo shares some of the discoveries. BBC reporter Kevin Bishop tweeted about his hotel having mixed amenities: the floor wasn't finished, but it does have a super-creepy picture of Russian President Vladimir Putin. The Chicago Tribune's Stacy St. Clair was at first alarmed: "My hotel has no water. If restored, the front desk says, 'do not use on your face because it contains something very dangerous.'" But she soon took a more optimistic tone tweeting, "on the bright side: I just washed my face with Evian, like I'm a Kardashian or something."
Chris Stirewalt is digital politics editor for Fox News. Want FOX News First in your inbox every day? Sign up here. To catch Chris live online daily at 11:30 a.m. ET, click here.
Chris Stirewalt joined Fox News Channel (FNC) in July of 2010 and serves as politics editor based in Washington, D.C. Additionally, he authors the daily Fox News Halftime Report political news note and co-hosts the hit podcast, Perino & Stirewalt: I'll Tell You What. He also is the host of Power Play, a feature video series on FoxNews.com. Stirewalt makes frequent appearances on network programs, including America's Newsroom, Special Report with Bret Baier and Fox News Sunday with Chris Wallace. He also provides expert political analysis for FNC's coverage of state, congressional and presidential elections.