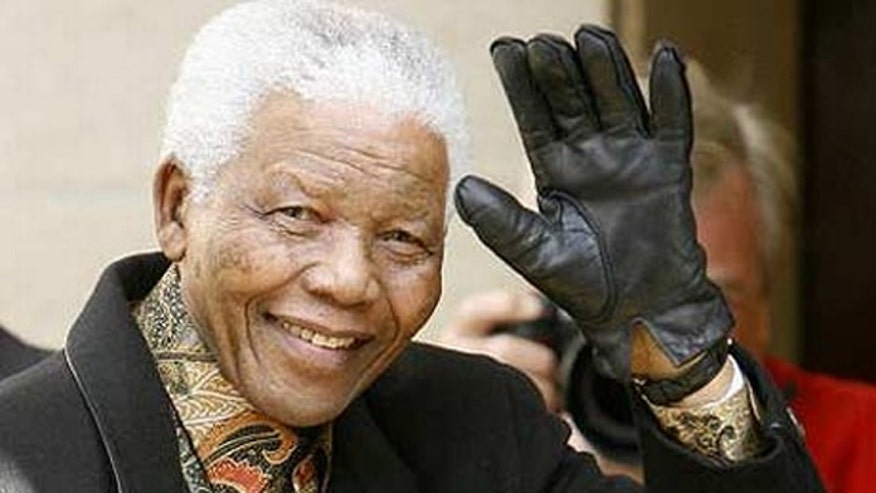 A bipartisan congressional delegation will travel to South Africa this week to pay their respects to anti-apartheid icon Nelson Mandela, who died Thursday at age 95.
The group of 24 congressmen will be led by GOP Rep. Aaron Schock, who said in a Sunday statement he will forever be inspired by Mandela's "forgiveness, leadership, and class."
"I have always had great respect for former president Mandela," he said. "The personal sacrifices he made in order to achieve what was right for the people of South Africa is something I carry with me every day. I am humbled to be leading so many of my colleagues in tribute to Nelson Mandela."
House Speaker John Boehner also said Sunday he is "grateful" to Schock for leading the delegation. The delegation will consist of 23 House members and one senator, Republican Ted Cruz. All the congressmen attending besides Cruz and Schock are Democrats.
The congressmen will leave D.C. Monday afternoon and will attend the state memorial service for Mandela on Tuesday in Johannesburg. The delegation will return Thursday.
The timing of the delegation's trip could create problems on the Hill as lawmakers are scrambling this week to beat several end-of-year deadlines by Friday.
Though Dec. 31 is still a few weeks away, congressional sources say the House plans to adjourn at the end of this week. With the Senate returning from its latest recess on Monday that leaves just five days when both chambers are in session for votes on a number of issues.
The congressmen going besides Schock and Cruz are Reps. Marcia Fudge, D-Ohio, John Conyers, D-Mich., Charlie Rangel, D-N.Y., John Lewis, D-Ga., Jim McDermott, D-Wash., Delegate Holmes Norton, D-D.C., Maxine Waters, D-Calif., Bobby Scott, D-Va., Mel Watt, D-N.C., Sheila Jackson Lee, D-Texas, Elijah Cummings, D-Miss., Delegate Christensen, D-V.I., Gregory Meeks, D-N.Y., Barbara Lee, D-Calif., GK Butterfield, D-N.C., Al Green, D-Texas, Gwen Moore, D-Wis., Yvette Clarke, D-N.Y., Karen Bass, D-Calif., Terri Sewell, D-Ala., Donald Payne Jr., D-N.J., and Joyce Beatty D-Ohio.