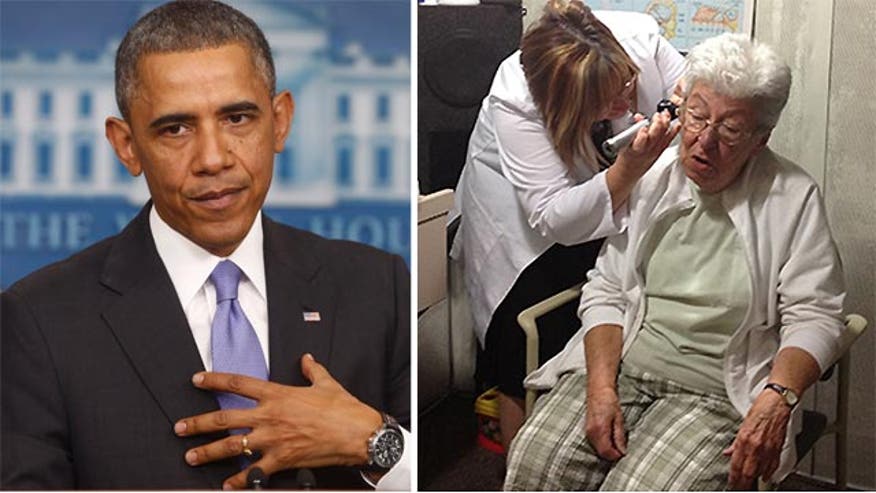 Politicians, operatives, White House officials, members of Congress—along with some snark artists—are debating, attacking, defending and kibitzing around the clock on Twitter. It's a nonstop forum that is helping shape the political conversation. In this daily feature, @laurenashburn picks some of the best – and worst – political tweets you may have missed.
When the president has a press conference, let alone one that goes on for almost an hour, about the failure of his signature legislation, the pundit Twitterverse can't help but live-blog every sentence, gesture, and try to top each other with the best smart-aleck lines they can produce.
Pressers like these are like feeding delicious catnip to the chattering kitties, upping the ante on their cleverness competition.
ICYMI (in case you missed it), here's a truncated live blog of the best of the best. As Obama launched into his speech and droned on for question after question (with endless football analogies about fumbling, etc.), the armchair quarterbacks charged onto the field:
He really, really, really shouldn't insist that a lot of parts of the law are working fine and people just aren't noticing enough.

— jimgeraghty (@jimgeraghty) November 14, 2013
Obama just gave the #GOP a soundbite present: decrying red tape and regulation...while pushing a massive govt program.

— Luke Russert (@LukeRussert) November 14, 2013
This is a tough argument for Obama to make. People want healthcare but they haven't signed up for it...But they want it.

— The Fix (@TheFix) November 14, 2013
After just two questions, the Pres decided to call on a member of the foreign press, who predictably could give a hoot about ObamaCare. Was that a strategy? You betcha.
NBC's Kelly O'Donnell called him out:
By going to the AFP reporter next, French wire service, the president probably expected the question would be on Iran, not health care.

— Kelly O'Donnell (@KellyO) November 14, 2013
OBAMA: Let me stretch that Iran answer out for you.

— Matt Yglesias (@mattyglesias) November 14, 2013
Twitter was so bored by the Iran question and by subsequent policy answers by Obama, the 'is it intermission yet' jokes took off.
This feels more like a session w/a shrink than a press conference

— Robin Abcarian (@robinabcarian) November 14, 2013
I'm not watching. Has he brought up Bin Laden yet?

— virginiahume (@virginiahume) November 14, 2013
Please let one of the reporter questions be "Have you tried turning it off and then on again?"

— Dana Loesch (@DLoesch) November 14, 2013
Next journos dealt with their mounting boredom by translating the president's terminology.
Obama's "That's on me" is the new Buck Stops Here. (Except for the part where he blamed underlings for withholding info on the site)

— Glenn Thrush (@GlennThrush) November 14, 2013
"Ended up not being accurate" is the new "mistakes were made."

— John Heilemann (@jheil) November 14, 2013
Before Obama finished speaking, his allies were off the reservation. ABC's Jeff Zeleny notes Senator Tom Harkin's displeasure.
Not all Democrats agree with Obama's decision today. Harkin tells ABC's @ArletteSaenz: "If I were the president I would not have done that."

— Jeff Zeleny (@jeffzeleny) November 14, 2013
We may have just entered the post-Obama era. Willingness of Dems to criticize while conference still going - amazing.

— Ben Domenech (@bdomenech) November 14, 2013
Even Washington Post liberal blogger Ezra Klein was all doom and gloom.
This is really a low point for the Obama admin, and not solely because of health care: http://t.co/fJBn0ds2pD

— Ezra Klein (@ezraklein) November 14, 2013
In the end, the presser will probably not go down as one the president's great and shining moments.
Watching that press conference was actually harder than trying to sign onto http://t.co/Vup54Jxpnx.

— CC:Indecision (@indecision) November 14, 2013
***
At the same time in a country not far away, the madness continues with a simultaneous press conference from our favorite Canadian mayor.
Will the Rob Ford saga end? Maybe. He says he's finally getting professional help.
Even I'm tired of writing about his problems. Cue the Toronto crack-smoking mayor who won't resign, bought illegal drugs, probably drank then drove, blah, blah blah, boilerplate. Now he's vowed to sue his staff for saying he hired an escort – and is denying, in rather obscene terms, that his gal-pal was anything more than a friend.
Enough. Please Rob, take it to the therapy room and leave us out of your never-ending drama.
Even "God" weighed in on Twitter, with the parody account @TheTweetOfGod tweeting "I don't want to live in a Twitterverse where Rob Ford is trending."
I'm with God on this one.
If you'd like to recommend your favorite political Twitter picks, email Lauren Ashburn laurenashburnFNC@yahoo.com or send her a tweet @laurenashburn with the hashtag #TwitterTalk. Watch Lauren Ashburn Sundays on #MediaBuzz.
Lauren Ashburn joined the network in 2013 and currently serves as a Washington-based contributor for FOX News Channel (FNC). On MediaBuzz with Howard Kurtz, Ashburn contributes commentary on the state of the news media shaping current events, their role in politics, cultures, business, and tech. Click here for more information on Lauren Ashburn.