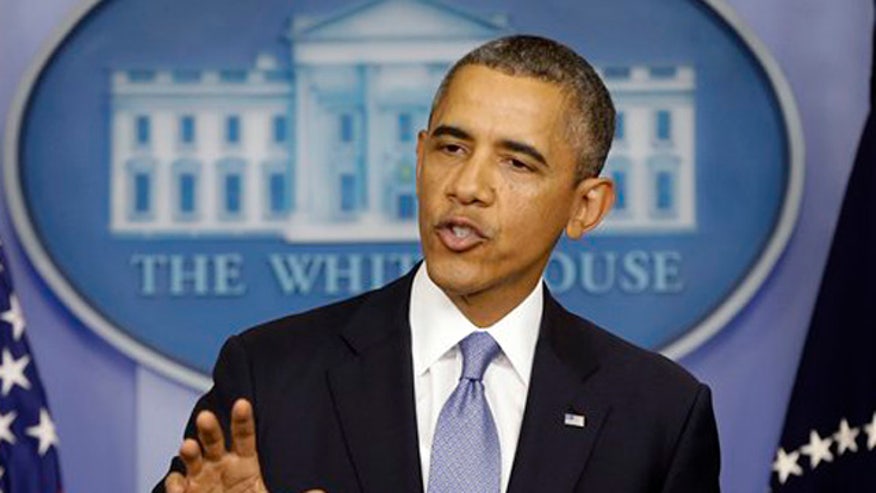 **Want FOX News First in your inbox every day? Sign up here**
Buzz Cut:
• Partial shutdown clips Obama's wings
• Playing games with service academy football?
• From the desk of George Will
• Paul leads Cruz in GOP 2016 stakes
• Bigfoot a Cardinals fan?
PARTIAL SHUTDOWN CLIPS OBAMA'S WINGS - The White House announced this morning that President Obama is dropping stops in Malaysia and the Philippines from a planned Asia trip scheduled to start this week "due to the government shutdown." Still on the itinerary are stops in Brunei and Indonesia, Obama's boyhood home. A senior administration official told Fox News that the remaining stops on the tour will continue to be evaluated. With barricades around war memorials (when veterans aren't knocking them down) and state welfare programs reportedly turning away needy moms, Obama will be hard pressed to defend spending tens of millions of dollars on a trip that includes a visit the lush island of Bali, no matter how essential the White House says the diplomatic summits on the itinerary may be.
[FLOTUS' tweet team furloughed - First Lady Michelle Obama's office announced via Twitter: "Due to Congress's failure to pass legislation to fund the government, updates to this account will be limited."]
Money men - Obama will huddle today at the White House with Wall Street honchos, including some of his biggest political benefactors from firms like Goldman Sachs and JPMorgan, to discuss what to do about House Republicans' demand that the president and his fellow Democrats make some concession on ObamaCare as part of a deal to restore funding for full federal operations. The big banks and investment firms still hold considerable clout with many in the Republican establishment, so pressure will certainly increase on Majority Leader Eric Cantor and other Wall Street allies to shut down the shutdown. Obama is scheduled to hit the campaign trail Thursday to publicly repeat his refusal to negotiate with Republicans over his health law or to offset increases to the federal borrowing limit. The White House is working hard to get ahead of the coming clash over borrowing, where the stakes for the economy are much greater.
[Treasury Secretary Jack Lew wrote congressional leaders Tuesday, warning the U.S. will still reach its debt limit Oct. 17 despite the partial shutdown.]
The end is near. Look busy. - House Republicans today will keep up efforts to shift the pressure for the shutdown to Obama and the Democratic Senate. Speaker John Boehner came up short last night in trying to fast-track legislation that would keep key agencies and services open, with Democrats blocking bids to fund the District of Columbia, the Department of Veterans Affairs and national parks. The blue team could kill the bills because Boehner sought rapid passage, which requires supermajorities. Today, House Republicans are expected to pass with simple majorities bills funding those agencies and others, perhaps including National Guard units and the National Institutes of Health. Senate Majority leader Harry Reid wants it all or nothing, vowing to block the emergency spending bills and demanding that Republicans drop any conditions for full federal funding.
[NRCC targets subsidy supporters - The National Republican Congressional Committee launched radio ads today targeting 10 Democrats, including Reps. Ann Kirkpatrick, D-Ariz., Carol Shea-Porter, D-N.H., and Nick Joe Rahall, D-W.Va., for supporting ObamaCare subsidies for members of Congress and their staffs.]
How long? - Republicans are getting increasingly anxious about the shutdown. Rep. Devin Nunes, R-Calif., told Washington Examiner's David Drucker that he was nearly ready to abandon the ObamaCare gambit, saying Republicans still demanding large-scale changes to the law as a condition of funding the government were "lemmings." But if Republicans walk away from the shutdown circus empty handed, the political damage would be twofold: an irate political base and disgusted general election voters. That's certainly how Obama wants this to end. But as the president sees his own agenda and itinerary cramped by the shutdown and public pressure grows for him to find a solution for the impasse, the president may be forced to abandon his "no negotiations" stance.
["For years, the president has said that in a divided government, no one gets 100% of what they want. But when will his words match his actions?" – House Speaker John Boehner in a USA Today OpEd ]
[Watch Fox: Sen. Lindsey Graham, R-S.C., the government shutdown, in the 10 a.m. ET hour ]
GLITCHES AND DELAYS FOR DAY ONE OF OBAMACARE ROLLOUT - During Tuesday's launch of ObamaCare's online portals for taxpayer-subsidized health insurance, reports of delays and shutdowns caused by glitches were widespread. Both federal and state-run sites were plagued by slow services and outage. Some didn't allow purchases or never opened, as was the case in Washington state. An estimated 2.8 million users visited the federal site Tuesday and the Centers for Medicare and Medicaid Services reported 81,000 calls.
Obama = Steve Jobs? - President Obama compared the rollout of his signature entitlement programs to Apple product launches. "I don't remember anybody suggesting Apple should stop selling iPhones or iPads," Obama said in a Rose Garden speech heralding his law.
[Fox News Politics is tracking the glitches, state-by-state]
PLAYING GAMES WITH SERVICE ACADEMY FOOTBALL? - The Department of Defense announced Tuesday it would be suspending all intercollegiate athletics at the service academies because of the government shutdown, a decision that could cancel the Navy-Air Force football game this weekend. A Navy spokesman said a decision about the game will be made Thursday. The Army-Boston College football game, also scheduled for Saturday, could be canceled as well. Fox Sports details in "Politicians run a misdirection play" that the sellout games may be pawns in the shutdown PR game.
A NOTE FROM MR. WILL - "Although there is never a dull moment in our turbulent democracy, this is an especially exciting moment to be joining the Fox News team. The great issues of our constitutional order, such as whether we can still be a government whose powers are limited because they are enumerated, are being debated with unusual vigor. The argument about America's future never stops, and Fox News never sleeps." – George Will.
Watch Fox - Author and columnist George Will makes his debut Fox News appearance Friday on "Special Report with Bret Baier" at 6 p.m. ET, and will join the panel on "Fox News Sunday with Chris Wallace" for the first time this weekend.
[Ed. note: You'll have the two most influential public intellectuals of the conservative movement, Charles Krauthammer and George Will, debating the issues of the day. I know who will definitely "Watch Fox": Every pundit on every other network who will be lifting their lines.]
UN WEAPONS INSPECTORS SET TO START WORK IN SYRIA - AP: U.N. backed weapons inspectors arrived in Syria Tuesday to begin a lengthy process of finding and dismantling a chemical weapons arsenal estimated at 1,000 tons.
"[Mahmoud Ahmadinejad] was the wolf in wolf's clothing. [Iranian President Hassan Rouhani] is a wolf in sheep's clothing." – Israeli Prime Minister Benjamin Netanyahu speaking to the U.N. General Assembly
NSA HEARING CONTINUES DESPITE SHUTDOWN - The nation's intelligence chief, James Clapper, and Gen. Keith Alexander, the head of the National Security Administration, appear before the Senate Judiciary Committee. Chairman Patrick Leahy, D-Vt., is calling for an end to the bulk collection of Americans' phone records. Due to the government shutdown, the committee will not consider a bill from Sen. Dianne Feinstein, D-Calif., that would set new parameters for the NSA's spying powers.
"The failure of this Congress to perform its most basic functions means our country is more at risk of a terrorist attack." – Sen. Diane Feinstein in a Senate floor speech.
WITH YOUR SECOND CUP OF COFFEE...John Stossel explains for Fox News Opinion how his reporting on America's public school systems changed his views - Let's call our public schools what they really are: 'government' schools: "People say public schools are 'one of the best parts of America.' I believed that. Then I started reporting on them. Now I know that public school -- government school is a better name -- is one of the worst parts of America. It's a stultified government monopoly. It never improves."
Got a TIP from the RIGHT or LEFT? Email FoxNewsFirst@FOXNEWS.COM

POLL CHECK - Real Clear Politics Averages
Obama Job Approval: Approve – 44.5 percent//Disapprove – 50.6 percent
Direction of Country: Right Direction – 27.3 percent//Wrong Track – 64.0 percent
PAUL LEADS CRUZ IN GOP 2016 STAKES - A Quinnipiac poll out this morning shows Sen. Rand Paul, R-Ky., leading a list of possible 2016 Republican contenders with 17 percent. He was trailed by a clutch of three more moderate potential candidates, Gov. Chris Christie, R-N.J., at 13 percent and Sen. Marco Rubio, R-Fla., at 12 percent, and former Gov. Jeb Bush, R-Fla., at 11 percent. Trailing the pack, despite exhaustive coverage of his marathon speech against ObamaCare last week was Sen. Ted Cruz, R-Texas, with 10 percent.
Hillary anyway - In head-to-head matchups, Democratic frontrunner Hillary Clinton beat Christie 49 percent to 36 percent, Paul 53 percent to 36 percent and Cruz 54 percent to 31 percent.
MCAULIFFE BACKS ANTI-COAL REGS - WaPo: Virginia Democratic gubernatorial candidate, "Terry McAuliffe said Tuesday that he supports new Environmental Protection Agency rules on carbon omissions, taking a clear stance for the first time on an issue that has become a key flashpoint in the Virginia governor's race… [Republican] Ken Cuccinelli … has said the rules would be devastating to Virginia's coal industry, and has accused McAuliffe of being an accomplice to the Obama administration's alleged 'war on coal.'''
Planned Parenthood ponies up for McAuliffe - Planned Parenthood Votes, the political action arm of America's largest abortion provider, is spending $1 million on radio and television ads attacking Republican Ken Cuccinelli over his pro-life positions. The Planned Parenthood attacks dovetail with new attack ad from Democrat Terry McAuliffe accusing Cuccinelli of wanting to ban birth control. The Virginian-Pilot has details.
FUNNIEST. EVACUATION. EVER. - Police evacuated the office of former Gen. David Petraeus and shut down 58th Street between Fifth and Sixth Avenues in New York City, Tuesday because of a bomb scare. It was later revealed that a friend of Petraeus sent him a novelty grenade as a joke. Read more from NY1.
BUT WERE THEY LOUISVILLE OR UK FANS? - A team of researchers known as the Sasquatch Genome Project have spent $500,000 to prove the existence of Big Foot. During a Tuesday news conference the group claimed they have the "definitive video and DNA evidence from the elusive Sasquatch." As Dallas' WFAA put it: "…[researchers] played several short clips that purported to show various human-like, hairy figures moving about in wooded areas in Kentucky."
AND NOW, A WORD FROM CHARLES…"He [President Obama] uses the word 'glitch,' because it makes it sound trivial. I don't think it is, and we will see. if it weren't for the shutdown, this is all the country would be talking about today. The problems, the glitches, the ominous implications for what's ultimately going to happen with it. That would be on the front pages. Unfortunately, it's not." – Charles Krauthammer on "Special Report with Bret Baier" Watch here
Chris Stirewalt is digital politics editor for Fox News. Want FOX News First in your inbox every day? Sign up here. To catch Chris live online daily at 11:30 a.m. ET, click here.
Chris Stirewalt joined Fox News Channel (FNC) in July of 2010 and serves as politics editor based in Washington, D.C. Additionally, he authors the daily Fox News Halftime Report political news note and co-hosts the hit podcast, Perino & Stirewalt: I'll Tell You What. He also is the host of Power Play, a feature video series on FoxNews.com. Stirewalt makes frequent appearances on network programs, including America's Newsroom, Special Report with Bret Baier and Fox News Sunday with Chris Wallace. He also provides expert political analysis for FNC's coverage of state, congressional and presidential elections.