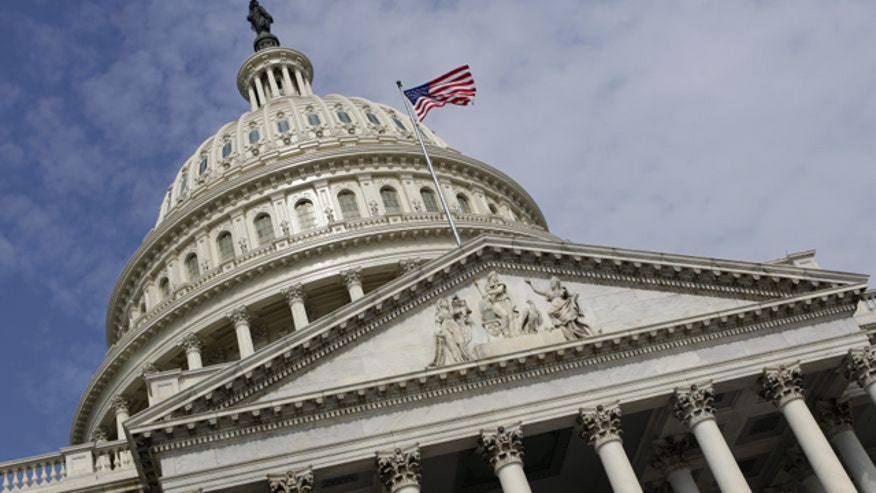 ** Want FOX News First in your inbox every day? Sign up here.**
Buzz Cut:
• No, YOU shut down the government!
• Assad: 'We didn't use any chemical weapons'
• Virginia race tightens up
• Fallen soldier's message makes it home
NO, YOU SHUT DOWN THE GOVERNMENT! - If the government doesn't shut down over ObamaCare, who will get the blame? Seriously. With conservative activists demanding a goal-line stand on "defunding" the president's 2010 health law, House and Senate Republicans are in a back-and-forth over who should be responsible for running out the clock. Not surprisingly, each side thinks the other should be holding the football when time expires on Sept. 30.
["Whether we win or lose will be decided in the House..." -- Sen. Ted Cruz, R-Texas, on "Hannity"]
Back to you, Boehner - One of the leading proponents of the defunding strategy, Sen. Ted Cruz, R-Texas, made it clear on Wednesday that he and his band of fellow conservatives won't be able to block Senate Majority Leader Harry Reid from stripping out a "defunding" provision the House is expected to pass in a government funding bill in the coming days. Cruz has been trying to stir grassroots support for the "defund" movement, which some in the House apparently took to mean that he would lead a filibuster and engage in all possible tactics to hamper Reid's efforts. Cruz issued a statement, though, saying Reid has the votes to proceed and called on the House to hold the line.
["Those %$#@ers ran ads in my district over the August recess. And now they're throwing us under the bus?" – A Republican House member fuming to Fox News Senior Capitol Hill Producer Chad Pergram over Cruz's statement.]
They doth protest too much - Part of the hope of House leaders is that the outspoken conservatives in the Senate will have to take ownership of shutdown brinkmanship. The fulminations over Cruz's stance were so over-the-top that they suggest plenty of gamesmanship. This finger-pointing, though, takes time. And not only is there a government to fund, but a looming request to increase the federal debt limit.
[House Speaker John Boehner has a new video this morning mocking President Obama's willingness to negotiate with Russian President Vladimir Putin while emphasizing his unwillingness to negotiate with Republicans on the debt limit.]
The takeaway - With the clock running and public opinion running strongly against the idea of a government shutdown, the Alphonse and Gaston routine over ObamaCare absolutism suggests that neither side of Capitol Hill is really ready to take the plunge. And while Republicans are bickering, Reid and Obama are making ready their unified front in negotiations: ending the automatic caps on federal spending that were part of the 2011 debt-limit deal, the so-called "sequestration." House Speaker John Boehner will try today to rally his team behind a new ask – delaying ObamaCare for a year – but the clock is working against him.
[Watch Fox: Sen. Rand Paul, R-Ky., appears in the 9 a.m. ET hour]
Administration warns: Prepare for partial government shutdown - The Office of Management and Budget issued a memo urging government agencies to prepare for partial government shutdown.
[Karl Rove's WSJ's column: "…any strategy to repeal, delay or replace the law must have a credible chance of succeeding or affecting broad public opinion positively."]
Food stamp fight - According to new Census Bureau figures, food stamp enrollment rose 8 percent in 2012. A total of 13.6 percent of households received benefits. House Republicans will today try to advance a bill cutting eligibility for the program.
ASSAD: "WE DIDN'T USE ANY CHEMICAL WEAPONS" - Syrian President Bashar al-Assad, in an exclusive interview with Fox News, claimed he is fully committed to carrying out a plan to surrender his government's chemical weapons, while continuing to deny responsibility for last month's deadly chemical weapons attack. Assad told Correspondent Greg Palkot, "We have evidence that terrorist groups [have] used sarin gas."Assad added, "The whole story [that the Syrian government used them] doesn't even hold together. ... We didn't use any chemical weapons."
Assad interview makes news - USA TODAY: Syria's Assad: Removing chemicals a sensitive operation // BBC: Assad: Syria needs one year to destroy chemical weapons // Kansas City Star: Syria's Assad says his agreement to give up chemical arsenal is unconditional
[New On Fox News Opinion: Richard Grennell's Assad calm, comfortable and clearly delusional in Fox News interview]
IRAN LEADER: NUKES? NEVER. - Iran's President Hassan Rouhani told NBC News, "We have never pursued or sought a nuclear bomb, and we are not going to do so." The Iranian pointed to "positive and constructive" letters exchanged between he and President Obama as evidence he is open to thawing relations with the U.S.
[WSJ reports the Obama administration is preparing for high-level meetings with the Iranian government next week over its nuclear program and is open to direct exchanges between Obama and Rouhani.]
Americans don't see Russia as an ally - 50 percent of Americans view Russia as unfriendly, while 44 percent see it as an ally, according to a new Gallup poll. In 2006, 73 percent saw Russia as an ally.
[Watch Fox: Rep. Elliot Engel, D-N.Y., of the House Foreign Affairs Committee appears in the 10 a.m. ET hour]
On another diplomatic front - Caroline Kennedy, picked by President Obama to be the next ambassador to Japan, has her confirmation hearing this morning before the Senate Foreign Relations Committee.
GRILLING CONTINUES OVER BOTCHED BENGHAZI SECURITY - The House Oversight and Government Affairs Committee will hear today from Ambassador Thomas Pickering and Adm. Mike Mullen, who headed the State Department's review of the Benghazi attack. The hearing will examine the findings of the Accountability Review Board, criticized by Republicans for failing to punish for senior State Department officials for glaring security failures that led to the deaths of four Americans at an outpost in Benghazi, Libya.
FORMER CLINTON FOUNDATION OFFICIAL ARRESTED - Gehad el-Haddad,a leader in Egypt's Muslim Brotherhood, an aide to deposed Egyptian President Mohamed Morsi and a former former official with the William J. Clinton Foundation, was arrested Wednesday in Cairo for inciting violence. The Washington Free Beacon has the story.
WAPO COVERAGE INSPIRED IRS TARGETING? - The Daily Caller reports that a House Oversight and Government Reform Committee memo found negative Tea Party coverage in the WaPo may have inspired IRS officials to improperly target conservative groups.
PIPELINE IMPATIENCE - Sens. John Hoeven, R-N.D., Mitch McConnell, R-Ky., Joe Manchin, D-W.Va., John Thune, R-S.D., Lisa Murkowski, R-Alaska, Mark Begich, D-Alaska, Roy Blunt, R-Mo., James Inhofe, R-Okla., Heidi Heitkamp, D-N.D., and Rep. Lee Terry, R-Neb., hold a press conference today to mark the fifth anniversary of the original application submitted to construct the Keystone XL pipeline project and to press President Obama to approve the project.
THE JUDGE JUMPS ON OBAMA DOUBLESPEAK - Judge Andrew Napolitano takes on the Obama administration's doublespeak on domestic spying programs in a Fox News Opinion piece:"[President Obama] should have known better than to use Clintonesque language by denying that something 'is' happening at the moment he is discussing it. In reality, Obama knows his spies have exceeded their authority under even a broad reading of the Patriot Act and the FISA laws and have grossly failed to comply with their oaths to uphold the Fourth Amendment."
SNYDER'S SALES PITCH - Gov. Rick Snyder, R-Mich., will make the case for his turnaround efforts for the Great Lakes State at the American Enterprise Institute. Snyder, who is battling some Democrats and union leaders over the future of bankrupt Detroit, will make his think-tank pitch today.
WITH YOUR SECOND CUP OF COFFEE... - George Will laments the NCAA's approach to prevent injuries in his column, College football is out of bounds : "Football's doughty defenders note that other recreational activities, such as bicycling, injure more participants. But only in football is long-term injury the result not of accidents but of the game played properly, meaning within the rules."
Got a TIP from the RIGHT or LEFT? Email FoxNewsFirst@FOXNEWS.COM

POLL CHECK - Real Clear Politics Averages
Obama Job Approval: Approve – 44.2 percent//Disapprove – 50.6 percent
Direction of Country: Right Direction – 27.4 percent//Wrong Track – 61.2 percent
VIRGINIA RACE TIGHTENS UP - A new Quinnipiac poll shows Virginia Democratic gubernatorial candidate Terry McAuliffe leads Republican Ken Cuccinelli 44 percent to 41 percent, inside the poll's margin of error. Libertarian candidate Robert Sarvis garnered 7 percent, drawing equally from self-identified Republicans and Democrats, but scoring 14 percent of independent voters. Disapproval of President Obama's job performance in the Old Dominion has jumped 12 points since January.
Clinton doubles down for McAuliffe - Former Secretary of State Hillary Clinton will host another fundraiser for her former campaign adviser, Terry McAuliffe. Politico reports that Clinton will host a $250,000-per-couple reception at her New York home.
O'MALLEY: HELLO NEW HAMPSHIRE - Gov. Martin O'Malley, D-Md., will speak at a New Hampshire Democratic Party fundraiser in November to bolster Granite State Democrats, including Sen. Jeanne Shaheen and Reps. Carol Shea-Porter and Anne McLane Kuster.
Mike Lee's Iowa introduction - Sen. Mike Lee, R-Utah, will make his inaugural visit to the Hawkeye State this November for the Iowa Faith and Freedom Coalition, the group announced.
LUNCH BREAK -The Sun-Sentinel reports that Donell Allison Jr., a Boca Raton, Fla. city employee, was arrested for aggravated assault for the beating of Raul Reynoso. Reynoso's offense: reportedly "squashing" Allison's lunch.
A FALLEN SOLDIER'S MESSAGE MAKES IT HOME AFTER 70 YEARS - AP - Peggy Smith will receive her father's Purple Heart from World War II and a letter he wrote from the battlefield in Italy when he learned of her birth. Donna Gregory spent 14 years in libraries and on the Internet trying to track Smith down after stumbling upon a box of WWII memorabilia in her grandparents' home. Smith will receive the medal and letter on Saturday.
AND NOW, A WORD FROM CHARLES…"Bashar al-Assad has a reputation … for being simple and stupid as opposed to the father who was a wily dictator ... He is very smart, extremely sophisticated and one of the great liars of all time….I say is he a brilliant diplomat and a war criminal at the same time." – Charles Krauthammer on "Special Report with Bret Baier" Watch here
Chris Stirewalt is digital politics editor for Fox News. Want FOX News First in your inbox every day? Sign up here. To catch Chris live online daily at 11:30 a.m. ET, click here.
Chris Stirewalt joined Fox News Channel (FNC) in July of 2010 and serves as politics editor based in Washington, D.C. Additionally, he authors the daily Fox News Halftime Report political news note and co-hosts the hit podcast, Perino & Stirewalt: I'll Tell You What. He also is the host of Power Play, a feature video series on FoxNews.com. Stirewalt makes frequent appearances on network programs, including America's Newsroom, Special Report with Bret Baier and Fox News Sunday with Chris Wallace. He also provides expert political analysis for FNC's coverage of state, congressional and presidential elections.