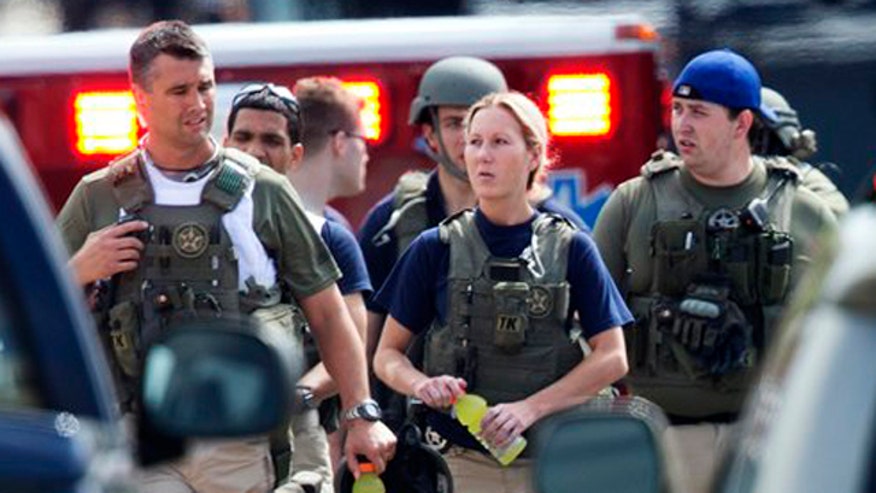 **Want FOX News First in your inbox every day? Sign up here.**
Buzz Cut:
• Washington still in shock
• Obama's bad timing
• Fox News Poll: ObamaCare alarm grows
• Lobbyists not sequestered
• Why Ben Franklin wept
FROM THE SCENE -"They sounded like 'pop, pop, pop'… Everybody just panicked at first... It was just people running, running, running." – Patricia Ward, a survivor, describing the scene in the cafeteria at the Washington Navy Yard, from Fox News.
"We saw a man down the hall with a rifle, and he aimed at us… He shot and missed." – survivor, Terrie Dunham from WJLA
HOW IT HAPPENED AND WHY -Washington is still in shock a day after a gunman killed a dozen workers at the Washington Navy Yard, less than a mile from the Capitol. The shooter, a former sailor who went to work for a Navy computer contractor after he was bounced out of the service, was reportedly angered over a benefits dispute. Details on the investigation here. More about the victims here.
Exceptional Americans - Yahoo News photographer Chris Moody shares his picture of Navy Yard workers aiding a blind colleague out of harm's way.
BAD TIMING FOR OBAMA ATTACKS - More than three hours after news broke of the Navy Yard shootings, President Obama opted to proceed with a partisan attack on Republicans over a looming budget impasse. Obama asked if the GOP was really "willing to hurt people" while police were still searching for suspects in the killings. Obama also touted his own re-election win, slamming Republican nominee Mitt Romney's ineffective opposition to Obama's 2010 health law. All the networks, including MSNBC, eventually abandoned coverage of the president's remarks and returned to breaking news from the scene. Chief White House Correspondent Ed Henry asked White House Press Secretary Jay Carney why the president went ahead with "what became a series of attacks on Republicans." Carney responded saying the president's comments were "entirely appropriate."
Viewers agree - As measured by Bing Pulse, Republican, independent and Democratic viewers of "Special Report with Bret Baier" agreed with National Public Radio's Mara Liasson that President Obama's speech Monday was poorly timed. Fox News Senior Political Analyst Brit Hume's comments that the remarks were "so small and so petty and so beneath the office of the president" drew 18,500 votes in one minute.
'Stand your ground' hearing cancelled ­- Sen. Dick Dubrin, D-Ill., cancelled today's scheduled hearing on "stand your ground" laws. Sybrina Fulton, the mother of Trayvon Martin, was to testify. The hearing has not been rescheduled.
POLL CHECK: AMERICANS CONCERNED ABOUT OBAMACARE - From a Fox News Poll released this morning: Sixty-eight percent of those surveyed were "concerned" about their health care under ObamaCare, with 43 percent saying they are "very concerned." Fifty-four percent of respondents want to take the health care system back to 2009.
Disapproval of Obama on health care hits all-time high – Fifty-eight percent of voters disapproved of how President Obama is handling health care. That includes 33 percent of Democrats, 65 percent of independents, and 83 percent of Republicans.
What's in a name? Not much - Fox polling maven Dana Blanton observes the various names for President Obama's signature health law have little bearing on how the public views it. Fifty-five percent had an unfavorable view of the Affordable Care Act, while 60 percent had a negative opinion of ObamaCare.
[The Census Bureau will announce the findings of their new report Income, Poverty, and Health Insurance Coverage in the United States: 2012 at 10 a.m. ET]
Jim Angle with the details - "Several Republicans, including party leaders, are shifting strategy from 'defunding' ObamaCare to 'delaying' ObamaCare for a year, which means delaying the individual mandate along with the rest of the law, just as President Obama has delayed the employer mandate, insurance company caps on deductibles, small business exchanges and many other aspects.
Several GOP strategists say delaying it a year to make it fair to individuals is also more likely to win Democratic votes in the Senate, ruining efforts by the president to blame any delay on Republicans alone. The Republicans hope the narrative would be: Democrats and Republicans ask the president to delay for a year, not that Republicans are trying to close down the government.
They also have engaged unions, since labor groups were denied late Friday night a proposed fix to the law they sought from the president." – Chief National Correspondent Jim Angle.
Journal Ed Board: Keep the pressure on - WSJ: "The best option now is for the GOP to unite behind a budget strategy that can hold 218 votes, keeping the sequester pressure of discretionary spending cuts on Democrats to come to the table on entitlements."
[Watch Fox: Sen. John Thune, R-S.D., Chairman of the Senate Republican Conference discusses ObamaCare in the 10 a.m. ET hour]
Obama takes it to Telemundo - President Obama sits down today with Jose Diaz-Balart of Telemundo.Obama is expected to reiterate for the Spanish-language network his refusal to negotiate with Republicans on raising the federal debt limit.
[Treasury Secretary Jack Lew will take the no-negotiations pitch the Economic Club of Washington this morning.]
NETANYAHU TO WASHINGTON FOR IRAN HUDDLE - Israeli Prime Minister Benjamin Netanyahu will meet with President Obama on Sept. 30 at the White House to discuss Iran's nuclear program, according to Reuters. The meeting comes after Obama's outreach to Hasan Rouhani, the new president of Iran's Islamist government and ahead of a scheduled visit by Russian President Vladimir Putin to Tehran.
[WaPo's Richard Cohen: "An Obama forced to act like Bush is ironic, but no fun. They both got into their fixes by adhering to false policies. Bush had a red line for WMDs that didn't exist. Obama, in the end, didn't have one for WMDs that did."]
Obama security team to meet - Secretary of State John Kerry, National Security Adviser Susan Rice and Secretary of Defense Chuck Hagel are set to gather this afternoon at the White House.
ENERGY NOMINEE BATTLE BEGINS - The Hill: "Ronald Binz, the White House nominee to lead the Federal Energy Regulatory Commission, will testify before the Senate Energy and Natural Resources Committee. He's taking heat from pro-coal conservative groups, and can expect tough questions Tuesday from Republicans, and probably Sen. Joe Manchin (D-W.Va.)."
UN climate report cools enviros' cause - Washington Examiner's Byron York considers how a new U.N. report on climate change may "dial back the alarm" for environmentalists, "...a new report from the world's leading climate scientists could leave environmentalists on the defensive, and the 'deniers' more confident and assertive."
Climate change firsthand? - The Safe Climate Caucus, led by Rep. Henry Waxman, D-Calif., holds a Democrats-only forum today to hear to "hear from individuals who have experienced first-hand the serious impacts of climate change."
LOBBYISTS NOT SEQUESTERED - Washington Examiner reports that lobbyists have visited the White House 344 times since the administration announced it was ending public tours due to sequestration cuts.
WITH YOUR SECOND CUP OF COFFEE...Conservative economist Thomas Sowell's column considers how minimum wage hikes may hurt the minorities and young people they are intended to help - Minimum-Wage Madness "…when minimum-wage levels are set without regard to their initial productivity, young people are disproportionately unemployed — priced out of jobs."
Got a TIP from the RIGHT or LEFT? Email FoxNewsFirst@FOXNEWS.COM

POLL CHECK - Real Clear Politics Averages
Obama Job Approval: Approve – 43.9 percent//Disapprove – 50.6 percent
Direction of Country: Right Direction – 27.4 percent//Wrong Track – 61.2 percent
MCAULIFFE LEADS FUNDRACE -Virginia Democrat Terry McAuliffe raised $6.2 million from July to August for his gubernatorial bid, with $5 million cash on hand to start September. Republican Ken Cuccinelli raised $1.9 million and started the month with $2.2 million on hand, according to campaign finance reports. Former Gov. Jeb Bush, R-Fla., headlines a Cuccinelli event tonight at the home of former Sen. Spencer Abraham, R-Mich. Cuccinelli is also expecting visits from Sen. Ted Cruz, R-Texas and Gov. Nikki Haley, R-S.C., ahead of the November election, according to a campaign source. Politico reports that Sen. Rand Paul, R-Ky., will also visit.
Levin is in - Radio host and author Mark Levin joins Cuccinelli today for a Constitution Day rally in Sterling, Va.
McAuliffe gets GOP endorsement -Virginia Beach Mayor Will Sessoms, a Republican, will endorse McCauliffe today, according to a McAuliffe campaign press release.
BILL AND HILL PASSED OVER FOR BLACK EYED PEA - Hip-hop star will.i.am will headline a Friday fundraiser for Kentucky Democratic Senate candidate Alison Lundergan Grimes. While former President Bill Clinton and former Secretary of State Hillary Clinton were both available for the fundraiser, the event's host told Gannett that the former member of the Black Eyed Peas "is something different for the community."
DALEY DROPS OUT, CITES 'ENORMITY' OF TASK - Chicago Tribune: "[Former Obama Chief of Staff Bill Daley, a scion of Chicago's most prominent political family who also served as Commerce secretary to President Bill Clinton] abruptly ended his bid for the Democratic nomination for governor Monday, saying a lifetime in politics had not prepared him for the 'enormity' of his first run for office and the challenge of leading the state through difficult times."
HAPPY CONSTITUTION DAY - Today marks the 226th anniversary of the signing of the Constitution. Take the Constitutionfacts.com quiz from Oak Hill Publishers to test your knowledge of the federal government's charter. It's the world's oldest and most-imitated framework for representative government. Congratulations, America.
[Crib sheet - Founding Fathers John Adams and Thomas Jefferson were unable to sign because they were overseas on diplomatic missions. Eighty-one-year-old Benjamin Franklin required assistance in signing the document. He did so with tears streaming down his face -- though probably not because Pennsylvania's name is misspelled at the bottom of the document.]
"Don't go around praising the Constitution as an empty bottle. Don't go around saying there is no fixed content or saying it means whatever it is supposed to say. It established a rock, some fixed principles, to which society is affixed to." – Justice Antonin Scalia speaking to students at the Georgetown University Law Center, according to the WSJ.
FROM OUR READERS -RE: Influential Conservatives List - "Dr. Krauthammer 19th? Who compiled this list? Charles Krauthammer always knows whereof he speaks, and speaks not of what he does not know – which is not much. The compilers must have let someone slip a '9' in behind the '1'!" – Jack K. Lawhorn, Hollins, Va., via FOXNEWSFIRST@FOXNEWS.COM
AND NOW, A WORD FROM CHARLES…"The president in that speech was back to hyper-partisan mode…. At one point, he's speaking of the Republicans, he said, 'And some of them are decent,' which is quite a remarkable thing ... To do this within minutes of… brave Americans lying dead, I thought was in extremely bad taste. He could've waited until tomorrow." – Charles Krauthammer on "Special Report with Bret Baier" Watch here.
Chris Stirewalt is digital politics editor for Fox News. Want FOX News First in your inbox every day? Sign up here. To catch Chris live online daily at 11:30 a.m. ET, click here.
Chris Stirewalt joined Fox News Channel (FNC) in July of 2010 and serves as politics editor based in Washington, D.C. Additionally, he authors the daily Fox News Halftime Report political news note and co-hosts the hit podcast, Perino & Stirewalt: I'll Tell You What. He also is the host of Power Play, a feature video series on FoxNews.com. Stirewalt makes frequent appearances on network programs, including America's Newsroom, Special Report with Bret Baier and Fox News Sunday with Chris Wallace. He also provides expert political analysis for FNC's coverage of state, congressional and presidential elections.